Family History
1921 Census
I was hoping to access the 1921 Census this year but the contents will not be published until early 2022.
Sinking of SS Britannia 1941
Right at the tailend of 2020, I was contacted by 2 correspondents and the correspondence was completed in early 2021:
1. I was able to provide further information on a passenger, who sadly did not survive the sinking, to his nephew.
2. Incredibly some 80 years after the event, I was sent a copy of a magazine article, written by a survivor, Lt F.J. (Bill) Lansley (who appears to have been in the same lifeboat as Dad and signed Dad's Cabo de Hornos menu), by his son.
Family History - The Big One!
The website came into its own in 2020 when the country was locked down due to the worldwide coronvirus pandemic,Covid-19.
Last year, I spent a lot of the time on the Sinking of SS Britannia 1941 project but towards the end of 2020, I picked up my Big One! Project again.
The first thing I did was to conduct a review:
To Do List
The original aim was to take on two of the bigger studies, Collier and the Brecht One-Name Study, before undertaking Reports for the remaining Main Names:
Bower/Brecht (Main Names) plus:
Walland/Worland
Saunders
Seabourn(e)/Saban
Collier/Hunt(Main Names) plus:
Farrow/Pharoah
Marjoram
Because of the years of inactivity on this project, it is probably best that I start back with some of the smaller names like Farrow and Marjoram.
Brecht One-Name Study
London Electoral Roll 1832-1965
I mounted a mini-project to summarise some of the entries in the London Electoral Rolls 1832-1965 held by the London Metropolian Archives.
These have been transcribed and digitised on Ancestry:
Brechts in the London Electoral Roll 1832-1965
London Metropolian Archives
I also found some information on Ancestry which I think is new to me:
Commercial/Business Directories
Robson London Directory 1820
Hy Brecht, Colour Manufacturer
12 Fashion Street, Spitalfields
Robson London Directory 1830
Hy Brecht, Colour Manf.
12 Fashion Street, Spitalfields
London Tax Records 1692-1932
1798 Christ Church
Bricht, Fashion Street Rent £20 Sums Assessed £2 3s 4d
- but See Note below
1812 Christ Church, Spitalfields
Bricht, Fashion Street Rent £20 Sums Assessed £2 3s 4d
This shows that Henry Brecht was in business in Fashion Street, Spitalfields from at least 1798-1830.
Certainly by 1833 he was operating from Bonner Street, Globe Fields/Bethnal Green (per bp of son Henry in Bethnal Green).
Note
Heinrich/Henry Brecht was a colour maker in Fashion Street, Spitalfields and died in 1838 (age 54) making his birth 1783/4.
It appears that he was christened in Germany in 1784.
As mentioned above, when researching the Electoral Rolls in London 1832-1965, I found an entry under:
London Tax Records 1692-1932
Christ Church 1798
Bricht Fashion Street
This entry throws into doubt the previous entries and what they mean. A timeline illustartes this:
Heinrich/Henry Brecht
Christening 1784
Land Tax Records 1798 (age 14?)
Married 1808 (age 24)
Died 1838 (age 54)
The Land Tax Record date is not impossible but very unlikely.
Lucy Ann Cornwell/Cornwall & George Henry Brett/Brecht
An error of long-standing came to my attention.
From the outset, I was informed that Lucy Ann and George Henry had a son Charles Albert Cornwall born in a workhouse. In fact records show it was Albert Ernest Cornwall.
I have corrected the articles about this family.
Search for John Christopher Brecht & Susannah Pardom, Widow
I did another random search on Ancestry and found an intriguing marriage:
St John the Evangelist, Smith Square
Godfried Pardom (suggesting that he is German)
married 26.12.1777
Susannah Phillips
Pardom was a rare name in London and it had been transcribed incorrectly. Godfrey and Susannah lived amongst the German community including sugar bakers in Alie Street
Susannah was widowed and married John Christopher Brecht who appears to be Jurgen Christoph Brecht a sugar refiner in London in 1784 (and possibly the Uncle and Godfather of Heinrich/Henry Brecht.
Certificates Held
I provided a Names Index for the 60 odd certificates held:
Find the Lady!
Sinking of SS Britannia
My Probus Club has come up with a monthly Newsletter during the lockdown.
I submitted summmaries for two of the main projects that I have undertaken:
Sinking of SS Britannia. Summary
80 Years since the Sinking of the SS Britannia
This year is 80 years since the SS Britannia was sunk by a German surface raider on 25 March 1941.
Goan Journalist Melvyn Misquita marked the anniversary by publishing a poignant summary of what happened and the aftermath:
Summary of the attack & the aftermath
Family History
My Grandfather William Bower's Date of Birth
There has always been a bit of a mystery about my grandfather's date of birth for which I have never found the registration of his birth
Having another look, I found new pieces of information on Ancestry:
1. Entries in the books of the Training Ship "Exmouth"
Training Ship "Exmouth 1876-1918
Record Book
1. Bower Wm No 769
Age: 12
Date of Entry: 22.5.1878
Date of Discharge: 25.6.1878
Discharge: to Union (Mile End)
2. Bower, William No 957
Age 13
Date of Entry: 18.6.1879
Date of Discharge 13.5.1882
Union: Mile End
Discharge: Ship "Bell"
Comments include:
25.9.1881 Rated Gold Case Boy
15.10.1881 Rated Gun-room boy
28.1.1882 Rated Cheif Lamptrimmer
3. William Bower
Age 15
Date of Entry: 21.2.1883
Date of Discharge: 1.3.1883
Union: Mile End
Discharge: Royal Navy
HMS Boscawen
Blue Jacket
(William's DOB given in his Royal Navy service record is 23.10.1867. He signed on in 1885 age 18 for 10 years)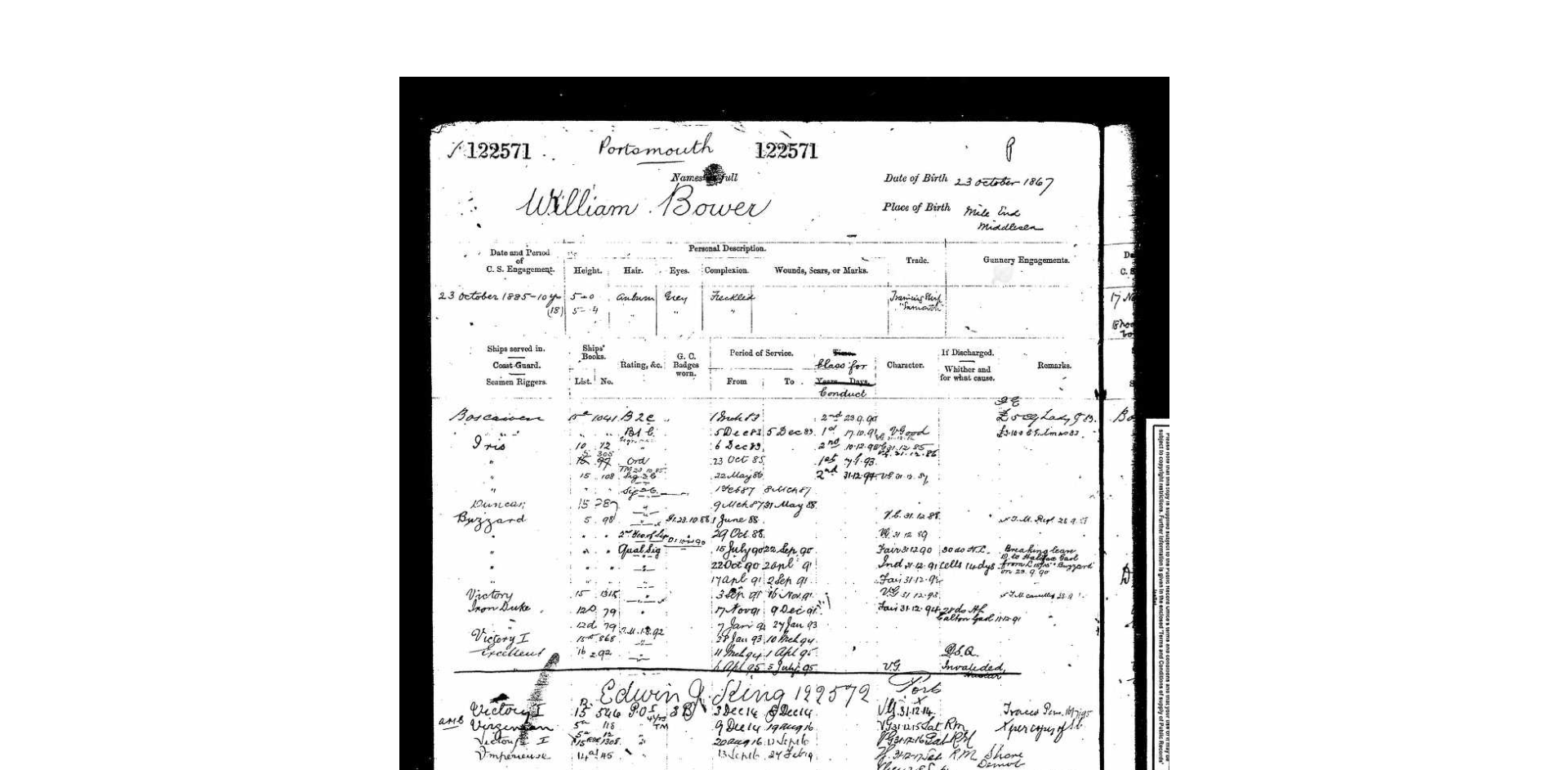 2. A record of his christening when he was 13 (about the time he joined the Exmouth)
St Peter & St Paul, Grays, Thurrock
William Bower (Age13) born abt 1866 bp 9.8.1879
(Parents George & Martha Bower)
I was hoping that he was christened as an infant!
I have summarised the information I have on William Bower in date order:
Places where William Bower lived
Colin Bower
10 May 2021