Introduction
Most of the action was in the first half of the year.
I have tended to rely on and spend my time on responding to e-mail enquiries and I guess the most significant was being sent the incredible survivor's account of Donald Brown (Sinking of the SS Britannia).
I did commit some time to looking at the magnificent facility of the 1939 Register.
Chris and I made a very enjoyable day trip to Potsmouth and walked their brilliant Millennium walk. In preparation for the visit I found unexpectedly that Henry Saunders lived in a different area (Moscow Buildings).
Recently I felt that I had to throw out a lot of hardcopy papers and microfiche, which I had not referred to in years and probably never would. Very reluctant to do so!
Project Progress
Progress was made in the following subjects:
Family History
1. Brecht One-Name Study
a. Brecht/Brett/Cornwell Family
b. Murder of George Brett 1951
c. Attempted Murder by George Brett 1926
d. Nellie Brett, George Brett's wife
e. Clara Mary Ann Brecht
f. Update of Parish Records
g. Search for John Christopher Brecht
2. 1939 Register of England & Wales
3. Gardiner/Hughes Family
4. Saunders Family
Naval History
5. Sinking of the SS Britannia - a Survivor's Account
Local History
6. Find the Lady! - The Rookes of Lymington 7. (London) Silk Weavers named Collier - Family of James Collier, Chris' 3x Gt Grandfather
1. Brecht One-Name Study
a. Brecht/Brett/Cornwell Family
The New Year got off to a brisk start with a cousin, from a branch of the Family Tree, making contact for the first time.
He was descended from the notorious George Henry Brett (born Brecht):
I was able to put him in touch with another cousin on the Cornwell side of his family. Wonderful!
b. Murder of George Brett 1951
I took the opportunity to re-Google George Brett, Gangster and found a further 4 1951 articles:
- an article from The Sydney Morning Herald Saturday 14 July 1951
- an article from The Truth Sunday 15 July 1951
- an article from The Canberra Times on Monday 16 July 1951
- an article from
The Truth
, on Sunday 9 December 1951.
The articles have been collated in a page Murder of George Brett:
c. Attempted Murder by George Brett 1926
I also found two articles relating to an attempted murder by George Brett:
d. Nellie Brett, George Brett's wife
Another descendant of George Henry Brett (born Brecht) received a visit from the wife and daughter of another of our cousins in Australia, bringing some more information about the family.
It turns out that George married a Mary Ellen (Nellie) Casey in Australia:
Australia Marriage Index 1788-1950
Name: Mary Ellen Casey
Spouse Name: George Brett
Marriage Date: 10 May 1912
marriage Place: Queensland
Registration Place: Queensland
Registration Year: 1912
Nellie Brett appears to have been no shrinking violet and features in some further newspaper articles:
e. Clara Mary Ann Brecht
A correspondent gave me further information on Clara Mary Ann Brecht born Limehouse.
f. Update of Parish Records
Births & Baptisms 1813-1917
The list had been updated in Ancestry and a further 12 baptisms identified including my mother's (Doris Ivy Brecht)!
I duly updated my record of Parish Records:
g. Search for John Christopher Brecht
Godfrey & Susannah Pardom had 2 children. It appears that after the death of Godfrey Pardom, his widow Susannah married John Christopher Brecht.
Baptisms in the name of Brhgt
While I was online, I looked again at the baptism of Maria Brecht, daughter of John Christopher & Susannah Brecht, in 1796.
I turned on a page (electronically) and found an extraordinary entry:
St Nicholas, Cole Abbey, City of London
Hannah & Harriet Brecht (spelt Brhgt)
presumably twin sisters to Maria born 13.3.1796
born 25.11.1797 bp 17.12.1797
(parents Christopher & Susanna Brhgt)
Despite the new revelations I have yet to find out what happened to John Christopher Brecht (and Susannah and children) after the baptisms!
Search for John Christopher Brecht
2. 1939 Register of England & Wales
Brecht One-Name Study
Following the publication of the 1939 Register on Ancestry, I did a sweep of the Brecht/Brett family names and traced 34 people, but not all:
This is remarkable source with some new information (dates of birth) but an indication only of young people. Though all information on young people has been redacted (obliterated - with the message Officially Closed) because of the 100 year rule applied with Census returns, I have recorded 8 young people in this category.
3. Gardiner/Hughes Family
Joan Hughes, Woman Aviator
Caroline Gardiner's sister Matilda married Charles Collier, Ropemaker, Chris' great grandfather.
Caroline married John Hughes, who may be related to Joan Hughes, the Woman Aviator.
In April, the BBC broadcast a programme about the RAF Centenary, RAF100, in which Joan Hughes was mentioned by name:
Joan Hughes
4. The Saunders Family
Henry Saunders
In 1837, Henry Saunders, my Great Great Grandfather, married Ann Neville at St Mary's, Portsea which still exists.
In 1851, Mariner, Henry was living in Durham Street, Southsea, when he joined the Coastguard.
Henry's 2 children
- Charles Herbert Saunders (1844) &
- Francis Ferdinand Saunders (1851) were born at Moscow, 24 West Street,Landport, Southsea.
This address was always a puzzle until recently, preparing for a visit to Portsmouth, I found a reference to Moscow Buildings in Landport, part of St Paul's Ward.
I had always thought that West Street was the West Street in Old Portsmouth but the Old Ordnance Survey Map for Southsea in 1896 clealy shows West Street near St Paul's Church. Nearby is a second Durham Street which appears to be more likely.
Never assume!
We enjoyed walking the Millennium Walk from Southsea to Old Portsmouth and then the Spinnaker Tower: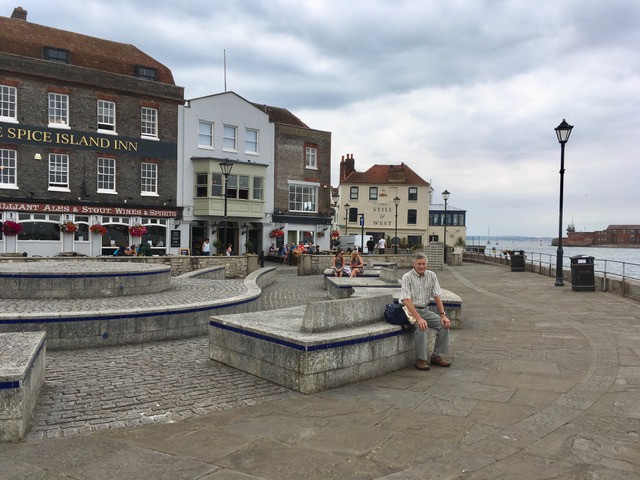 Old Portsmouth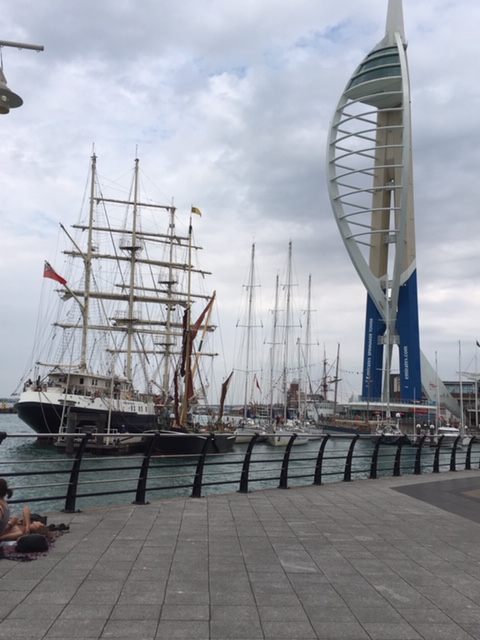 Training Ship Tenacious tied up by the Spinnaker Tower
Charles Herbert Saunders, Mariner
Charles' father Henry Saunders had a career in the Royal Navy before joining the Coastguard.
When Charles married Emma Mary Seabourn at St Mary's in Plaistow in 1876, Charles listed his occupation as Mariner but I could not trace a career in the Royal Navy.
Recently I found the following Indenture record on Ancestry:
Name of Apprentice: Saunders, Charles Herbert
Age when Bound: 18
Date of Indenture: 24.4.1863
Date of Enrolment of Indenture: 28.4.1863
Term for which Bound: 3 years
Indenture Expires: 24.4.1866
Name & Residence of Parties to whom Bound: T.M. Mackay, London
Name& Port belonging to, of vessel in which Apprentice is to serve: Young Australia, London
Offical Number: 766
Saunders Family Grave
While searching for family records on Ancestry, I found a picture of a tombstone at the East London Cemetery & Crematorium.
The Private Grave of C.H.& E.M. Saunders
In Loving Memory
of
Emma May (should be Mary)
Beloved Wife of the above
who died 22nd May 1919
Aged 65 Years
Also Charles Herbert
Beloved Husband of the above
who dued 7th April 1918
Aged 74 Years
Reunited
Also Hilda Skeat
Grand-Daughter of the above
who passed away 18th December 1929
In her 13th Year
While the light last we shall remember
5. Sinking of the SS Britannia
Survivor's Account by Donald Brown RN
A correspondent, who contacted me in 2009, made contact again.
He had written up the background of his grandfather Donald Brown, who survived the sinking of the SS Britannia in 1941.
He also sent me a long and detailed account of the sinking by his grandfather.
I edited both documents and made them available in this website:
This is an extraordinary story and includes:
- Donald Brown taking part in the evacuation of troops from the Dunkirk beaches in 1940
- surviving the sinking of two vessels
- picked up from the Britannia's lifeboat by the same ship that rescued my father
- not reaching a third naval vessel which was also sunk
- serving with Prince Philip
- being mentioned in dispatches in the Korean war
6. Find the Lady! - The Rookes of Lymington
The Rookes were among a number of important families living in Lymington in the 19th Century.
During the period circa 1883-1893, there were a number of meetings with the Rooke family listed in the Calling Book kept by Mary (Fawcett) Murray
including Mrs Leonard Rooke and the Rookes of Formosa
Previously, a descendant from Canada had told me that Leonard & Elizabeth Rooke lived at Formosa House (since destroyed) in Lymington.
Recently a correspondent from New Zealand advised me that he lived in a house, called Formosa, that was built by Leonard Home Rooke (who was educated in England - father Leonard Charles Rooke) in 1902.
Amazing!
Silk Weavers named Collier
Collier/Furby Family
A correspondent in Tasmania contacted me about Elizabeth Collier, (Weaver 217) in my records, who married John William Furby in 1833.
Family of James Collier
It made me have another look at my wife Chris' own family tree and I found an additional entry in the 1861 Census for the brother of Charles Collier Chris' 2 x Gt Grandfather:
43 Cranbrook Street, Bethnal Green
Joseph Collyer (should be Collier) Weaver 124 - Head 53 Silk Weaver
Mary A. Collyer Weaver 125 Wife 45
Alf'd Collyer Son 16 Chip Board Maker
Wm Collyer Son 14
All born Bethnal Green
It appears that Charles & Joseph's brother died young:
St Matthews, Bethnal Green
George Collier buried 30.10.1802 (age 10 months)
at Gibraltar Burying Ground, Bethnal Green
There was another brother John Collier born 1802. He may too have been a Silk Weaver and possibly the John Collier, Silk Weaver listed under Family 6 but I have been unable to trace any further information about that John Collier and his son James.
Colin Bower
24 December 2018