Introduction
As in 2018, most of the enquiries and research came in the first half of the year.
There was further news on:
- Family History - the 1939 Register of England (Bower, Brecht, Collier & Hunt)
- Bradbrook/Hayes Family
- Collier/Hughes Family - Joan Hughes, aviator
- Sinking of the SS Britannia - Visit to Santa Cruz, Tenerife & contact with the daughter of another survivor
- Brecht One-Name Strudy - Entries in the Probate Registers
- Silk Weavers named Collier - Some hard times & 1939 Register
-Find the Lady! - the Cornwallis Wests and the National Commemoration of the 200th death of Admiral William Cornwallis
- Collier/Dearman Family
Family History
1939 Register - Our Parents & Grandparents
We started the year with another look at the 1939 Register of England & Wales.
Until then we had not looked up all of the entries for our parents and grandparents:
Our Parents & Grandparents in the 1939 Register
My grandparents were still living in the East End of London, i.e. before their houses were destroyed in the Blitz.
Bradbrook/Hayes Family
Following contact with a correspondent, I found a potential marriage of Fenn Bradbrook's parents and the bp of his brothers and sisters.
Joan Hughes - Stirling Girl
I was given the excellent book, A Spitfire Girl, as told by Mary Ellis to Melody Foreman.
Over the last few years Mary Ellis was famous as one of the few remaining wartime ferry pilots for the ATA, the Air Transport Auxiliary.
In the book, Mary Ellis refers to one of the first ATA girls Joan Hughes.
Collier/Hughes Family - Joan Hughes
One of Chris' father's cousins was Ted Collier who showed an interest in the history of another of the ferry pilots, Joan Hughes, who may be related.
I have extracted the references to Joan Hughes in Mary Ellis' book:
Sinking of the SS Britannia
Visit to Tenerife
In 1941 after the SS Brtiannia was sunk, my father was rescued from a lifeboat by the vessel Cabo de Hornos.
The vessel first called at Santa Cruz on Tenerife, where forces personnel were interned, before going onto Cadiz.
We had been to Santa Cruz before but on 12 January we sailed into the port on the cruise liner Balmoral on my 75th birthday!
It was so memorable and poignant to dock there and walk along the front at Santa Cruz, which had seen major development since our previous visit and more was underway.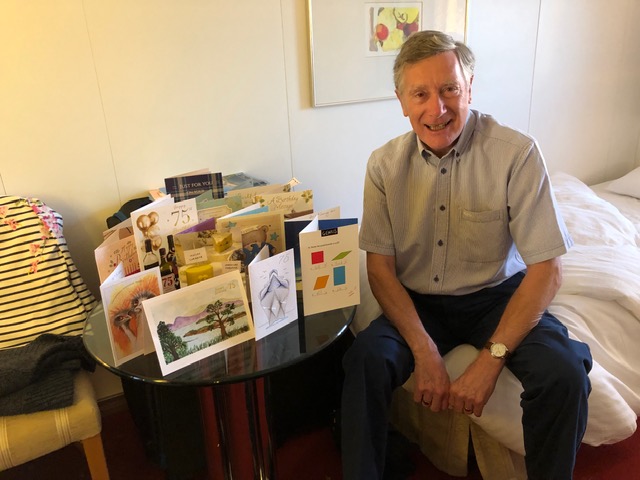 Celebrating my 75th Birthday on the Balmoral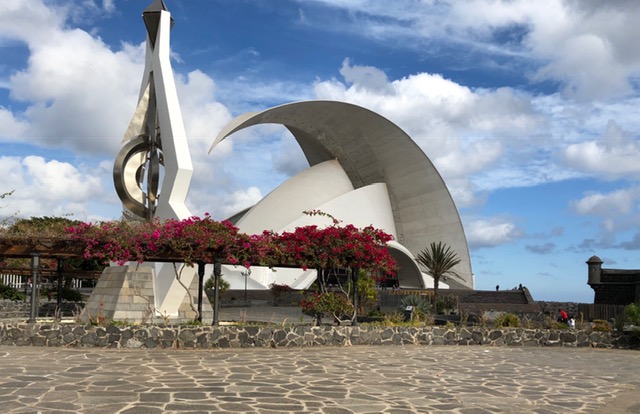 The new concert hall alongside an old fort on the sea front at Santa Cruz, Tenerife
Contact with Daughter of Another Survivor - Dr Das Gupta
Once again an extraordinary contact!
The daughter of Dr Das Gupta made contact. Dr Das Gupta was in the lifeboat with my father and survived to sign my father's menu. Dad had written Dr Das Gupta's name and address in his tiny 1941 Diary and I was able to send his daughter a copy of the relevant page.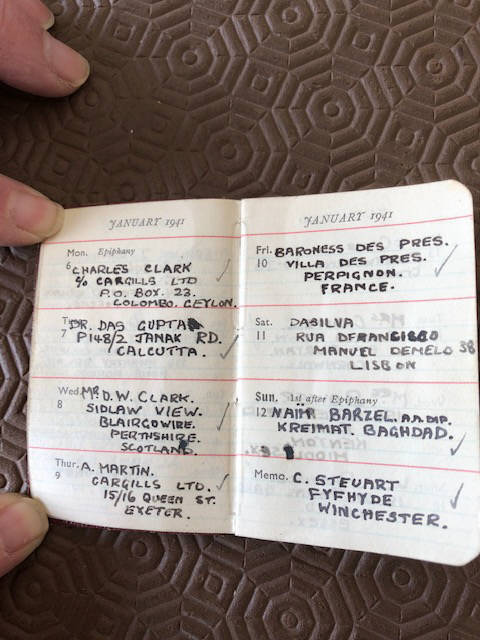 It inspired me to type up the contents of the 1941 Diary and pocket book that were amongst Dad's memorabilia.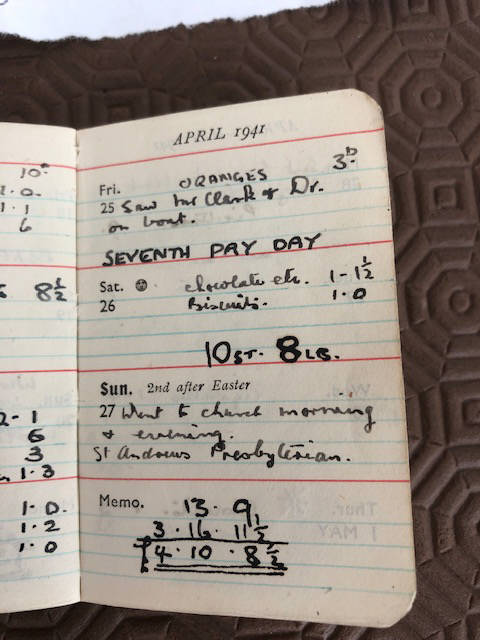 Dr Das Gupta's Account
Dr Das Gupta's daughter sent me an extract from her father's account of his survival and return to India:
Amazing to receive another interesting angle on the rescue, after all these years.
The Missing Page
Dr Das Gupta's daughter sent me 2 pages that her father had kept. One bears the name and adress address of the Baroness Des Pres, which appears to be a hotel in Perpignan.
The other page is half of a different Cabo de Hornos menu signed by survivors. Even without the missing page, this is quite a find and I have summarised my findings in a separate page:
You begin to wonder how many menus were signed by the survivors and whether any others have survived.
Service Personnel interned on Tenerife
I had not really studied what happend to Commander Sturgeon who commanded Dad's lifeboat and the other servicemen interned in Tenerife. I have tried to make amends by adding:
- a brief reference to Commmader Sturgeon
- an account by Jack Arkinstall and
- links to fuller details of Commander Sturgeon's distinguished career and Alfred Warren's full account.
Account by Jack Arkinstall to the BBC
After reading through some of these accounts again, one of the most striking thoughts is that this was probably a scheduled voyage by the Cabo de Hornos returning to Spain and which only passed the area when scheduled to do so!
One of the other rescue ships was going the other way and took the survivors to Montevideo!
Brecht One-Name Study
Ancestry recently published entries in the Probate registers for the period 1858-1995.
I found 16 entries in the name of Brecht or Brett.
Probate Entries in England & Wales 1858-1995
There were 50 deaths in the Brecht Family during 1858-1995.
Silk Weavers named Collier
A correspondent advised me of a further entry in the Selected Poor Law Removal & Settlement Records:
Find the Lady!
Admiral William Cornwallis
On 30 June 1883, Mary (Fawcett) Murray recorded in her Calling Book that she met with a Mrs West. In 1886 she listed Mrs West again when living at Efford Cottage.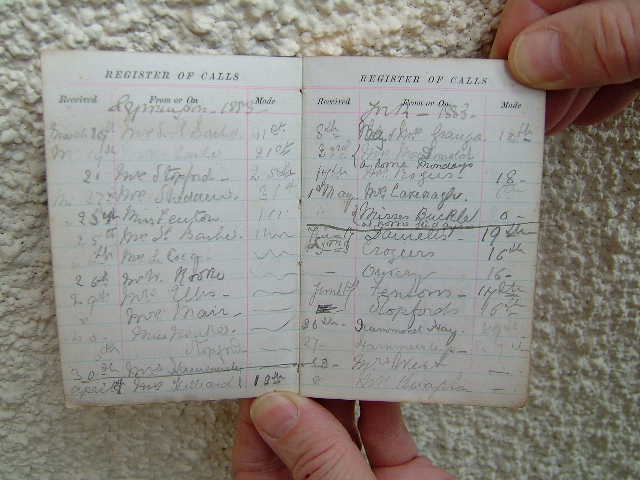 Meeting at Efford Cottage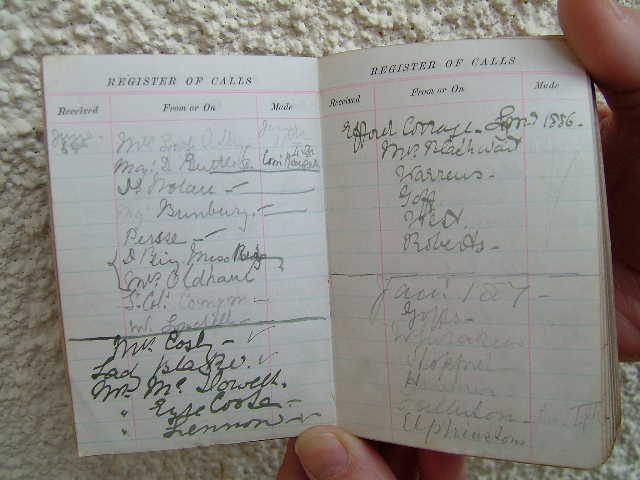 Mrs West had the rather unsual maiden names: Theresa John Cornwallis Whitby.
Theresa West's mother, Mary Anna Theresa (Symonds) Whitby, had inherited Newlands Manor from Admiral William Cornwallis.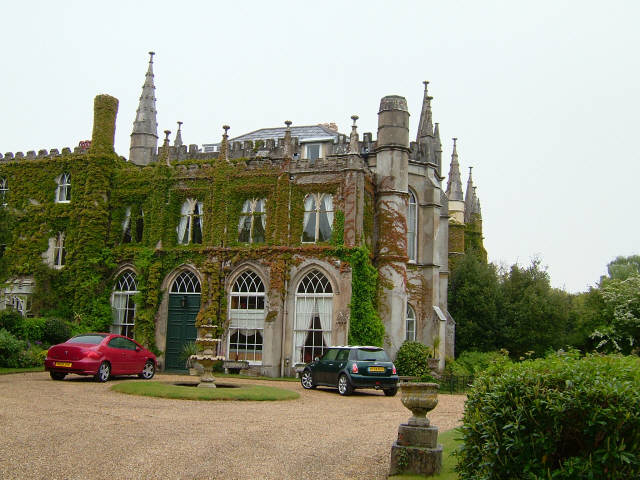 The story of Mrs West's son William Cornwallis West and grandchildren make extraordinary reading:
The extraordinary Cornwallis Wests
On 22 March our local paper, the New Milton Advertiser & Lymington Times, had a leading article: "Nelson's forgotten hero saluted at last".
Admiral Cornwallis is notable for blockading the port of Brest until 1806 preventing Napoleon from invading Britain. There are memorials to Mrs West, Cornwallis and the Whitbys inside the church of All Saints in Milford on Sea:
Memorial to Theresa John Cornwallis West in All Saints Church
(born Theresa Whitby who married Frederic West)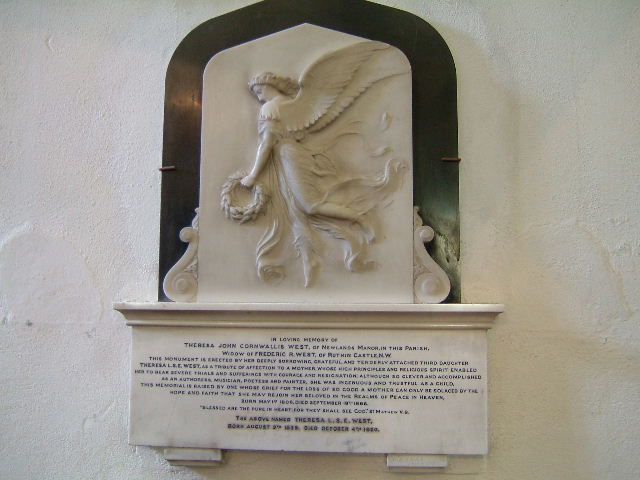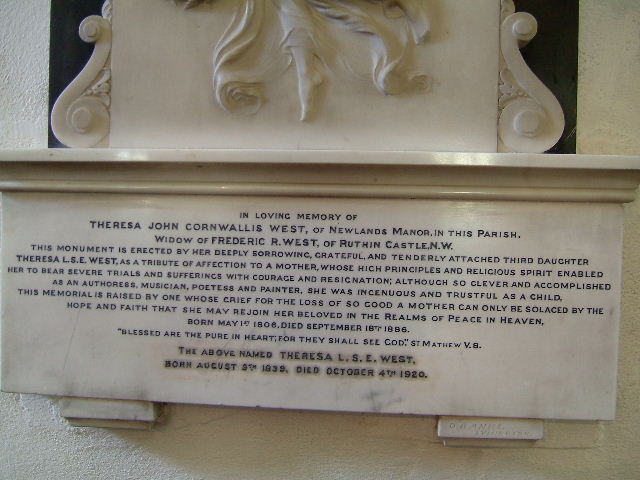 Memorial to Cornwallis and the Whitbys in All Saints Church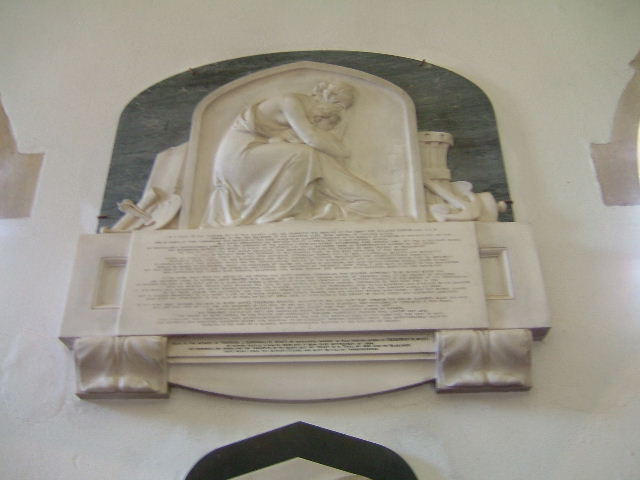 The grave of Admiral Corwallis alongside John Whitby was only recently traced in the graveyard there.
There was a National Commemoration on 5 July to mark the 200th anniversary of Admiral Cornwallis' death.
Silk Weavers named Collier
Collier/Dearman Family Tree
A descendant of Maria Collier and Francis Dearman pointed out errors in my article on Maria & Francis' son Francis Dearman.
While the facts in the article remain the same, I added some explanations on where the errors were:
Colin Bower
22 December 2019