Progress To Date
Great Grandparent: Charles Herbert Saunders
- His Parents: Henry Saunders and Ann Neville
- His Grandparents:
Mini Family Tree (Direct Ancestors)
The family tree to date may be summarised:
Saunders Family
Henry Saunders b c 1810 d 6.4.1867
Married 12.05.1837
Ann Neville bp 28.4.1811
Charles Herbert Saunders b 17.04.1844
Married 26.9.1876
Emma Mary Seabourn b 06.11.1853
Ellen Elizabeth Curran Saunders b 06.11.1877 d 19.3.1960
Married 25.12.1899
Arthur Brecht b 28.01.1877 d 28.12.1946
Doris Ivy Brecht b 15.03.1912
d 29.6.2003
Married 11.07.1936
Frederick Bower b 12.09.1910
d 10.9.2006
Colin Malcolm Bower b 12.01.1944
Married 15.10.1966
Christine Elizabeth Collier b 26.03.1946
Link to Family Tree
Charles Herbert Saunders & Descendants
Summary of Research To Date
Henry Saunders was a mariner as was his son Charles Herbert Saunders who later became an engine driver.
Two Brecht brothers married two Saunders sisters (daughters of Charles Herbert Saunders). The two families passed down many myths amd mysteries, e.g. my grandma Ellen Saunders was the first born who added the first name Creah to make her full name Ellen Elizabeth Creah Curran Saunders.
Some of the Brechts and Saunders families ran businesses in the East End of London and Essex and there were family splits including rows over wills.
It was fun to hear from my cousins of my mother and myself and obtain information and photo's.
We have also made a number of enjoyable visits to Cheltenham (where Henry Saunders may have been born), Portsmouth (where Henry lived before he joined the Coastguard service) and Bovisand near Plymstock where Henry was Chief Offucer until he died in Plymstock.
Birth Marriage & Death Certificates Held
- Births: 4
- Marriages: 3
- Deaths: 1
Certificates Held-Saunders Family
Census Records Obtained
- 1841 Henry & Ann (Neville) Saunders & family
- 1851 Ann (Neville) Saunders & family
- 1861 Henry & Ann (Neville) Saunders & family
- 1871
- 1881 Charles & Emma (Seabourn) Saunders & family
- 1891 Charles & Emma (Seabourn) Saunders & family
- 1901 Charles & Emma (Seabourn) Saunders & family
- 1911 Charles & Emma (Seabourn) Saunders & family
- Richard & Rosina Saunders & family
Other Research Undertaken
- IGI - Sheets held for Gloucestershire, Hampshire, London and Sussex
- Parish Records
- Wills
- Businesses - a number of businesses were run by the Saunders & Brecht families including:
1898 John Saunders, Confectioner, 41 Balaam Street, Plaistow
1900 Charles Saunders, Laundry, 27 Third Avenue (from where Ellen Elizabeth Curran Saunders left to marry Arthur Brecht in 1899)
- Correspondence - with cousins re the Brecht/Saunders side of the family.
Some photographs were exchanged accordingly.
- Visits - Portsmouth, Coastguard Stations at Atherton I.O.W and Bovisand near Plymstock, Plymouth
Visits to Plymouth - Photographs: Bovisand Coastguard Cottages, Churches in Plymouth(/br> - Misc Info/Documents
Progress 2004
My great grandfather Charles Herbert Saunders was:
a mariner - 1876
a stoker - 1877
an engine driver - 1883-1901
It appears that stoker was a maritime term as against fireman on the railways. Still flimsy information to trace his careers at the Public Record Office though!
Still stuck on finding out more about his father Henry Saunders.
Naval career of Henry Saunders
In 1844, Henry claimed to be late Mate R.N. which I now know to be officer rank. Frustratingly there are two reference cards at the P.R.O.in Kew which are supposed to summarise the naval career of a Henry Saunders, but there has been an error in the cross-referencing and no way of remedying it seems.
Progress 2005/7
-
Progress 2008
My Grandma Ellen (Saunders) Brecht had two twin sisters, Edith and Annie Saunders born in 1879.
A descendant of Edith Saunders advised me of his family tree.
Progress 2009
Entries from the 1911 Census were added.
Progress 2010/12
-
Progress 2013
My cousin expanded our knowledge of the Neville Family:
Cornelius Neville married
(1) Iset Adamson at St Andrews, Plymouth 24.5.1800
(2) Jane Mason at Charles Church, Plymouth 26.6.1827
Ann Neville bp 28.4.1811 at Stoke Damerel Church, Devonport, Plymouth
(Parents: Cornelius & Iset Neville)
(Jane Neville (age 54) was staying with Ann Saunders at the time of the 1841 Census)
In January we visited Plymouth and went inside St Andrews and also saw Charles Church which was gutted in World War II in 1941.
My cousin also found the burial of Charles Herbert Saunders' brother Francis Ferdinand Saunders in 1869 (indexed as Sanders!)
Progress 2014/7
-
Progress 2018
Henry Saunders
In 1837, Henry Saunders, my Great Great Grandfather, married Ann Neville at St Mary's, Portsea which still exists.
In 1851, Mariner, Henry was living in Durham Street, Southsea, when he joined the Coastguard.
Henry's 2 children
- Charles Herbert Saunders (1844) &
- Francis Ferdinand Saunders (1851)
were born at Moscow, 24 West Street,Landport, Southsea.
This address was always a puzzle until recently, preparing for a visit to Portsmouth, I found a reference to Moscow Buildings in Landport, part of St Paul's Ward.
I had always thought that West Street was the West Street in Old Portsmouth but the Old Ordnance Survey Map for Southsea in 1896 clealy shows West Street near St Paul's Church. Nearby is a second Durham Street which appears to be more likely.
Never assume!
We enjoyed walking the Millennium Walk from Southsea to Old Portsmouth and then the Spinnaker Tower: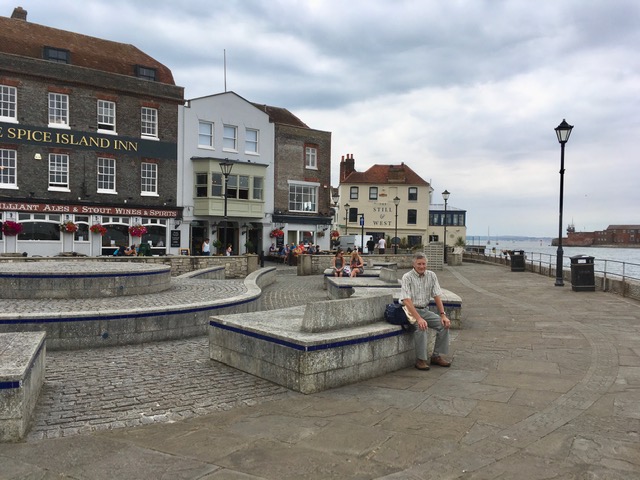 Old Portsmouth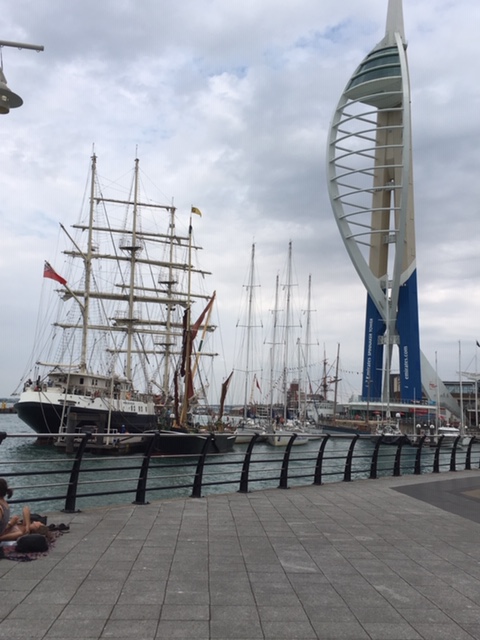 Training Ship Tenacious tied up by the Spinnaker Tower
Charles Herbert Saunders, Mariner
Charles' father Henry Saunders had a career in the Royal Navy before joining the Coastguard.
When Charles married Emma Mary Seabourn at St Mary's in Plaistow in 1876, Charles listed his occupation as Mariner but I could not trace a career in the Royal Navy.
Recently I found the following Indenture record on Ancestry:
Name of Apprentice: Saunders, Charles Herbert
Age when Bound: 18
Date of Indenture: 24.4.1863
Date of Enrolment of Indenture: 28.4.1863
Term for which Bound: 3 years
Indenture Expires: 24.4.1866
Name & Residence of Parties to whom Bound: T.M. Mackay, London
Name & Port belonging to, of vessel in which Apprentice is to serve: Young Australia, London
Offical Number: 766
Saunders Family Grave
While searching for family records on Ancestry, I found a picture of a tombstone at the East London Cemetery & Crematorium.
The Private Grave of C.H.& E.M. Saunders
In Loving Memory
of
Emma May (should be Mary)
Beloved Wife of the above
who died 22nd May 1919
Aged 65 Years
Also Charles Herbert
Beloved Husband of the above
who died 7th April 1918
Aged 74 Years
Reunited
Also Hilda Skeat
Grand-Daughter of the above
who passed away 18th December 1929
In her 13th Year
While the light last we shall remember
Progress 2019
-
Progress 2020
Visits to Places of Interest
In reviewing the website's Photo Album in the Summer of 2020, I felt that I wanted to add details of our visit to Bovisand and Plymstock in May 2001.
In 1852, Henry Saunderes was transfered from the Coastguard Station at Atherton on the Isle of Wight to Bovisand Station, where he was Chief Officer.
On our visit, I obtained the booklet "Bovisand: Once a Fort now an Underwater Centre" by Arthur Clamp. The booklet has an aerial view of the headland showing Staddon Height Battery and the larger Fort Bovisand . The Coastguard Cottages are shown in the top right corner: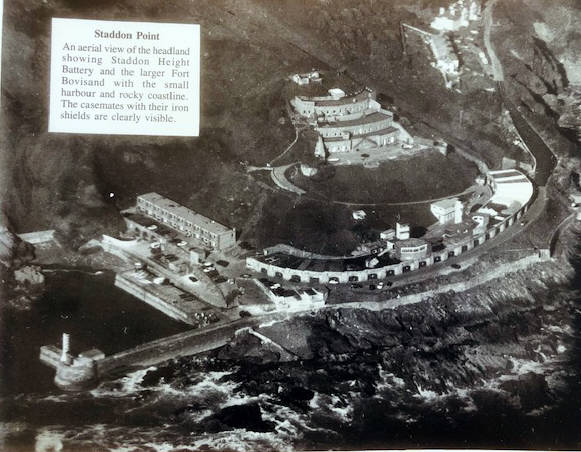 Fort Bovisand
Guns were needed to protect Plymouth Dockyard from the French Navy (they were never needed!). Fort Bovisand's guns were to cover the Eastern End Entrance to Plymouth Sound.
Coastguard Cottages, Bovisand
The booklet has a photo of the Coastguard Cottages on the left: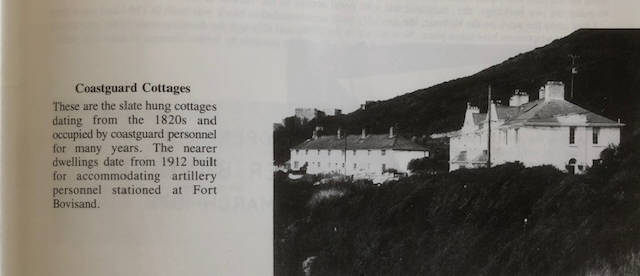 I also obtained a separate photo taken across Bovisand Bay from the car park we used: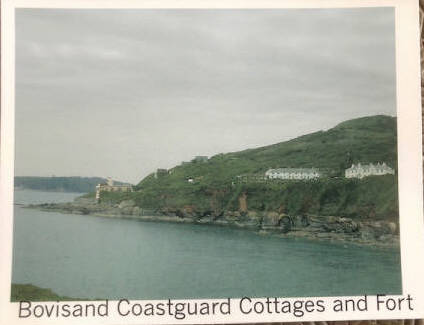 Plymstock
In 1861, the Census shows Henry & Ann Saunders and their 2 children Francis and Charles living in Plymstock. A map shows Plymstock (in yellow) in relation to Bovisand. Plymouth Sound is in the top left corner: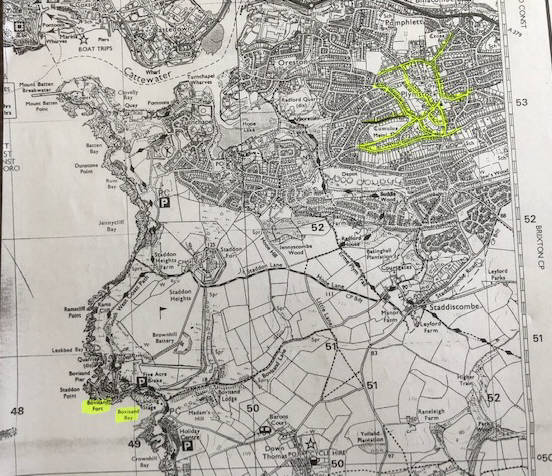 Tragedy befalls Family
I had not realised the extent of the tragedy that befell the family. I knew that Henry Saunders died in Turnchapel, Plymstock in 1867 (age 56) and his son Francis died there in 1869 (age 28).
I had never been able to trace either Ann or Charles in the 1871 Census.
Using an Ancestry search, I found an entry for a death in Jan-March 1868 of an Ann Saunders (age 57) in Plympton. Disease must have been rife.
After 3 deaths in 1867, 1868 and 1869, of the family it just left Charles my great grandfather.
He was apprenticed in London in 1863-1866 and married in Plaistow in 1876 but his whereabouts in 1871 are still unknown. Perhaps he was at sea.
Things we wish we knew
Whether the family came over from Ireland as suggested
Why Ellen Saunders was christened Curran and then Creah (or Crae) Curran i.e. family connections
Birth details of Henry Saunders (c1810 in Cheltenham) and his career in the Navy
Where Charles Herbert Saunders was in 1871 (in Navy?)
For which railway company Charles Herbert Saunders worked

Colin Bower
21 December 2020

Links to:
Saunders Family - Main Links
Family History - Main Index