Family History Research Report
Peryer/Perrier Family
Introduction - Bower/Collier Family Tree
When I set out to study the Bower/Collier Family Tree, my initial aim was to identify my 8 Great Grandparents (Bower) and my wife Chris' 8 Great Grandparents (Collier). Though I have tended to study the Family History of the 16 Great Grandparents, I have also sought to find out the additional 16 Great Great Grandparents' family names, and any 3 x Great Grandparents along the way!
The names that I have identified to date are:
Bower/Brecht Family Tree
Bower/Brecht Family Tree
Great Grandparents
Bower
Jones
Hayes
Gardner
Brecht
Walland/Worland
Saunders
Seabourne(e)/Saban
2 x Great Grandparents
Pitts (Bower)
Counter (Jones)
Bradbrook (Hayes)
Tunstell/Tunstill (Gardner)
Somes/Piper (Brecht)
Hutley (Walland/Worland)
Neville (Saunders)
Holbrook (Seabourn(e)/Saban)
3 x Great Grandparents
Pinnion (Pitts)
Spence (Jones)
Mason (Hayes)
Robinson (Bradbrook)
Shocke (Brecht)
Reynolds (Walland/Worland)
Hunt (Piper)
Howard (Seabourn(e)/Saban)
4 x Great Grandparents
Bates (Pitts)
Smithers (Pinion)
March (Jones)
Venice (Robinson)
Juliane (Brecht)
Adamson (Neville)
Siggins (Walland/Worland)
5 x Great Grandparents
Cook/Cock (Jones)
Wyat (Robinson)
Jahns (Brecht)
Odell (Walland/Worland)
6 x Great Grandparents
Amears (Robinson)
7 x Great Grandparents
Amore/Mills (Robinson)
Collier/Hunt Family Tree
Great Grandparents
Collier
Gardiner
Peryer/Perrier
Smith
Hunt
Farrow/Pharoah
Marjoram
Ransome(e)
2 x Great Grandparents
Adams (Collier)
Goodchild (Gardiner)
Mitchell (Peryer/Perrier)
Nye (Smith)
Sheldrake (Hunt)
Smith (Farrow)
Rookyard (Marjoram)
Aldous or Alhous/Ollis (Ransome(e))
3 x Great Grandparents
Mason (Collier)
Ridett (Adams)
Sly (Nye)
Snelling (Peryer/Perrier)
Spall (Hunt)
Shepherd (Farrow)
Allen (Ransome(e))
More (Aldous/Aldis or Alhous/Ollis)
4 x Great Grandparents
Trigg (Peryer/Perrier)
My research has included a One-Name Study into the name Brecht, my mother's maiden name.
Names Index
The additional surnames in this Report have been listed in the Names Index below.
Peryer/Perrier Family
Great Grandparent: James Peryer
- His Parents: Henry Peryer and Sarah Mitchell
- His Grandparents: James Peryer and Sarah (Snelling?)
Mini Family Tree (Direct Ancestors)
The family tree to date may be summarised:
Peryer/Perrier Family
(?) John Peryer b c 1732
married (?) 29.10.1753
(?) Sarah Trigg b c 1730
James Peryer b 1755 (?) bp 31.8.1755
married (?) 4.4.1782
(?) Sarah Snelling b c 1760
Henry Peryer bp 20.05.1798
Married 8.03.1828
Sarah Mitchell b c 1805
James Peryer bp 09.03.1836
d 18.04.1907 (Age 72)
married West Clandon 14.11.1869 (Age 33)
Martha Smith b c 1850/1
Mary Peryer/Perrier b 02.12.1869
d 10.02.1949 (Age 79)
married St Luke's, Hackney 13.05.1894
Walter James Collier b 09.06.1862
d 10.2.1942
Leonard Stanley Collier b 30.11.1909 d 9.5.1988
Married 6.06.1936
Phyllis Marjoram Hunt b 6.06.1912 Died 1991
Christine Elizabeth Collier
Married 15.10.1966
Colin Bower
Summary of research undertaken to date
Good progress was made through parish records provided by a correspondent.
We have made enjoyable visits to Cranleigh, Ewhurst, West Clandon and Send and Ripley where the Family lived.
Chris' great grandfather, James Peryer, was one of the labourers working on Lord Onslow's estate at Clandon Park, West Clandon.
In particular, we enjoyed taking Chris' father Len Collier to find the Butt and Ben Cottages near Clandon Park, where he stayed with his grandmother:
Progress 2000
To promote the research into the Peryer/Perrier/Smith Family, I published an article in the journal of the West Surrey History Society, which generated some very useful information.
Progress 2004
We made an enjoyable visit with friends, who knew the area, to the Guildford area including Cranleigh, Send & Ripley and Ewhurst (where the Peryer/Perrier Family lived) and West Clandon where both families lived.
Progress 2005/7
-
Progress 2008
A correspondent made contact via Genes Reunited. She was a descendant of Matilda Peryer, James Peryer's sister; James Peryer being Chris' great grandfather.
Entries in the 1861, 1871 and 1891 Censuses were added
Progress 2009
Entries in the 1911 were added
Another correspondent via Genes Reunited claimed that Henry Peryer's grandparents were John Peryer born 1732 who married Sarah Trigg (born c 1730) on 29.10.1753 at Alford Surrey.
Clandon Park a National Trust property in West Clandon, Surrey put together a small exhibition which was part of a series that had been running through the year under the umbrella 'Clandon Uncovered'.
The exhibition in question revolved around an album that many West Clandon residents signed in 1889. This album was Christmas greetings (signatures, poems, prayers and sketches) and sent to the 4th Earl of Onslow who was governor of New Zealand from 1889 to 1892.
Clandon Park researched some of the signatories (including James& Martha Peryer) to see if there were any interesting stories as part of the exhibition. We duly provided some information but unfortunately Chris and I were unable to visit Clandon Park. Clandon Park were kind enough to send an image of the page on which the signatures appear: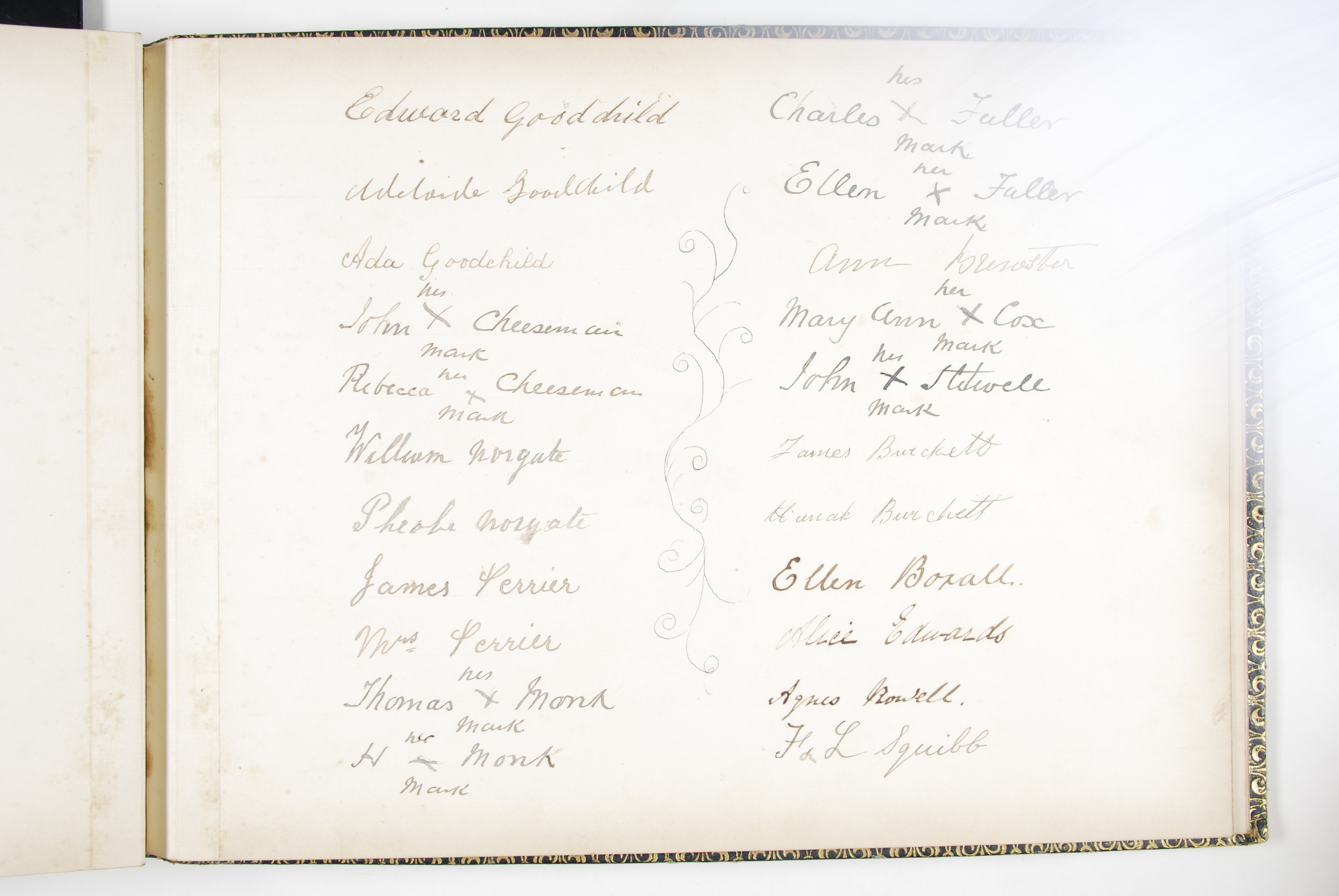 Progress 2010
This report was written as part of the Big One! project.
Progress 2011
A correspondent contacted me to advise me that her ancestor James Peryer was a brother of Chris' ancestor Henry Peryer:
James Peryer
bp 23.3.1783 St Peter & St Paul Church, Ewhurst
(parents James Peryer& Sarah Snelling married 4.4.1782 Ewhurst)
James married in Surrey:
Holy Trinity, Albury, Surrey
James Peryer married 26.4.1814
Leah Hill
but by 1840 the couple had moved to Sussex:
Thakeham, Sussex
Leah Peryer died Jan 1840
1841 Census
Wiltsshires, Pulborough, Sussex
James Peryer (57) Famer Born in County - No Henry Peryer (18) Ag Lab Born in County - No
John Peryer (16) Born in County - No
Harriet Peryer (14) Born in County - No
George Peryer (11) Born in County - No
Mary Peryer (7) Born in County - Yes
Jane Peryer (7) Born in County - Yes
After Leah's death James remarried:
Pulboorough/Thakeham, Sussex
James Peryer married 17.4.1843
Elizabeth Large
Colin Bower
1 January 2012
Things we wish we knew
Confirmation that John Peryer married Sarah Trigg (1753 Alford)and son James was born 1755 Alford.
Confirmation that James Peryer married Sarah Snelling (1782 Abinger)and had son Henry.
Where Sarah Mitchell was born - difficult to read town in 1851 Census
Also see Summary of Records Held (Completed & To Do)
Summary of Records Held - Peryer/Perrier Family
Research Undertaken
The detail of the following research has been listed as Appendices to this report:
Birth Marriage & Death Certificates Held
- Births: 1 (Mary Perrier)
- Marriages: 2 (James Peryer, Mary Peryer)
- Deaths:
Certificates Held - Peryer/Perrier Family
Census Records Obtained
- 1841 Henry & Sarah Peryer & family
- 1851 Henry & Sarah Peryer & family
- 1861 Henry Perryer staying with the Stedman family
- James Peryer with sister Hannah (Peryer) Stemp
- 1871 Henry Perreyer staying with Stemp family
- 1881 James & Martha (Smith) Purryer & family
- 1891 James & Martha (Smith) Perryer & family

- 1901 James & Martha (Smith) Perrier & family
Albert & Harriet Perrier& family
- 1911 Martha (Smith) Peryer, Widow & Family
Albert & Harriet Perrier & Family - 1939 Register
Other Research Undertaken
- IGI - sheets for Surrey held including entries for Ewhurst:
- Businesses - nil
- Correspondence - We received some very useful information from West Surrey including extracts from Parish Records
- Visits - We made a number of visits to West Surrey including Clandon Park, West Clandon where James Peryer worked. Chris' Dad Len Collier remembered going to stay with his grandmother Martha Peryer nearby at the Butt and Ben Cottages at West Clandon:
- Photographs - Clandon Park & West Clandon
Three Generations - Len Collier, Chris and our son Steve - outside the Butt and Ben Cottages, West Clandon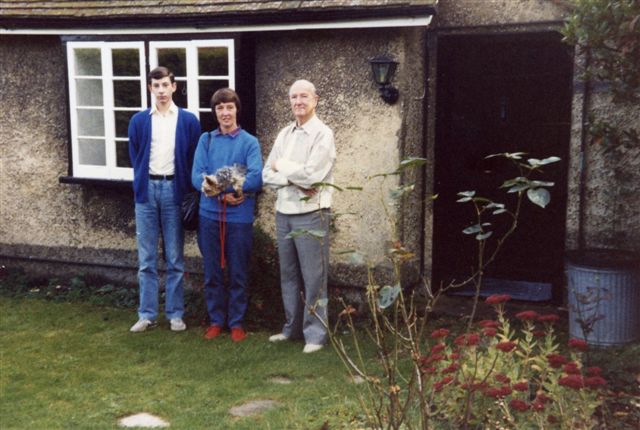 - Misc Information/Documents
Misc Information/Documents including the location of Moonhall, Ewhurst
Summaries
The information above has been summarised in the following formats:
Where they were & what they did
The attached table summarises the name of my ancestors, where they lived and their occupations:
Peryer/Perrier Family - Where they were & what they did
Family Tree Maker Sheets
The family details of James Peryer, Henry Peryer and his son James Peryer/Perrier have been summarised in the attached Family Tree Maker sheets which I may enter in to the relationship database, Family Tree Maker:
Family Tree Maker Sheet - James Peryer
Names Index
The following surnames appear in this Report in addition to the names at the start of this Report.
Ansell
Baigent
Batchelor
Bocking
Burckot
Bruch
Case
Etherington
Farmer
Frekert
Gardner
Gigney
Gravat
Hiller
Jerrad or Jerrard
Jobert or Jabert
Liddell
Michael (or Mitchell)
Mitchener
Moore
Morris
Norman
Philpott
Pick
Pike
Pullin
Rogers
Rose
Selmers
Spooner
Stedmen
Stemp
Stone
Stratford
Strudwick
Tickner
Tidy
Woodyer
Worsfold
Colin Bower
1 January 2012