Introduction
Like many genealogists who have seen dramatic changes in the amount and accessibility of information and the means of storing it, I can say that if I was starting my research again I would not start from here!
In addition to my web-site, I have finished up with many records stored in manilla folders kept in colour-coded boxes, e.g. red = family name Bower (my Dad's favourite colour):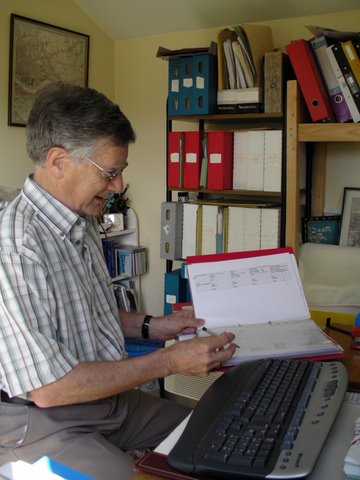 Working on the Big One! transferring information from filing boxes into ring-binders
With the explosion of information available, it has been very difficult to maintain such a set of records which has become overgrown.
Some years ago I typed up my records so that I had a report for each family name ready to answer enquiries. I called these reports Mini-Fams (Mini Family Trees). I also made a start on entering family details into the relationship database, Family Tree Maker, but this activity remains on the back-burner for the moment.
My Web-site
Over the more recent years, I have met 4 big challenges:
Family History - Bower/Collier Family Tree
My son set up the web-site and included a small family tree with the names of our direct ancestors with their relationship links to their families.
Brecht One-Name Study
I registered my interest in my mother's maiden name Brecht with the Guild of One-Name Studies, which has involved research into anyone of the name Brecht. The name Brecht is rare in the UK and to develop my research I joined the East of London Family History Society and Genes Reunited and published my interest in:
- My web-site
- The Guild's web-site:

www.one-name.org
- The East of London FHS's journal, Cockney Ancestor
- Genes Reunited
Naval History - Sinking of the SS Britannia 1941
I took my father's account of the sinking of the SS Britannia and published the details in my web-site.
Local History - Find the Lady!
I searched for the name of the Lady (who lived in the Lymington area 1883- circa 1893 and kept a Calling Book) and found out it was Mary (Fawcett) Murray. My final report appears in my web-site.
Maintaining the Web-site
I developed all 4 projects and received a number of enquiries worldwide.
Personally I found it easier to update the web-site than the Mini-Fams and Family Tree Maker.
Electronic Filofax
When I went to Record Offices etc, I took a filofax with family trees in a format provided by Genfile. I put the contents into an "electronic filofax" which is attached as 8 sheets:
Bower/Brecht Family Tree
Collier/Hunt Family Tree
The Next Challenge - the Big One!
I have had a main goal for many years in that I wish ultimately to deposit a record of the family tree with the Society of Genealogists. I have dubbed this project, "The Big One!", as it will involve a lot of work and take some years to complete.
Initial Plans
At the outset I saw the plan as having 3 parts:
1. Putting the information into ring binders
2. Drawing up a template to be used for each family name.
3. Collating information held in hardcopy format and electronically, as a Word document with scanned attachments.
Guild of One-Name Studies
The Guild of One-Name Studies ("the Guild") has encouraged its members to publish their research. At one of their regional meetings in Winchester. I discussed my plans with a fellow member and we agreed that it would be better to take on one family name at a time.
Template for each Family Name
After some thought, I decided to base the template on the Progress Reports that I have been keeping in the web-site. One of the attractions of this was that the template was very similar to the Mini-Fams that I typed up originally.
I have called the template, "Family History Research Reports".
Testing the Template
I selected 3 "minor" names:
Bradbrook
Pitts
Robinson
I took the information out of the boxes/manilla folder and put it into ring binders and started to draft the first 3 reports.
Best-laid Plans
I had not made a great deal of progress when 3 events brought me to a stop and made me have a re-think:
1. Further Meeting of the Guild
I attended another meeting of the Guild which included a presentation by another member who had had to cope with a very large volume of information and documentation.
It hit me that I had not been recording all sources of information in my web-site including:
Parish Records
Wills
Correspondence including Genes Reunited
Misc Information
Also he had scanned in documentation to make the information accessible.
2. Parish Records held by London Metropolitan Archives
A large amount of new information became available when some London Parish Records held by the London Metropolitan Archives were published on the internet.
3. Bower/Pitts Family Tree
I was lucky enough to receive a large amount of new information from a lady in Australia.
New Plan
I changed the template for the Family History Research Reports and the format of the Progress Reports in my web-site.
Template - Family History Research Reports
I completed Reports for the first 3 "minor" names and started on 3 of the 16 main family names.
Hayes
Peryer/Perrier
Ransom(e)
To give me a break, I summarised 2 other main family names, Gardner and Jones where there was not a great deal of documentation to tackle. Once again I found that I needed to amend the template and this meant adding information to the Bradbrook, Pitts and Robinson Reports which was some what frustrating!
Another Meeting of the Guild
During a presentation on relationship databases, e.g. Family Tree Maker, I liked a feature that was new to me akin to a Gap Analysis, i.e. newer versions of some databases show for each individual which sources of information have been used and those sources yet to be used.
I though that this would be a useful extension of the section, Things we wish we knew, and went back to insert a table in each of the reports to date.
Lessons Learnt
Welcome Interruptions!
I realised that while I was working gradually to complete the Big One! I would still have to respond to enquiries generated by:
my web-site
membership of the Guild
membership of Genes Reunited.
Also I would have to keep up with and take advantage of developments in information available to genealogists and absorb any new information into my records.
Opportunities to Develop the Family Tree
Writing up your records provides one more opportunity to try to develop the Family Tree while the information is fresh in mind, and examples of this were ordering 3 certificates as a result:
Eliza Gardner (birth certificate)
- to obtain the maiden name of her mother (and also Charlotte's)
Fenn Bradbrook (death certificate)
- to find out where he was living and his age when he died.
Charles Collier (2nd marriage certificate - to Maria Sanders)
- to find out his father's name.
I also traced:
- the birth and baptism of Elizabeth Counter and a potential entry in the 1841 Census for John & Elizabeth (Counter) Jones
- the baptism of Martha Tunstill or Tunstell (Edward Gardner's wife) and a potential second marriage for Edward at St Giles in 1852.
- Ann Matilda Gardiner (Matilda Gardiner's mother) in the 1841, 1851 and 1871 Censuses
- The baptism of Ann's children including Caroline Jackson (a daughter of Ann& Richard Jackson, Ann's second husband)
Working with HTML
Information saved in Word can be copied into my web-site and converted to HTML but I have found some of the formatting difficult to handle due to my limited knowledge of HTML. A ready solution has been to import certain material, e.g. tables, into the website in PDF format.
Current Plan
When I have completed the first 7 of the 16 main family names, I will make a start on the Brecht One-Name Study.
Progress Report
I will maintain a Progress Report for the Big One! project as a discipline.
Names Index
I have started to put any additional names into a Names Index but this may prove too onerous.
Scanning
For the moment, I have put the activity, of scanning documents, onto the back-burner.
* * *
So the biggest project that I have ever taken on.
The publication of my plans and progress in the web-site should give me the push to keep working on the project. I have stopped circulating newsletters on the subjects of the One-Name Study and Silk Weavers named Collier so that I can devote more of my spare time to the project.
Gradually I will have a better set of records and at the end of the project have something I can lodge with the Society of Genealogists.
Colin Bower
31 March 2011