Dad's Memorabilia
After my father died in September 2006 and we cleared his bungalow, I took possession of his family history documents and books including those relating to the sinking of the S S Britannia:
1. Dad's tiny pocket diary for 1941 in which he recorded the chronological events of the sinking and the rescue.
Contents of Dad's tiny 1941 Diary
2. Dad's pocket book in which he sketched the lifeboats leaving the Britannia and the German raider Thor, and noted the names of some of the survivors that finished up in Gibraltar.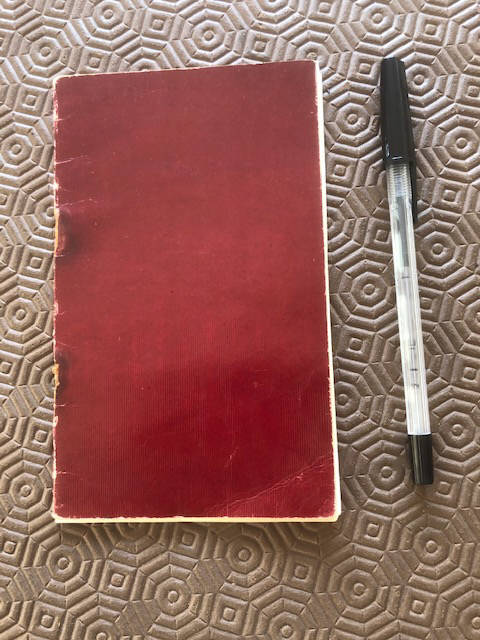 Contents of Dad's Pocket Book
I naturally find the existence and contents of 1-2 above moving, as Dad had them in the lifeboat and kept them all those years.
3. Some old literature about Tenerife which my father obtained. This is where the Cabo de Hornos took the service personnel to be interned.
Account of Tom Dunne who was taken to Tenerife
4. The Cabo de Hornos'Menu on which my father obtained the signatures of the survivors then on board.
Survivors of the Sinking
Menu from Cabo de Hornos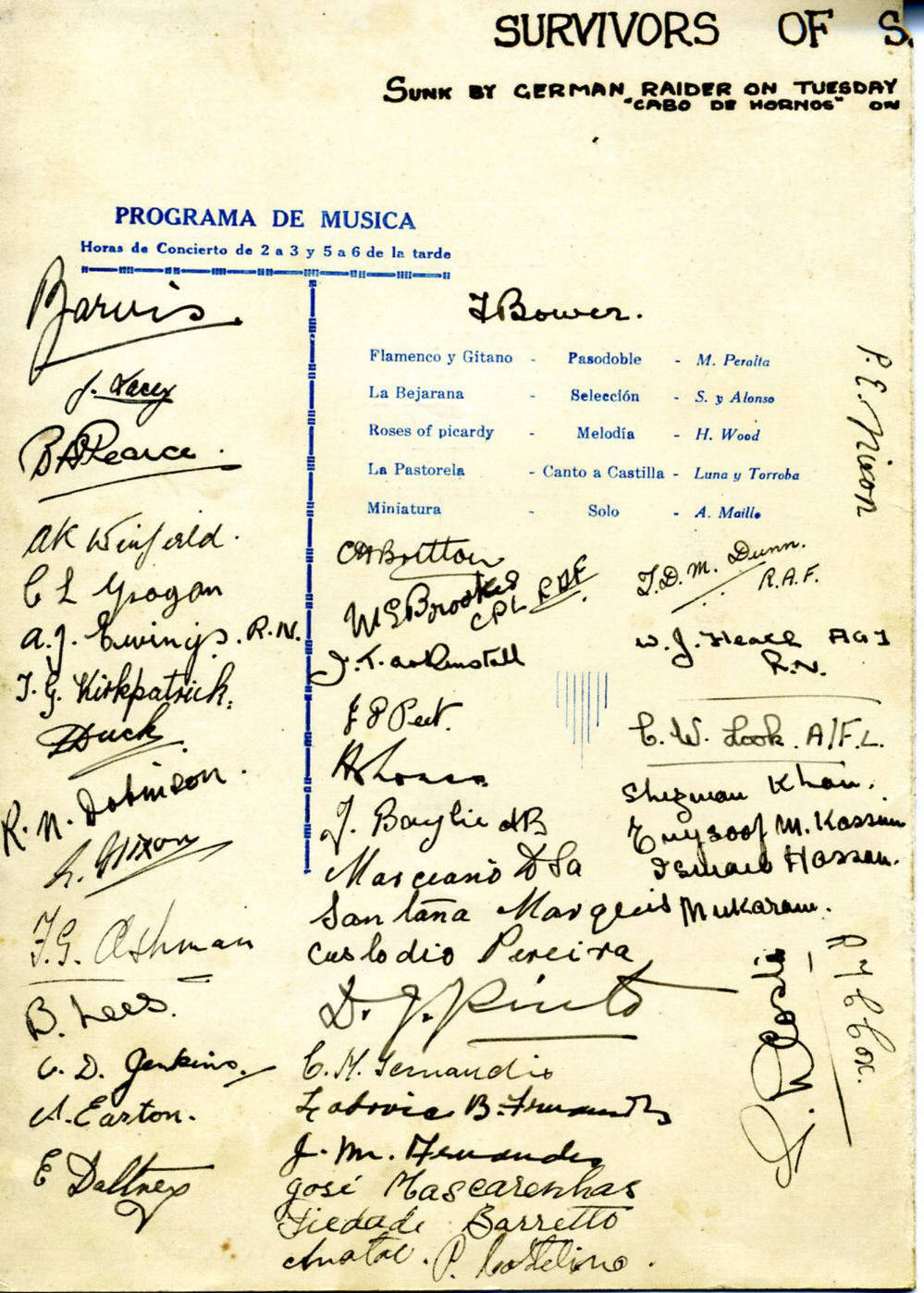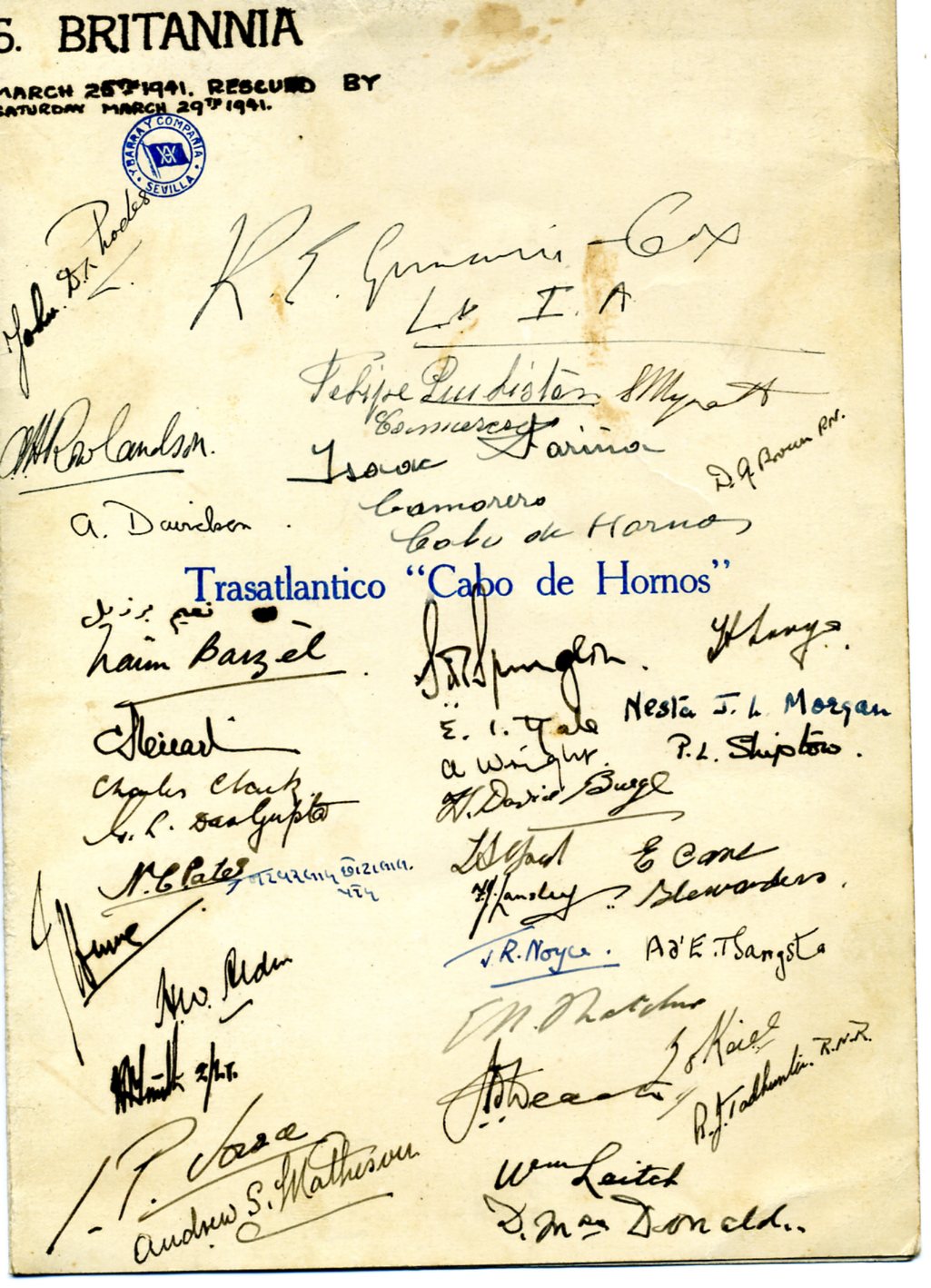 5. A letter dd 4.4.1941 from Electrical Installations Ltd to my mother telling her that: "there will probably be some little delay before he (my father) is able to proceed on the remainder of his journey (Iran)!!"
6. A letter from Anchor Line Ltd in Glasgow dd 6.5.1942 enclosing postcards of S S Britannia.
7. Postcards of Cabo de Hornos from which Dad did an oil painting that he put up in his hall.
8. Details of a winter cruise on Empress of Scotland 1951 (Dad had returned from Gibraltar to Greenock in 1941 when the vessel was known as the Empress of Japan).
9. An obituary from the Times dd 2003 for Vice Admiral Sir Ian McIntosh who was instrumental in sailing Lifeboat Number Seven to Brazil for which he was awarded the MBE for gallant conduct.
Books
The Secret Raiders by David Woodward
- The German surface raiders in World War II including the Thor (Ship Number 10) which sank the S S Britannia
Lifeboat Number Seven by Lt Commander Frank West MBE
- the story of the remarkable jouney of the lifeboat to Brazil
plus
- some information on some of the other survivors including those from Lifeboat Number Three from which my father was rescued.
German Raiders of World War II by August Karl Muggenthaler
- the first complete history of Germany's ocean marauders including the Thos
Sea Raider Atlantis by Ulrich Mohr & A V Sellwood
- Atlantis (Ship Number 16) was a German surface raider like the Thor
Ocean Liners published by Reed's Nautical Books in 1992 - since disposed of
- has a photo and text about the ship: Hanseatic (formerly the Empress of Japan renamed Empress of Scotland in 1942)
Newspaper Articles (that I obtained from the newspaper library at Colindale)
1. Times Saturday 4 April 1941
British Ship sunk by German Raider
76 Survivors Rescued
(by the Cabo de Hornos)
2. News Chronicle Monday 21 April 1941
38 men crossed ocean in open boat
(Lifeboat Number Seven)
3. News Chronicle Saturday 3 May 1941
Raider sinks ship going to India
(S S Britannia)
Colin Bower
1 June 2020
Links to:
Britannia Index