Progress in the following subjects in 2006 has been summarised under the following headings:
Family History
Brecht One-Name Study
Local History: Find the Lady!
Family History
Bower Family
My father dies
Sadly my father died on 10 September, 2 days short of his 96th birthday. It may seem a strange thing to say, but I feel that I really got to know him in the last few years of his life, for which I am very grateful.
My parents Frederick Bower and Doris Brecht taken on my Father's 90th Birthday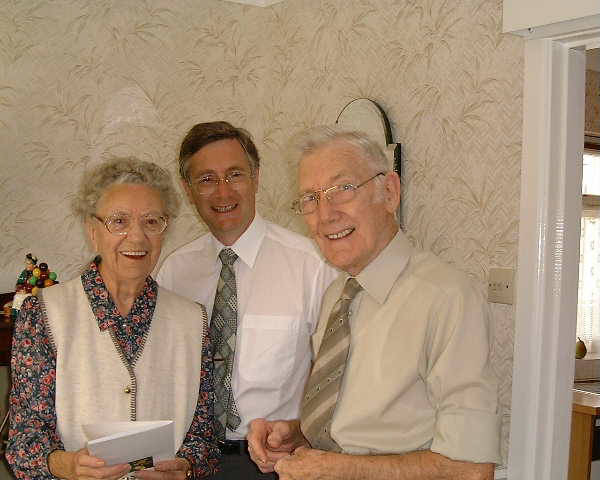 Some year ago, my Dad gave his own account of his life:
Big Celebrations in 2006
Despite the loss of Dad, there were reasons for celebration as well:
1861 Census Names Index
Once again the availability of a Names Index to a Census has provided 4 breakthroughs unimaginable years ago when I first tried to find the following entries:
Bower Family
1 Felix Street, Bethnal Green
My Great Great Grandparents
Benjamin Bower (41) Tailor born Fulham,Middx
Mary(Pitts) Bower (41) born Fulham, Middx
Elizabeth Bower (16) born Fulham, Middx
Louise Bower (4) born Whitechapel, Middx
At long last, I have found Benjamin Bower, the mystery man, and 2 sisters of my Great Grandparent George Bower, that I did not know about.
Jones Family
16 Dempsey Street, Stepney
My Great Great Grandfather
John Jones (50) Labourer Docks born Yorkshire
Martha Hannah Jones (16) Dress Maker born London
John Richard Jones (13) Scholar born London
Amazingly the enumerator and indexer recorded my Great Grandmother (wife of George Christopher Bower) as Martha Hannah Jones so that I was able to find the family straightaway.
Armed with this information, I was astonished to be able to find the family in the 1851 Census; who would have thought that I would find John Jones in two Censuses!
35 Jubilee Place, Stepney
John Jones (40) Laborer born Yorkshire
Elizabeth Jones (8) born Stepney, Middx
Martha Jones (6) born Stepney, Middx
John Jones (3) born Stepney, Middx

This tends to suggest that the family may have been quite a big one but for the moment it is nice to learn of Elizabeth Jones.
John Jones is shown as Brother in Law and Elizabeth & Martha as nieces and John nephew of either James Hicks or Thomas Goodman.
Gardner Family
45 St Pauls Street, Islington
My Great Great Grandfather
Edward Gardner (42) Compositor born Middx
Hannah Gardner (28) born Kent
Charlotte Gardner (17) born Middx
Eliza Gardner (9) born Middx
Henry Gardner (6) born Surrey

I have never found Charlotte's birth certificate nor the marriage of her father Edward Gardner, so to have a Census entry with them and Charlotte's two sisters is a big find; Hannah must be Edward's second wife.
The Diaries of Eugenia Bower
A former colleague of mine has sent me a book: "The Diaries of Eugenia Bower", written by Mary Pollock 2001. It looks a well-researched book and has photo's of:

All Saints Church, Barmston
St James of Compostella, Lissett
St Andrews, Ulrome
Skipsea Church
St Magnus, Bessingby
St Leonard, Beeford
Fraisthorpe Church
AllSaints, Terrington
St Leonard, Scorborough
Beeford Rectory
Barmston Rectory
Terrington Hall
Scorborough Hall, where Eugenia Hall was born
Sledmere House
Burton Agnes Hall
Abbott's Hill House, Speen, Buckinghamshire
Welham Estate
Bessingby Hall

Eugenia Bower was born in 1803 the youngest daughter of John Hall Esq of Scorborough, Yorkshire and in 1828 married Rev John William Bower of Welham Hall nr Malton, Yorkshire.

I have no known links to either clergymen or Yorkshire, but some time I will put in an index of the names mentioned in the book.
Collier Family
Chris' Great Great Grandfather was Charles Collier, Silk Weaver.
1841 & 1861 Censuses
My cousin traced the family of Charles Collier in the 1841 and 1861 Censuses. This confirmed that Charles was a Silk Weaver, that his daughter's name (in the 1851 census as "E") was Elizabeth. It also identified 7 more children! Did they all live and what happened to Charles after 1841?
Collier Family - Census Records
Silk Weavers named Collier
In 1983 I followed up an article in the East of London FHS' journal: Cockney Ancestor:
and he provided me with information about a number of silk weavers named Collier, and I have identified others since:
I had hoped that there was some link to Thomas & Mary (Kemp) Collier, as the latter was of Huguenot descent and it had been passed down the family that they were of Huguenot descent.
I traced the potential christening of other children of Thomas Collier and Mary Kemp in the IGI but there was no mention of a Charles!
The birth of Charles & Eliza Collier's children after registration began should enable me to find out what Eliza's maiden name was etc.
I bought the 1841 census and Names Index on CD-ROM and made a visit to the Family Records Centre to obtain certificates for births and marriages in Bethnal Green shortly after registration began in 1838.
To an extent, I was able to clarify who was who in the 14/15 families of silk weavers, and I identified some more weavers named Collier.
I have updated the List of Families and Names Index:
Silk Weavers - List of Families
Ted Collier's Family Tree
In December 1983, Edward (Ted) Collier (who was the cousin of Chris' father, Leonard Stanley Collier) completed his remarkable Family Tree. It was the result of research and meeting up with relatives in England and Canada over a number of years.
At long last, I took the opportunity to type up the original Family Tree:
Ted Collier's Original Family Tree - Introduction
Gardiner Family
I traced the following entry in the 1861 Census:
Chris' Great Great Grandmother
Matilda Gardner (46) Widow Boot & Shoe Binder born Bethnal Green, Middx
George Gardner (16) Boot & Shoe Binder born Haggerstone, Middx
Caroline Gardner (9) out nursing a child born Bethnal Green, Middx
We think that the spelling of the family name is Gardiner. We knew of Matilda and Caroline and another daughter Matilda, Chris Great Grandmother who married Charles Collier, the Ropemaker, but George is a new name.
Hunt Family - Toot Hill in Essex
During the All our Yesterdays visit mentioned in Big Celebrations above, our friends took us to the village of Toot Hill in Essex, where Chris' grandparents (Hunt) had lived after they left Debenham in Suffolk and before they moved to Enfield.
I have summarised a brief account of the visit:
Brecht One-Name Study
Photograph of Arthur (Senior) & Ellen Brecht & Family
My cousin sent me an exciting find, i.e.a photograph circa 1924 that my grandma Ellen Brecht (known as Brett) sent to his father, my uncle Arthur (Junior) Brett (born Brecht), in South Africa. The photo made its way back to England and finally got to me.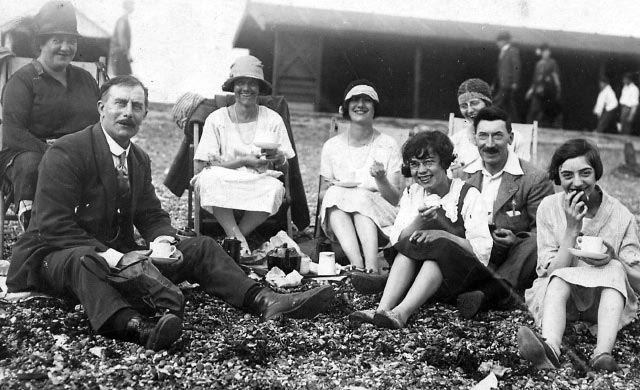 It shows my grandparents Arthur and Ellen Brecht (on the left) on the beach at Shoeburyness. My mother Doris Brecht (on the right) appears to be eating a large cake! Her sisters Enid Brecht and Ellen Brecht (you can just see her head) are siting at the back. Note the tea-set!
The other family is named Shepperd.
The reverse of the card has the message: "We all look Happy enough don't we. Do you remember Mrs & Mr Shepperd they live in our street (Clemence Street, Limehouse) we all spent a happy holiday at Shoeburyness."
1851 Census
Using one of the new Names Indexes to the Censuses (in this case 1851), I traced the children of Heinrich (Henry) Brecht living in Southwark with their step parents, Henry & Harriet (formerly Brecht born Piper) Colvin:
1861 & 1871 Censuses
My cousin found the Brecht family in the 1861 (Shadwell) and 1871 (St George in the East) Censuses
In 1861 George Frederick Brecht was living in Shadwell as a Master Dairyman (the Walland family had been dairy people there). By 1871 he had become a House Painter.
Brecht Family - Census Records
Local History
Find the Lady!
Identification of More Names in the Calling Book
The last six months of 2005 were devoted to furthering the research into the Calling Book. As a result, there has been a sharp increase in the number of potential matches between:
names identified from local research and
names in the Calling Book (as shown in the Names Index
1991 Census
I searched the 1991 Census records held on microfiche by the libraries in New Milton and Lymington, and found 24 more matches with names in the Calling Book.
Society of Genealogists
I visited the Society of Genealogists and cleared up 4 queries in the Galway list of names.
Interim Report
I published an Interim Report in paper format and sought the help of local historians. When I had their feedback, I published an initial report which I lodged with Lymington and New Milton Libraries.
The Extraordinary (Cornwallis) West Family
I added a brief summary of some of the events regarding Milford's most famous family, the Extraordinary (Cornwallis) West Family.
Donation of Calling Book
At long last I was able to donate the Calling Book and Interim Report to the St Barbe Museum in Lymington:
I also lodged a copy of the Interim Report with the Christopher Tower New Forest Reference Library, which is situated on the First Floor of the New Forest Museum in Lyndhurst.
Publicising Interim Report
My letter to the Editor of our local paper the New Milton Advertiser and Lymington Times (the A & T) was duly published.
Sion Hill near Thirsk
The Victorian lady recorded a visit to Sion Place, Sion Hill, Leeds in her Calling Book.
I found an entry in a local Yorkshire directory (Whites Directory of Leeds 1872), for Sion Hill, Thirsk:
List of West Riding Magistrates
Hon George Edwin Lascelles
Sion Hill, Thirsk
Research into Sion Hill, to date, has been summarised:
Colin Bower
March 2007
Links: