The Story So Far
My wife Chris' Great Great Grandfather was Charles Collier who was a silk weaver in Bethnal Green (1841-1871). I found out that there were many other Silk Weavers named Collier and I mounted this project to see if I could establish a link between Charles and the other silk-weaving families.
Family legend had it that some of Chris' ancestors were of Huguenot descent.
This article summarises progress made up to 2009:
Progress up to 2009
In 1983, Leigh Collier published an article, about Thomas Collier and his son James who were Silk Weavers, in Cockney Ancestor:
Decline of the Silk Trade by Leigh Collier
I corresponded with him and he provided me with details of the family of Thomas & Mary (Kemp) Collier who married at Christ Church, Spitalfields. Mary Kemp had Huguenot ancestors.
At that time, there was a big gap in the list of children born to Thomas and Mary but it was not until 2006 that I went through IGI records and identified 6 potential further children christened at St Matthew's Church, Bethnal Green:
Thomas & Mary (Kemp) Collier's Family
I was hoping that one of the children might have been Charles Collier but no luck!
I obtained the 1841 and 1851 Censuses for London on CD-ROM and ran off copies of the entries for Silk Weavers named Collier:
Silk Weavers Named Collier - Families
In June 2001, we made an enjoyable visit to the East End of London and Chris took photos of Christ Church, Spitalfields, St Leonard's Shoreditch, St Matthew's Church in Bethnal Green and the Parish Church of South Hackney:
Visit to the East End of London June 2001
Visits to the Family Records Centre 2006/7
I gradually built a list of Silk Weavers' families and obtained birth and marriage certificates to give me the names of fathers and the maiden names of mothers. This information combined with the addresses shown in the Censuses has enabled me to identify more weavers and link them to their families:
Silk Weavers named Collier - Certificates Held & Unwanted Certificates
Visit to the London Metropolitan Archives February 2007
In February 2007, I looked up the Parish Record of the marriage of Thomas Collier & Mary Kemp in June 1802 and found the name of two witnesses, Matthew & Phoebe Collier.
A search of the IGI reveals potential parents & siblings of Thomas Collier:
Parents: William & Phoebe Collier
(A William Collier married Phebe Booth 3.9.1782 at St Leonard's, Shoreditch)
Siblings: Children christened at St Leonard's, Shoreditch
*Thomas Collier 18.1.1779
Matthew Collier March 1781
Sarah Debues Collier 26.12.1782
Phoebe Collier 17.2.1785

* Thomas Collier was born 1778/9 per 1851 Census (age 72)
Article in Cockney Ancestor
In Summer 2007, I had an article published in Cockney Ancestor, the Journal of the East of London Family History Society.
Original Article in Cockney Ancestor
Christ Church, Spitafields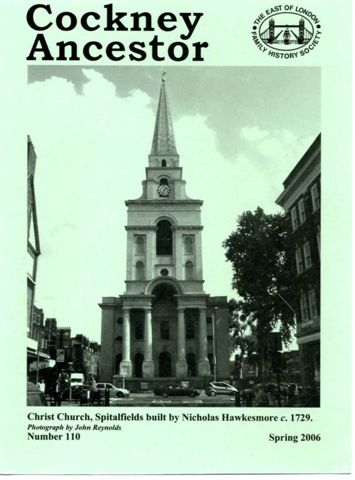 I updated the text following some more recent research:
Progress since the Article
There was immediate progress when an article from Doreen Furby appeared in the next edition of Cockney Ancestor!
Further Article in Cockney Ancestor
1861 Census
The publication of a names index for the 1861 census gave me a breakthrough with Thomas & Mary (Kemp) Collier. In 1861 Thomas was staying with his daughter Elizabeth (Collier) Furby at Brooksby Walk, Homerton. I had not previously known about Elizabeth.
IGI
Christ Church, Spitalfields
This prompted me to go back into the IGI and it appears that Thomas & Mary had 3 children that were christened at Christ Church, Spitalfields:
Previously Known
1. Mary Sarah Collier christened 31.8.1803
Additional Names
2. Hariot Ann Collier christened 13.2.1805
3. Elizabeth Collier christened 9.3.1806
St Matthew's, Bethnal Green
The christenings of the other children at St Matthew's, Bethnal Green are more problematic:
Previously Known
4. James Collier christened 29.12.1819
5. Jane Collier christened 24.3.1822
6. John Daniel Collier christened 16.11.1823
Additional Names
7. Phebe Collier christened 28.8.1806(?)
8. Frances Collier christened 26.7.1807
9. Thomas Collier christened 26.8.1810
10. Louisa Collier christened 15.11.1812
11. Mary Ann Collier christened 19.9.1813
12. William Collier christened 26.11.1815
13. Sarah Collier christened 23.11.1817
I did have doubts over this information with 2 marriages of a Thomas & Mary at Christ Church, Spitalfields at about the same time and e.g. the christening of Phebe (parents Thomas & Mary Collier) 28.8.1806 did not appear to tally with the christening of Elizabeth but I received a response to the article which confirmed that Thomas & Mary had 13 children.
Response to Article
I received a response from a descendant of William & Phebe Collier who told me that they had had two further children making it 6 in all:
5. William Collier b 1773
6. Ann Collier b 1776 who married William Kemp
Big Breakthrough!
Charles Collier Silk Weaver and his wife Eliza
In the 1841 Census, Charles Collier, Silk Weaver (age approx 35) and his wife Eliza are shown to have had 10 children (ages 10 months-13) at that time, including Ann age 2.
For years I had been trying to establish Eliza's maiden name hoping for clues to obtain the names of Charles' parents, with a possible link to other silk weavers named Collier some of whom were of Huguenot descent.
Strangely, it was obtaining an unwanted birth certificate (Ann Eliza Collier born 10.5.1838) which drew my attention back to a birth certificate that I held already but dismissed because it stated that the child (Ann born 28.2.1840) was the first born of Charles Colllier, Weaver and his wife Elizabeth (Adams).
On looking at the IGI again, I found the marriage of Charles Collier and Eliza Adams at St Dunstans, Stepney on 25.8.1822. This would tie in with the details in the 1841 Census but which suggests that Ann was far from being the first born.
James & Elizabeth Collier
In the 1851 and 1861 Censuses Charles Collier, Weaver was born c 1803/4.
This may have been the Charles Collier bp 4.9.1803 at St Matthews, Bethnal Green (parents James & Elizabeth Collier). As this would link in with the the 1851 and 1861 Censuses, I am assuming that Charles' parents may have been James & Elizabeth.
In the IGI, a James Collier married Elizabeth Mason on 22.12.1785 at St Matthews, Bethnal Green. So I am assuming that they may be Chris' ancestors.
Some researchers had gone back further using this assumption but Elizabeth (Mason) Collier would have been 38 if and when she had a son Charles in 1803/4. I wanted to do a litle bit more research myself before making this leap.
Progress since these early days has been summarised in another article:
Silk Weavers named Collier - Progress 2009 To Date
Colin Bower
23 January 2017
Links to:
Silk Weavers named Collier - Introduction & Index