In 1980/1 and 1982/3 respectively, our daughter Helen and later our son Steve wrote up the Bower/Collier Family Tree as part of a school project in their first year at St George's School, Harpenden. The binders of information and photographs will always be an important and integral part of our Family Tree.
Some of the information given by our parents about themselves was as follows:
Frederick Bower
"I was born in the year 1910 on the date 12th of September at 139 Rhodeswell Rd. London E14. Later I moved to 8 Locksley street London E14, then to Sheppey road Barking, next to Dixon street London E14 and on marrying to 8 Ernest Grove, Beckenham. On retirement I moved to 6 Harts Way, Everton Hampshire.
At school, I was always in the top class and I was Captain of the school. I was very keen on all sports and played in the schools 1st eleven at Soccer and Cricket. I passed a scholarship to go to the Grammar School but I chose to stay where I was. At senior school children in the higher classes were punished by the cane for (what was considered to be) serious conduct. It was given as one, or more, strokes across the hand. It had the affect of making you think twice before you did it again.
When I left school I went to an Electical Contractors in the city to serve my apprecticeship. (I stayed there for 7 years.) During that time I worked in many cinemas installing equipment for the first talking films to be shown in this country.
I also went to evening classes for Gymnastics and boxing. (that was more as hobbies). I was not called up for military service, as I was classed as, being in a reserved occupation doing work of National importance, which consised of installation of machines in ammunition factories, working for the R.A.F. on Radar Stations, also on telecommunications for cable and wireless.
I got more involved in the war in March 1941. My company had the contract for the Electrical Installations at the new University in Teheran, Iran, and I was selected to go there to supervise the work. I sailed from Liverpool in March 1941 and I was enjoying the trip, when, after two weeks, early in the morning I was suddenly woken up by the sound of gunfire. I looked out of the porthole and I soon realised what was happening. We were being attacked by a German Armed Raider. We were first ordered by our captain to stay below decks while we tried to steam away, but after about two hours of shelling from the raider, we decided to signal our surrender because the boat was in such a bad state. We abandoned ship and took to the lifeboats. The raider then came within about 100 ft and fired six shells at the ship. It sunk in about 3 or 4 minutes. The raider went away without taking any prisoners. We were adrift for 5 days and in very poor condition, when we were rescued by a Spanish liner and taken to Cadiz in Spain and from there we were taken to Gibraltar. We stayed there for 12 weeks, until we eventually got a passage back to England.
I continued with my firm until December 1946 and I left them to join Cable and Wireless Ltd. I rose to assistant Executive Engineer, and was eventually posted to Area Stores Control Officer. I retired in May 1974."
Frederick Bower can be found in the Family Tree itself:

My parents Frederick Bower and Doris Brecht taken on my Father's 90th Birthday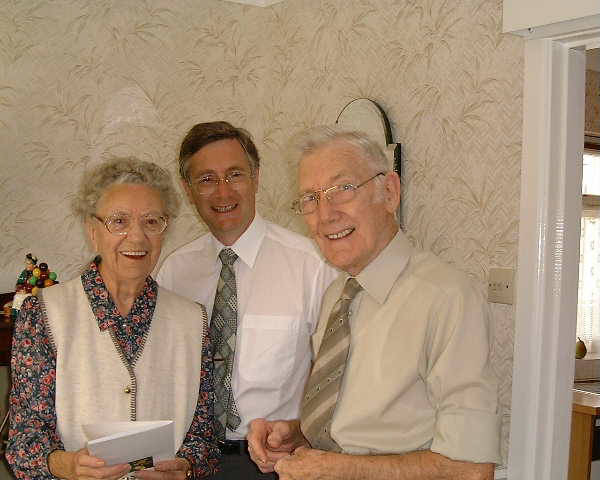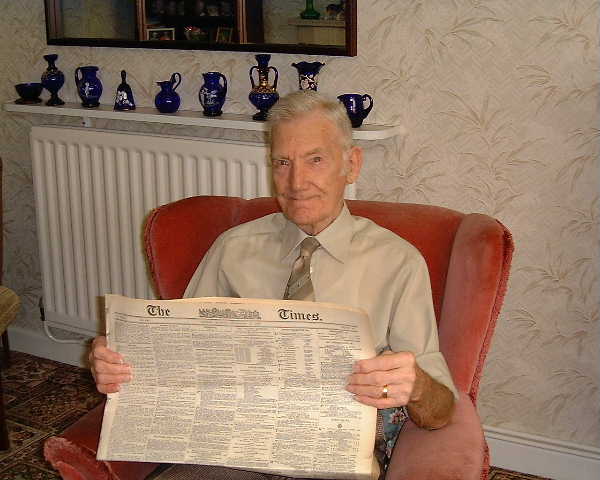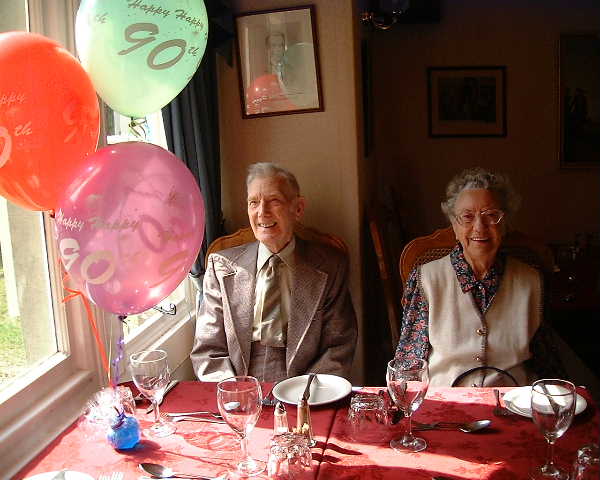 Other Links
Photo Album - Bower Family
Football in the Family
Visit to Beckenham
Doris Brecht
"I was born in 1912 at 78 Clemence Street, London, E14. The date was the 15th of March. I got married at 24 and remained a house wife.
Amongst my earliest memories is being carried to an air-raid shelter, in the 1914-1918 war, by my father. I was very envious of a girl dressed as Britannia. She was all in white. This was on Empire day at my Infant scool. We had a street party at the end of the was, when all the girls had matching dresses and danced the Valletta.
Sunday school outings were looked forward to by everyone. We had attendance cards and these were punched (when we went to Sunday school) with a heart shape punch. We London children were taken to the country at Loughton - Theydon Bois - Buckhurst hill. We were all given a lunch and some bread and some cake at teatime. Altogether it was a good days outing.
Children today are allowed to speak up more, now, and express their feelings. We had to "hold our tongues" . If we were guilty of the slightest naughtiness, we would get a "clip on the head". We were not allowed to talk at the table, whisper together, or be rude to adults.
My Mum & Dad used to like to go to Whist drives. These were held on a Saturday night. We went too and in the interval we were given a huge round biscuit. They made our mouths so dry that we needed a drink to finish them.
We seldom visited a doctor. Accidents or emergencies or a very bad pain would cost 1 shilling at the surgery or 2 shillings and 6 pence if he visited your home. The doctor always made up his own medicines.
I was in the top class at school with my brother who was 2 years older than me. I was told, when I left school at 13, that of course I should have gone onto another higher school.
From age 14 to 16 I worked as a clerk at Rotherhams Shoreditch, Wholesale warehouse. My first job was to dust the Directors Desk, I hated this because they were very fussy. My parents paid for me to go to a school to learn how to work a calculating machine when I was 16. After this I worked for Lever Bros. and I stayed with them until I left at 24 to get married. Girls did not work when they were married in those days.(I think Mum had in mind once they had had children)
Food was always good and plain. We had no tins or packets of easily prepared meals. I remember always being sent to the nearest shop for small amounts such as rice, 1 pennyworth carrot and onion, a bone and a few pennyworth of stewing meat etc. In those days there were no refridgerators or freezers. This meant that food went bad very quickly, so we only bought food that was needed for a meal. Because of this someone went to the shops every day. Todays prices can not really be compared with the prices of those days. We were able to get plenty of sweets for one farthing. These sweets would probably be our Saturday night' treat. An article bought in Woolworths for 6 pence in 1936 is now priced at around £4 in our local market.
The spelling of my surname was a great nuisance. The name was, by law, spelt Brecht, but it was prounced Brett. Because it pronounced as Brett, we spelt it like that for everyday use. Another reason was the 1914-1918 war. During this it would have been quite dangerous to have had a foreign spelt or sounding name.
I had no actual "pocket money" as such: Instead we had to earn money.
The 1939-1945 war broke up our ties with London. The families on both sides moved away from their old homes. Friends went out of our lives. My mother lost her home and compensation was so small that for the rest of her life she was made quite poor.
The house I lived at were these: 78 Clemence Street, London E14, 8 Ernest Grove Beckenham Kent when I was married and 6 Harts Way Everton Hampshire when I retired. Clemence Street was tree lined and quiet. It was a turning off a main road which buses ran to London along. There was a railway station quite near. This gave us transport to Southend where we spent most of our summer holidays.
Ernest Grove was an ideal place for bringing up a young family. As a suburb of London, the air was clean, and there was a nearby playing field, and a school. Also there was plenty of transport and good shops.
Harts Way: is only 2 miles from the sea. It is set in a village with 1 shop. I live in an easy to manange bungalow. It is ideal for retirement."
Doris Brecht may be found in the Family Tree itself:

Leonard Collier
"I was born in Ponders End, Enfield, Middlesex on the 30th November of November 1909.
These are my earliest memories: I was to play with chopped fire wood in place of toys, building it up. Other amusements were, playing in fields around the "house". The "house" was really a little cottage. I also used to swim in the River Lee. My Sunday school was conducted in a disused railway carriage. The roads were rough gravel and when the wind blew, everything got covered in dust. Because of this, in the summer a water cart pulled by a horse, would come round and spray the roads with water to keep the dust down.
I went to an elementary school. The children were very poor, there was a depression on and some children had very little food, poor clothes and very often no shoes. This condition was sometimes amended by help from the school board. Poor children had free meals.
For being naughty at school your teacher sent you to the Head-master to get the punishment book and the cane, which you took to your teacher who caned you and put your name in the book. We played knocking down ginger. That is knocking on peoples doors and running away and hiding.
I used to play for the church tennis club. I also belonged to a cycling club. I was lucky if I got any pocket money. I got 2d on Saturday afternoon for playing the gramaphone records to my father. I spent it on sweets and the local cinema.
I lived in an industrial area called Lee Valley. Mainly small houses and fields.
At 14 I was employed in the woodwork trade as a tea boy for about 30 men. I had to make the tea in a big urn with a large tea bag in. Next, I had to cross the road to a cafe to get some bread and dripping for them. It was two pence a time. One day, the lid was off the urn and a big spider fell in. Time being short I served the tea without having any myself. After that I was promoted to work on the carpenters bench.
In the 1st war I remember my eldest brother joined the army in the middle(sex?) regiment under age and my mum, being very upset, applied to the recruiting officer and he was brought back, out of the army. Later he rejoined and went to France.
(We have a photograph of Leonard Stanley Collier at his brother Albert's wedding:
I was out of work for a while in 1930s in depression. I signed on in the labour exchange box 4. After which I cycled with tools on the back of my bike. I called on Building sites to try and get work.
The 2nd world war. I joined the fire brigade and my station was a school. It was here that my group stayed. We had lots of time on our hands, and we set up a side line repairing lawn mowers and making things for people in houses around.
After the war I set up my own business with another fireman as a partner. This existed for about 30 years. I retired in 1969. I have worked for my daughter ever since!"
The important events in my life have been:
getting married
having children
starting in business

There has been a change in social standards, e.g.

television
cars
deep freezers
home ownership

Holidays are more popular. Mechanical transport has replaced horses.
Leonard Collier may be found in the Family Tree itself:

Leonard Collier and Phyllis Hunt on their Wedding Day, Golden Wedding and at home Carterhatch Lane, Enfield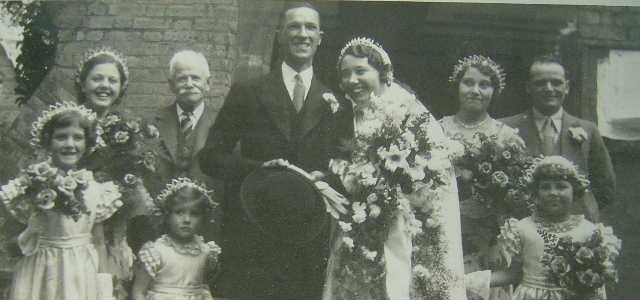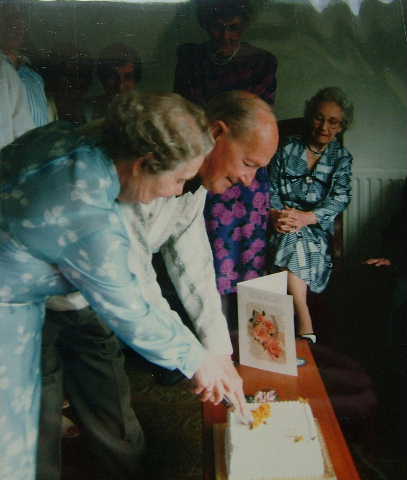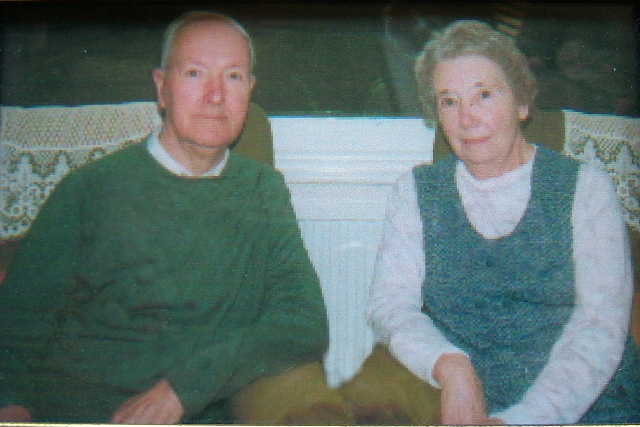 Phyllis Hunt
"I was born at 11 Wellington Place, Bulls Cross, Hertfordshire on the 6th of June 1912.
(We have a photograph of Phyllis Hunt taken at Wellington Place:
These are my earliest memories; When I was a child, I had to go a mile and a half on Sundays to get the milk direct from the farm. My father worked there. I can remember getting up early to ride my sister's bike before she went to work. I was an Aunt before I was born. I can remember pushing my sister's children in a pram.</>
I was five years old the family moved to Glenville Avenue, Enfield. It was here that I attended Lavendar Road School. I liked netball and I was the captain of a team. I played for Enfield on Sunday. I can remember going out with boys. I got 3d pocket money from my sisters. I spent it on sweets.
Standard of living was very poor in the old days. This was because money was in short supply.
First house. It was very old fashioned. It had no electric light or gas and we burnt oil lamps. There was no running water either, so we had to get water from a communal tank. Other people used it as well. This house had 3 bedrooms including one in the roof, a kitchen and a living room.
Second house. It had 3 bedrooms, a front room, kitchen and a scullery. It also had an outside toilet. This house had gas and running water.
My present house is 401 Carterhatch Lane, Enfield, Middlesex. It has 3 bedrooms, bathroom, toilet, dining room, lounge, kitchen and a double garage. It also has an air raid shelter under ground. At the moment it is flooded to provide water for the green house and the garden.
I stayed at this school until I was 14. I started work as an apprentice to be a multigraph operator. I served three years apprenticeship there. I worked for six years in my first position which was for an insurance office. Then I got married. I worked at various temporary jobs till the war broke out. Then I worked for a Canadian insurance company who used to send food parcels to us during the war. Then I went into the fire service until my first child was born. When my second child was 12, I went back to work. I worked 2 days a week for 19 years.
I was parted from my husband during the war. I spent nights in an air raid shelter when the fighting was bad. I had a fire bomb on our door step and I got my clothes burnt. The war was frightening. When I worked in London, I used to see people preparing to spend the night at the tube station platform away from bombs.
The most important events in my life were:
getting married
having children

More people own their houses. Life these days is more free. In old days there was more contentment. People only got what they earned for. There is more utensils for cleaning the house and more for cooking and washing.
Phyllis Hunt may be found in the Family Tree itself:

Colin Bower
28 February 2007
Links to:
Bower Family - Main Links
Family History - Main Index