Football in the Family
I come from a family that had a great interest in football (soccer). My Dad played, refereed and was a trainer. My Uncle Jack was an excellent goalkeeper and had a trial with West Ham. My Uncle Tom refereed at a high level.
My father in the East End of London, a fearful sight at left back (family collection)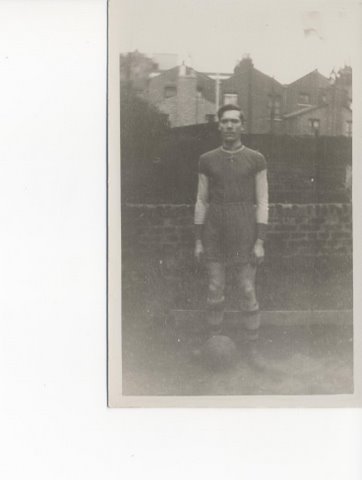 Chris and I with my Uncle Tom, who was a first class referee, and Aunt Alice (family collection)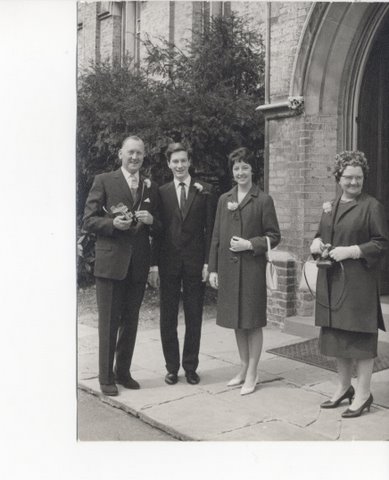 In Stanhope's Winning 6-a-side team circa 1955
- 2 of us played in Marian Vian School's team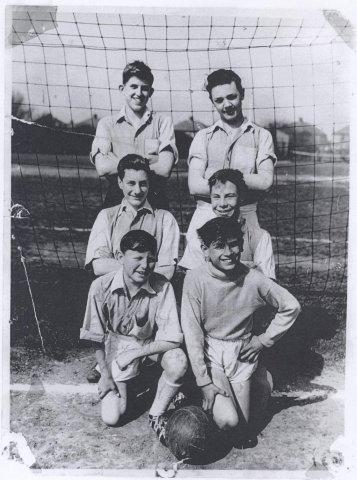 Playing for Stanhope's junior side at Beckenham Place Park (where my senior school used to play)
- 3 of us were from the same street though 2 were twins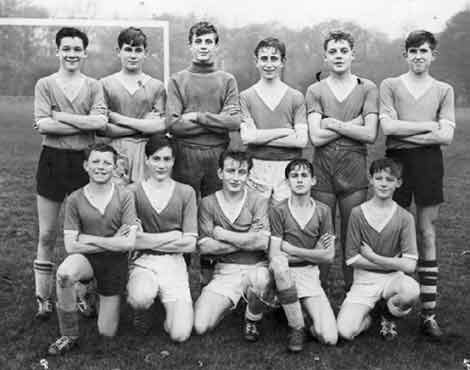 Visit to Fulham
In 1851 Census, my Great Great Great Grandparents, Christopher & Elizabeth (Bates?) Bower ran the George Inn, Walham Green, where Christopher Bower died later that year.
I made my way to the tube station Fulham Broadway (previously called Walham Green) close to Stamford Bridge where Chelsea play. The George Inn has retained its name and is close by.
The George Inn (Outside and Inside!) near Fulham Broadway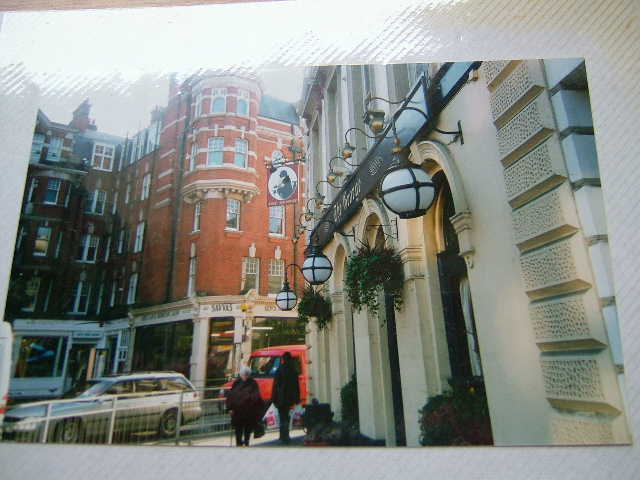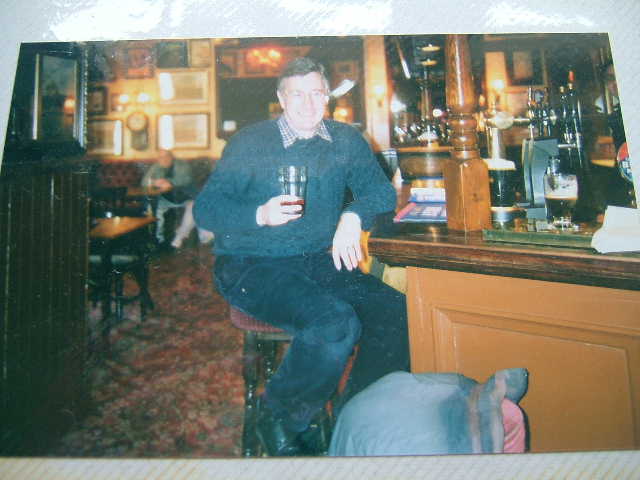 I told the barmaid that an ancestor of mine had been the publican and she asked me how long ago and I said: "150 years!"
Chris' Birthday in Cyprus March 2006
In March we returned to Cyprus, this time having a delightful stay in Pathos: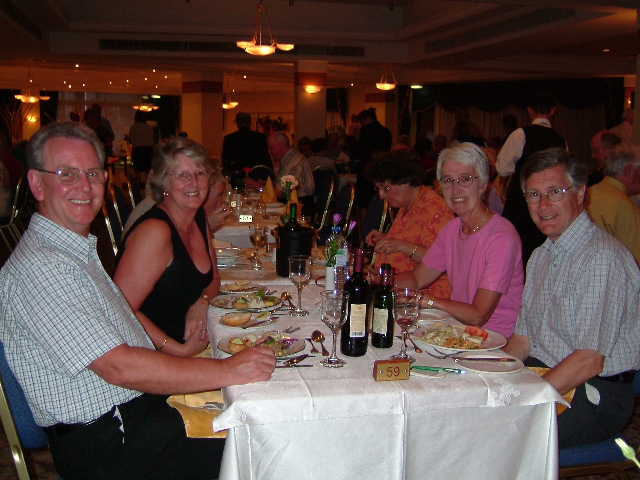 Joint celebration with friends we made; it was their Ruby Anniversary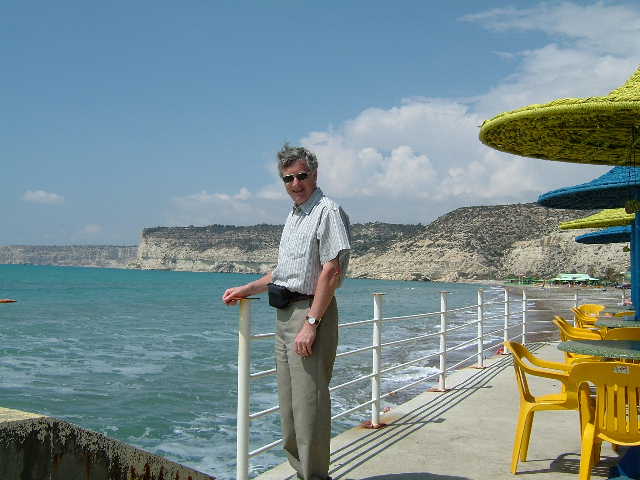 Colin at lunch-time, at a beachside cafe near the superb Roman town of Kourion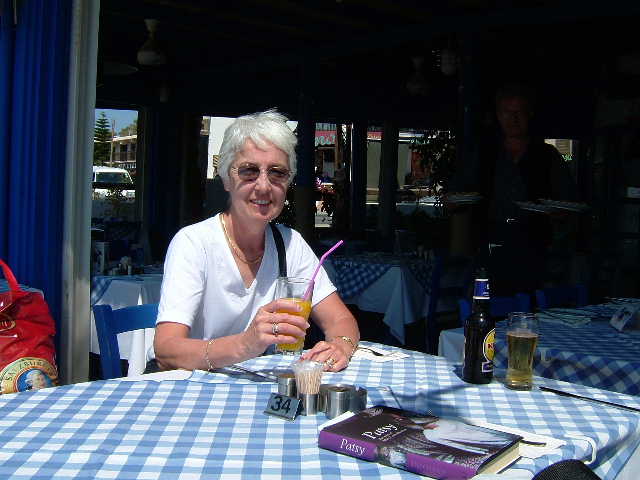 Chris on our last morning in Pathos
(when there was a partial eclipse of the sun)
My father dies September 2006
Sadly my father died on 10 September 2006, 2 days short of his 96th birthday. It may seem a strange thing to say, but I feel that I really got to know him in the last few years of his life, for which I am very grateful.
My parents Frederick Bower and Doris Brecht taken on my Father's 90th Birthday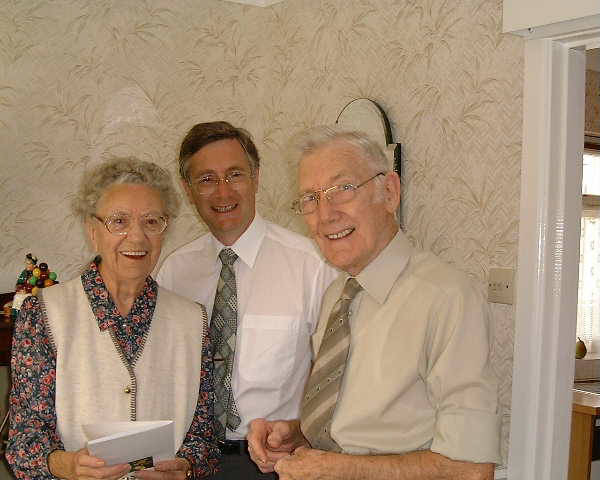 Big Celebrations 2006
Our Ruby Wedding Anniversary October 2006
On 15 October, we celebrated our Ruby Wedding Anniversary with family and friends: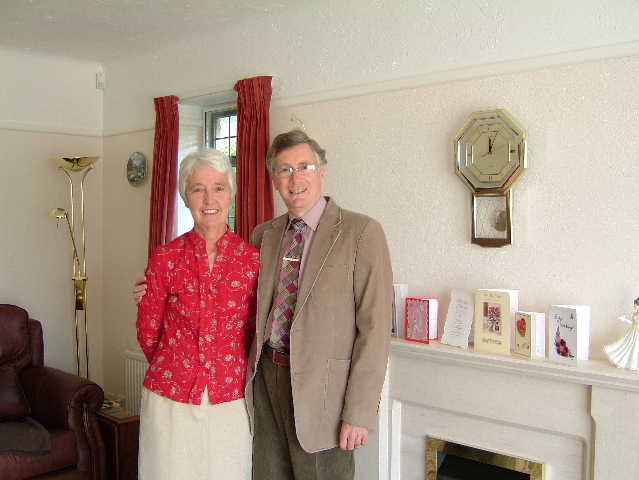 Prior to that we had made an All our Yesterdays visit to Enfield, Middlesex where we were married in 1966, and Wormley (near Broxbourne), Ware and Harpenden, where we lived in Hertfordshire.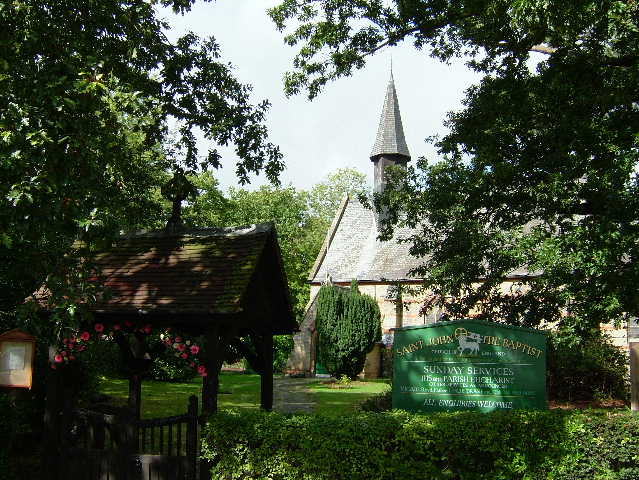 St John's Church, Clay Hill, Enfield where we married in 1966
Our Son Steve's Wedding November 2006
On Saturday 25 November, our son Steve married Caroline Bartlett at Rowhill Grange Hotel, Wilmington, Kent:
Chris and I meeting Steve before the Wedding: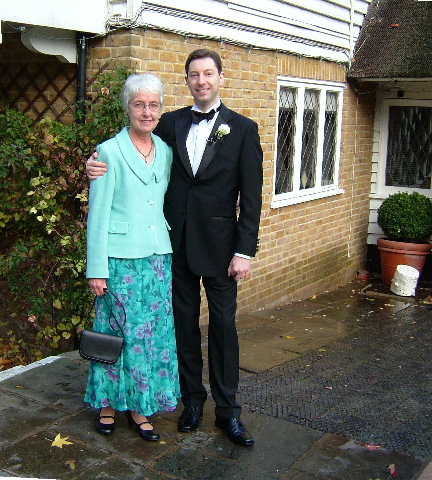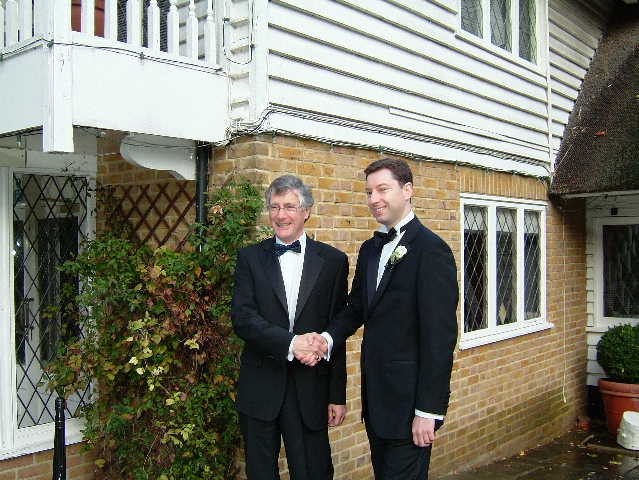 Caroline and Steve immediately after their Marriage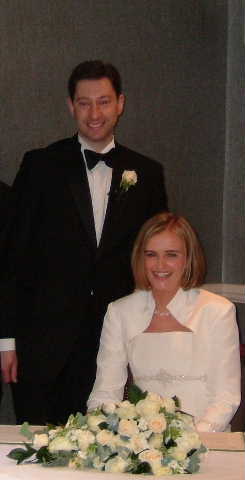 Visit to Whitechapel 2007
I made a very successful visit to the Tower Hamlets Local History Library & Archives in Bancroft Road:
Library in Bancroft Road (sandy coloured building in backgroud)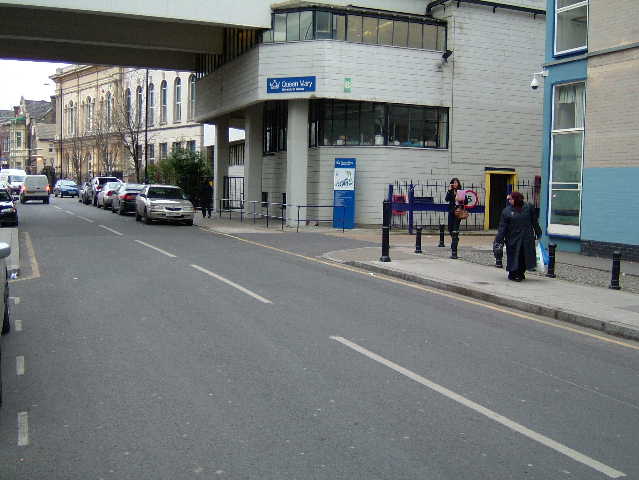 After I left the Library & Archives in Bancroft Road, I walked down the Mile End Road past Stepney Green Underground Station to a very busy Whitechapel Road:
Looking down the Mile End Road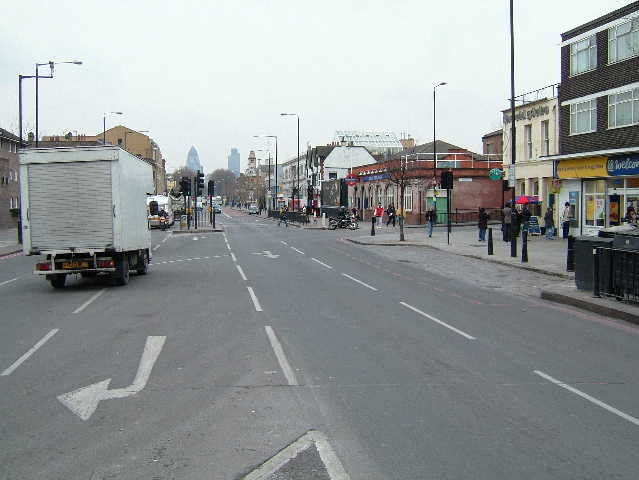 Off to the left of Whitechapel Road is Sidney Street which has all new buildings since the famous siege. My great great grandfather Benjamin Bower lived in Raven Row a turning to the right:
The only old building still standing in Raven Row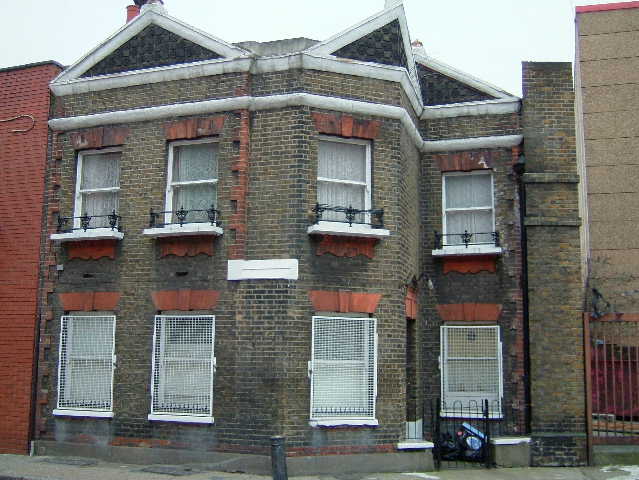 Back in Whitechapel Road, Benjamin's brother Alfred was a Victorian photographer at 86 and 87 (now renumbered) were close to the juction near Vallance Road:
86 and 87 Whitechapel Road (since renumbered) next to 85 Pavilion Theatre now demolished and still derelict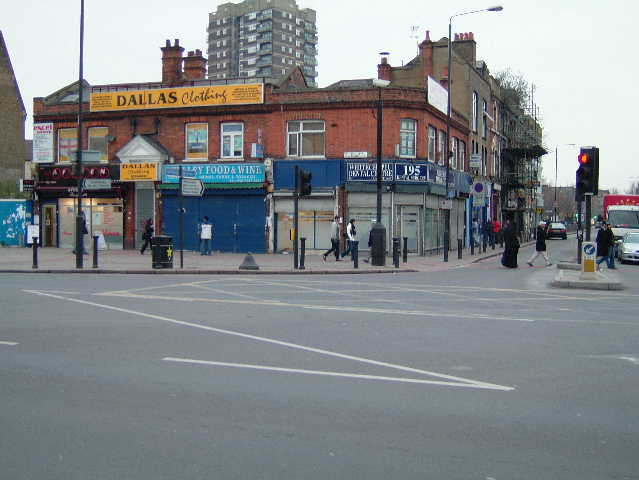 At 84 Whitechapel Road, Henry Wainwright had a brushmaker's business:
84 Whitechapel Road (rebuilt & renumbered) next to where the Pavilion Theatre stood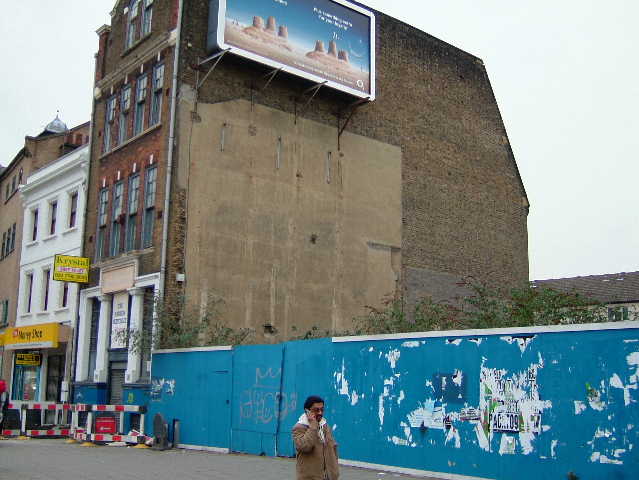 At his warehouse at the rear of 215 Whitechapel Road, Henry Wainwright murdered his mistress. he was apprehended when he tried to move the body. The court case is well-recorded in textbooks:
215 Whitechapel Road (since renumbered now Fix-a-Phone). Note the entrance to the warehouse at the rear of the building.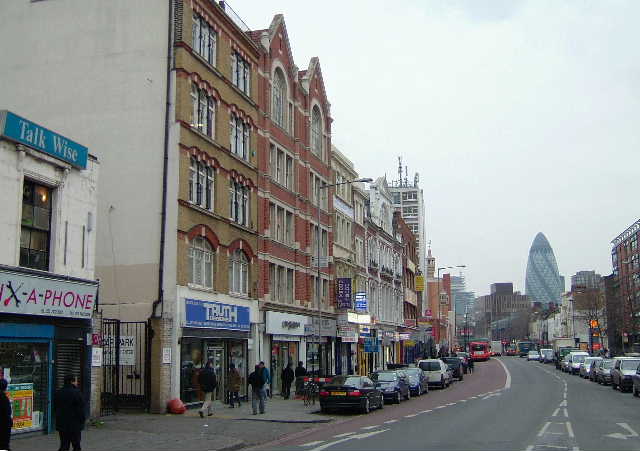 Visit to Wormley Early 2008
We made an enjoyable visit to Wormley near Broxbourne, Hertfordshire where we lived after we were married.
We went to the christening of the daughter of Chris' Godchild, which may make Chris a Grand Godmother!
The christening was at the same church where our children Helen and Steve were christened:
The Church of St Laurence, Wormley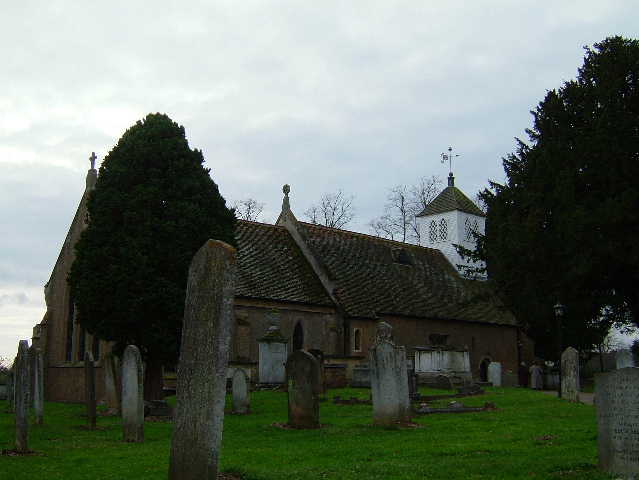 Second Visit to Fulham December 2009
By 2009 I had been advised by a correspondent in Australia of an extraordinary amount of additional information that warranted a further visit to Fulham:
A homestead and market garden at Rowberry Mead near Crabtree where the Bower family (including George Bower and his son William & wife Elizabeth) lived for approx 100 years until 1871.
The baptism of Christopher Bower (parents William& Elizabeth) at All Saints Church, Fulham in 1795.
Christopher Bower's son Benjamin living in Parsons Green in 1851.
In November 2009, I returned to Fulham when my objectives were to build on this additional information and walk from Crabtree to All Saints Church and on to Parsons Green.
I walked down the towpath at Crabtree to find the site of Rowberry Mead which adjoined the River Thames bewteen Hammersmith Brudge and Putney Bridge on the Oxford and Cambridge Boat Race route.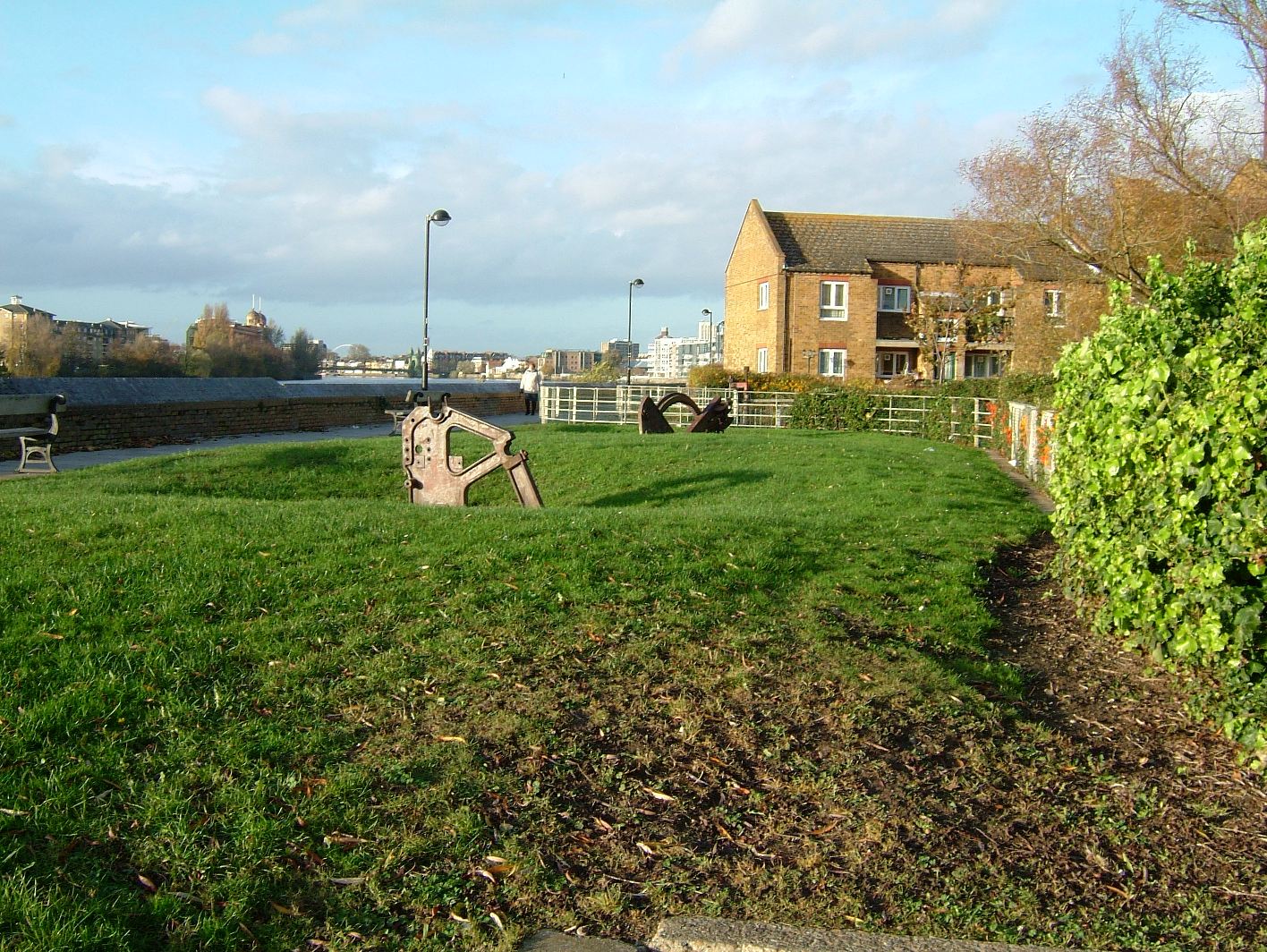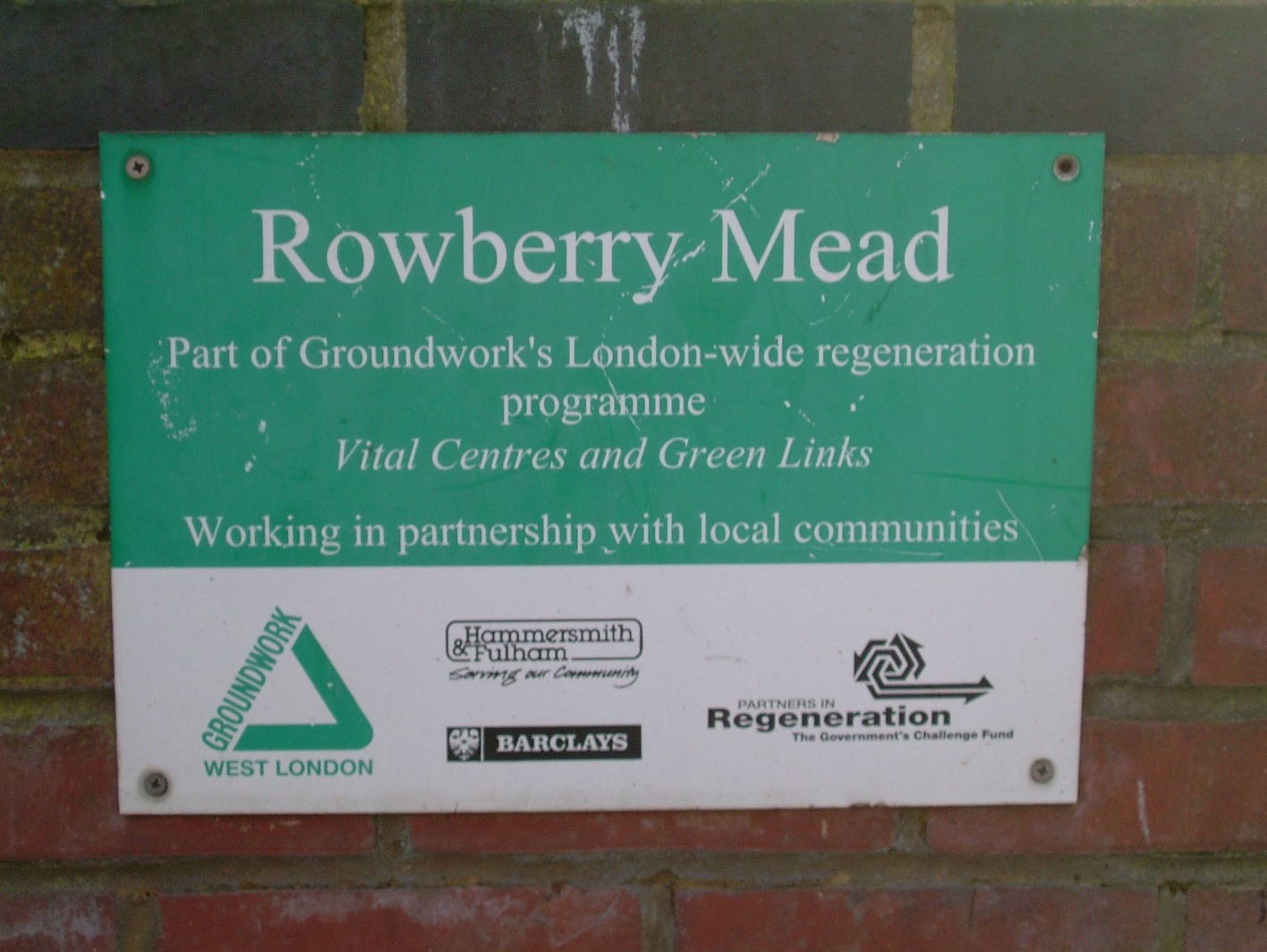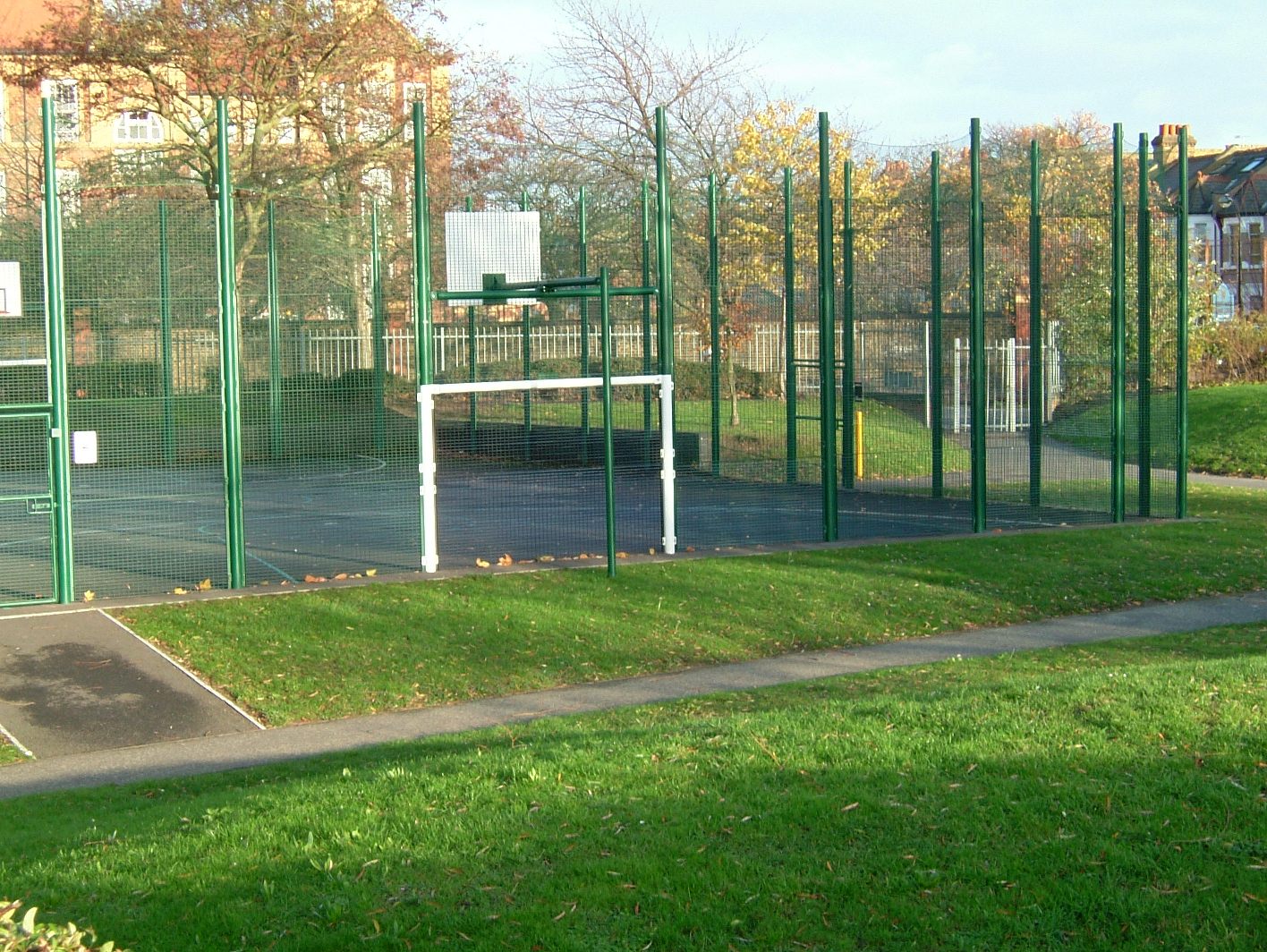 I then walked past Fulham's football ground at Craven Cottage with boathouses on the other bank, to All Saints Church.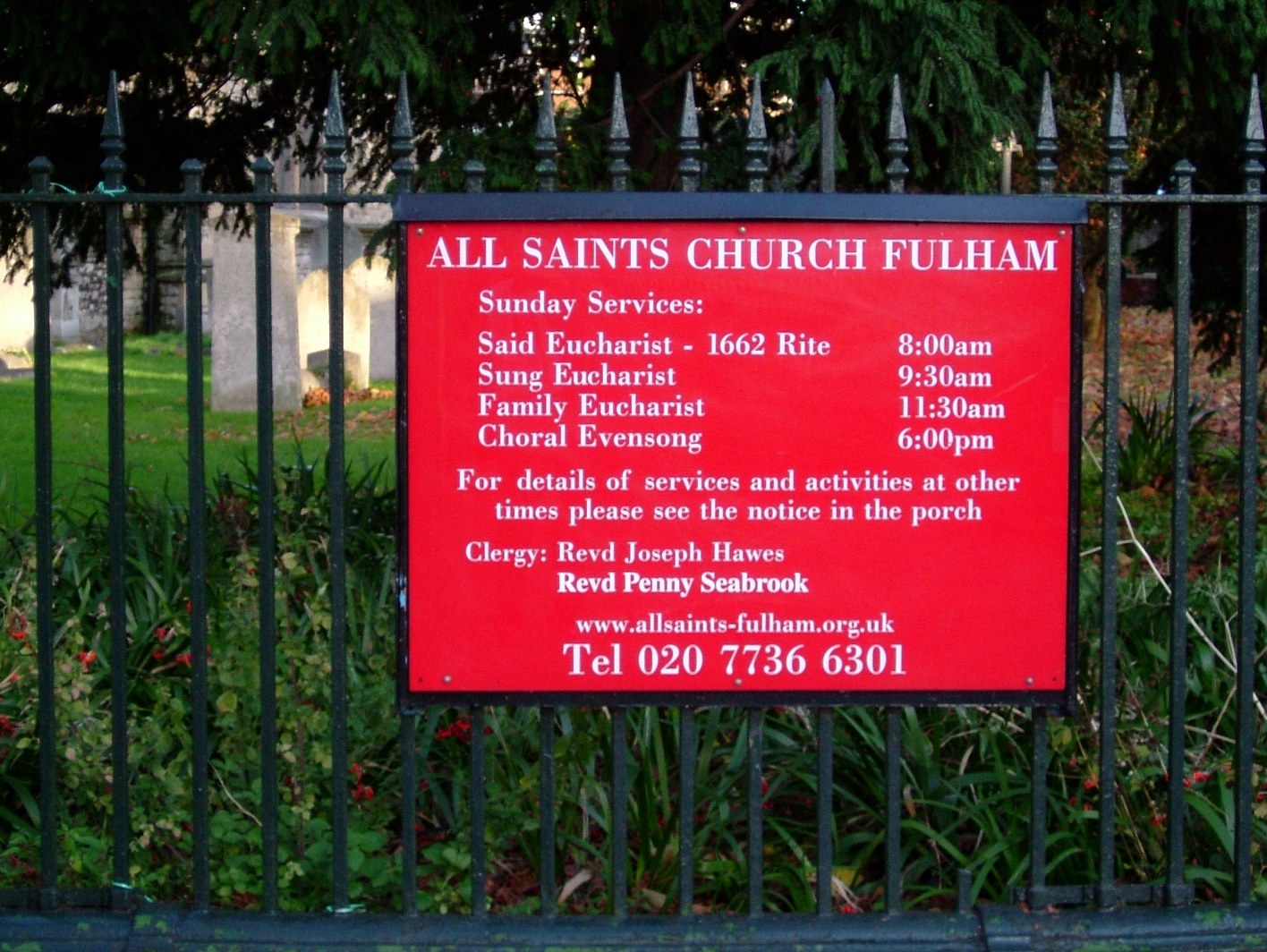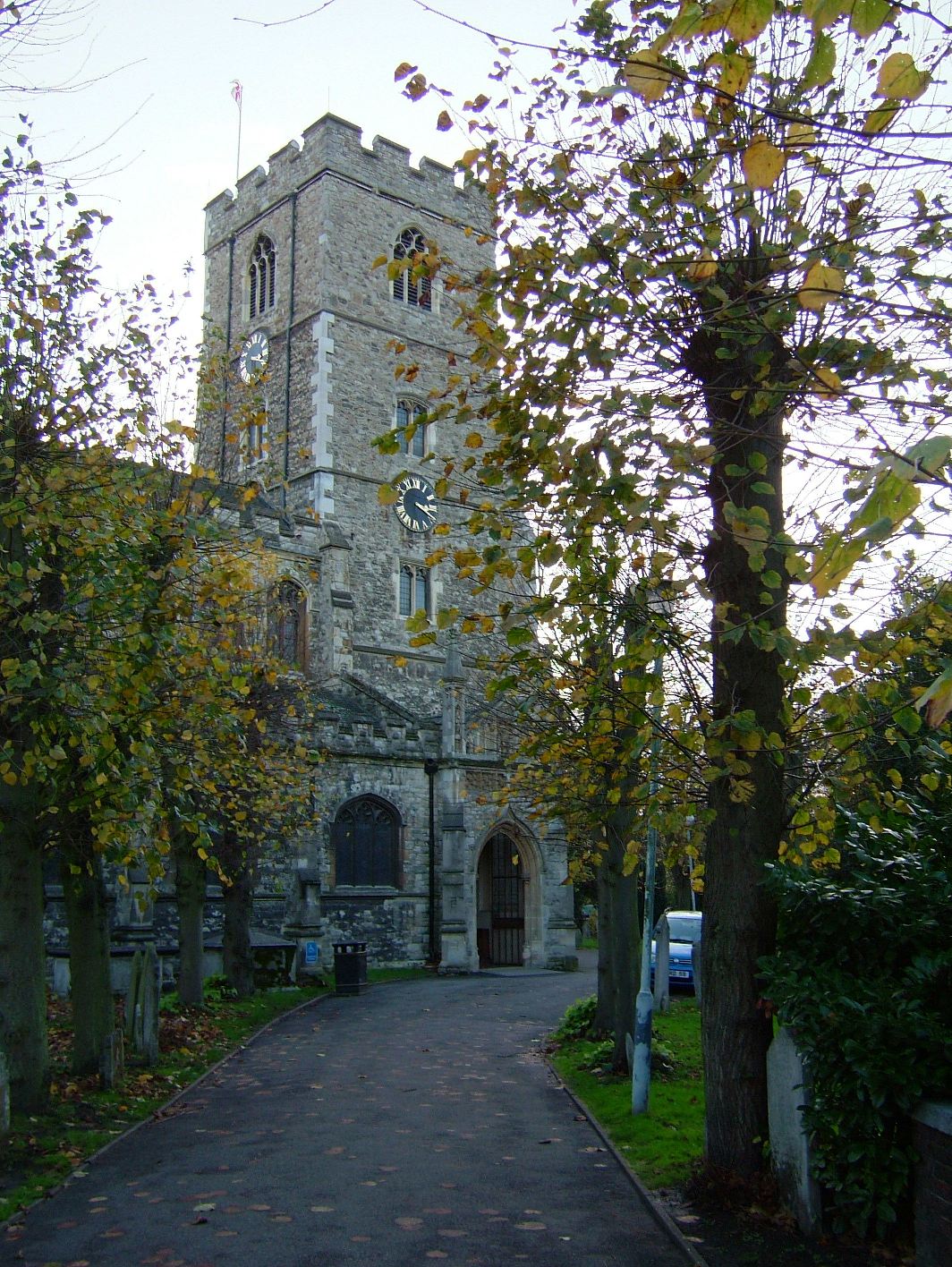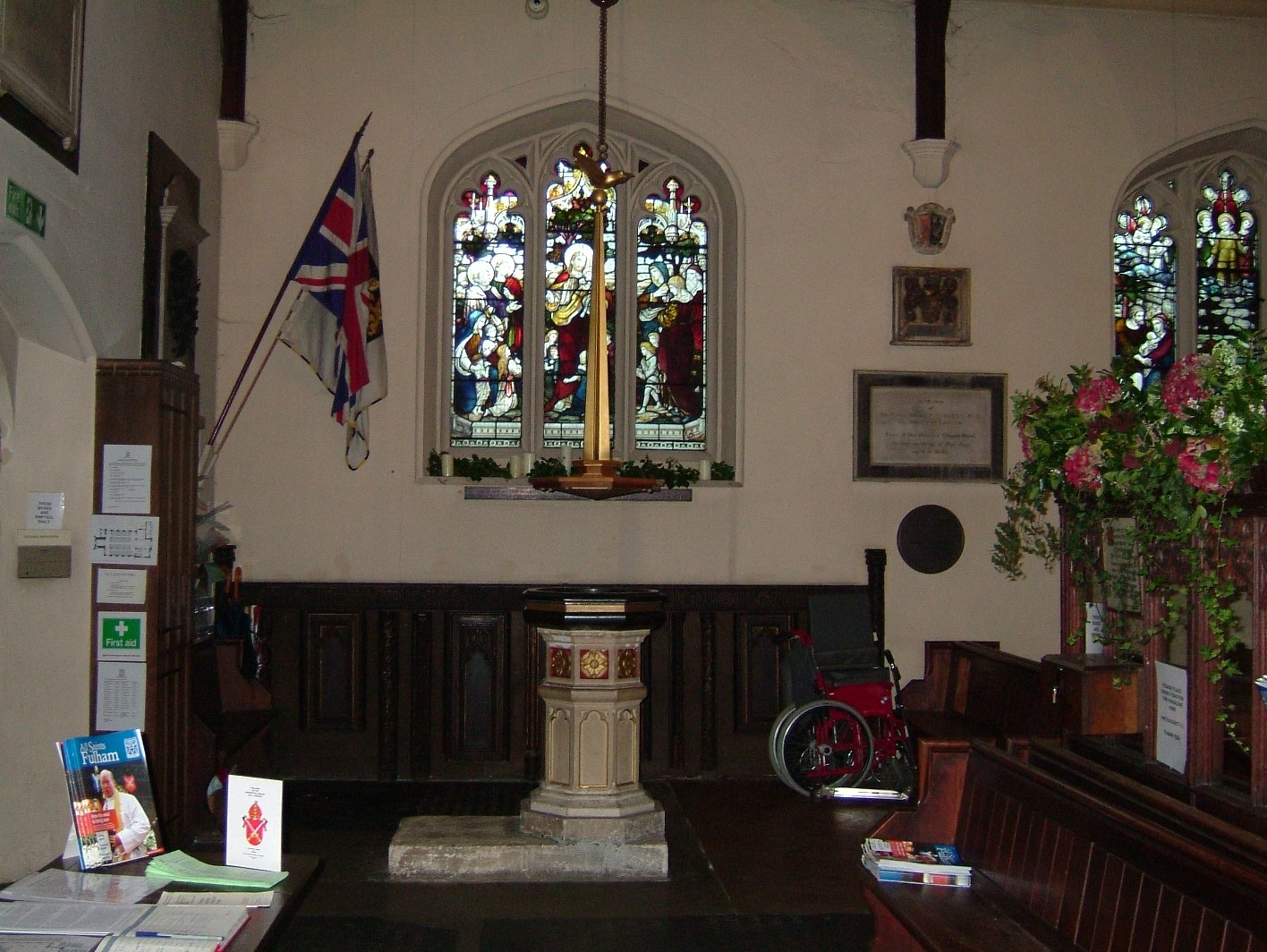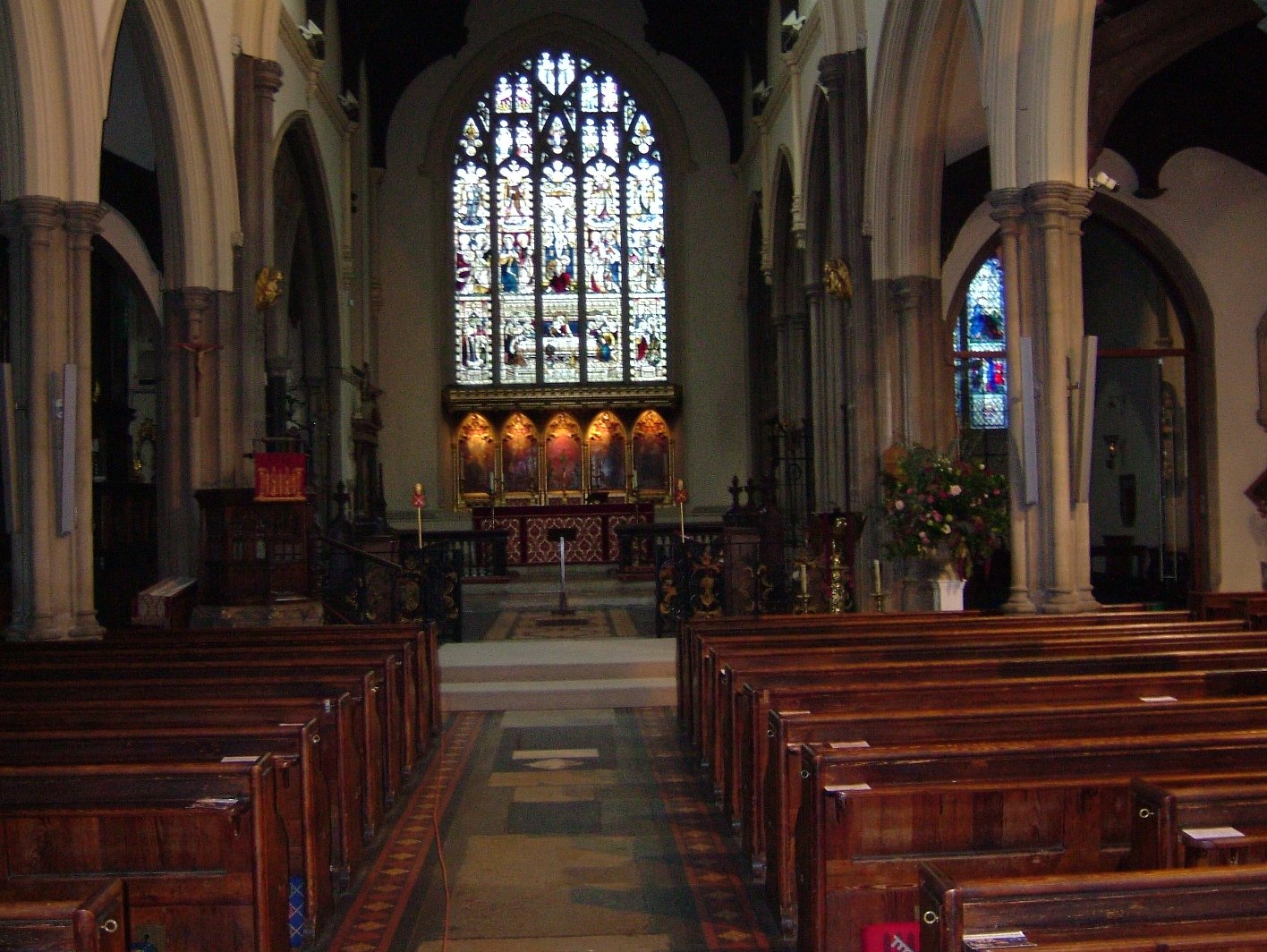 Finally I walked up to Parsons Green where various members of the Bower and Pitts families lived.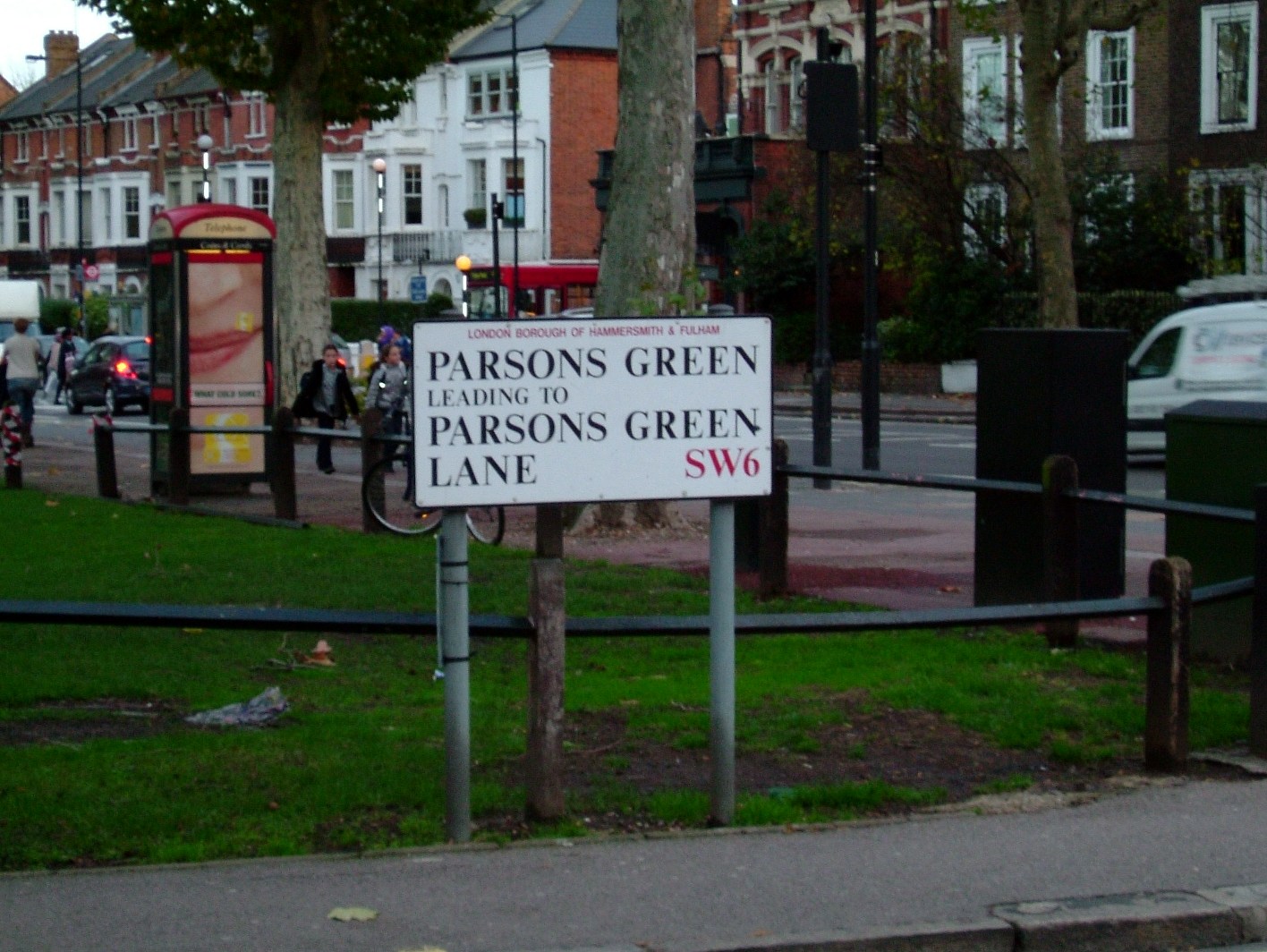 The White Horse run by the Pitts Family in 19th Century.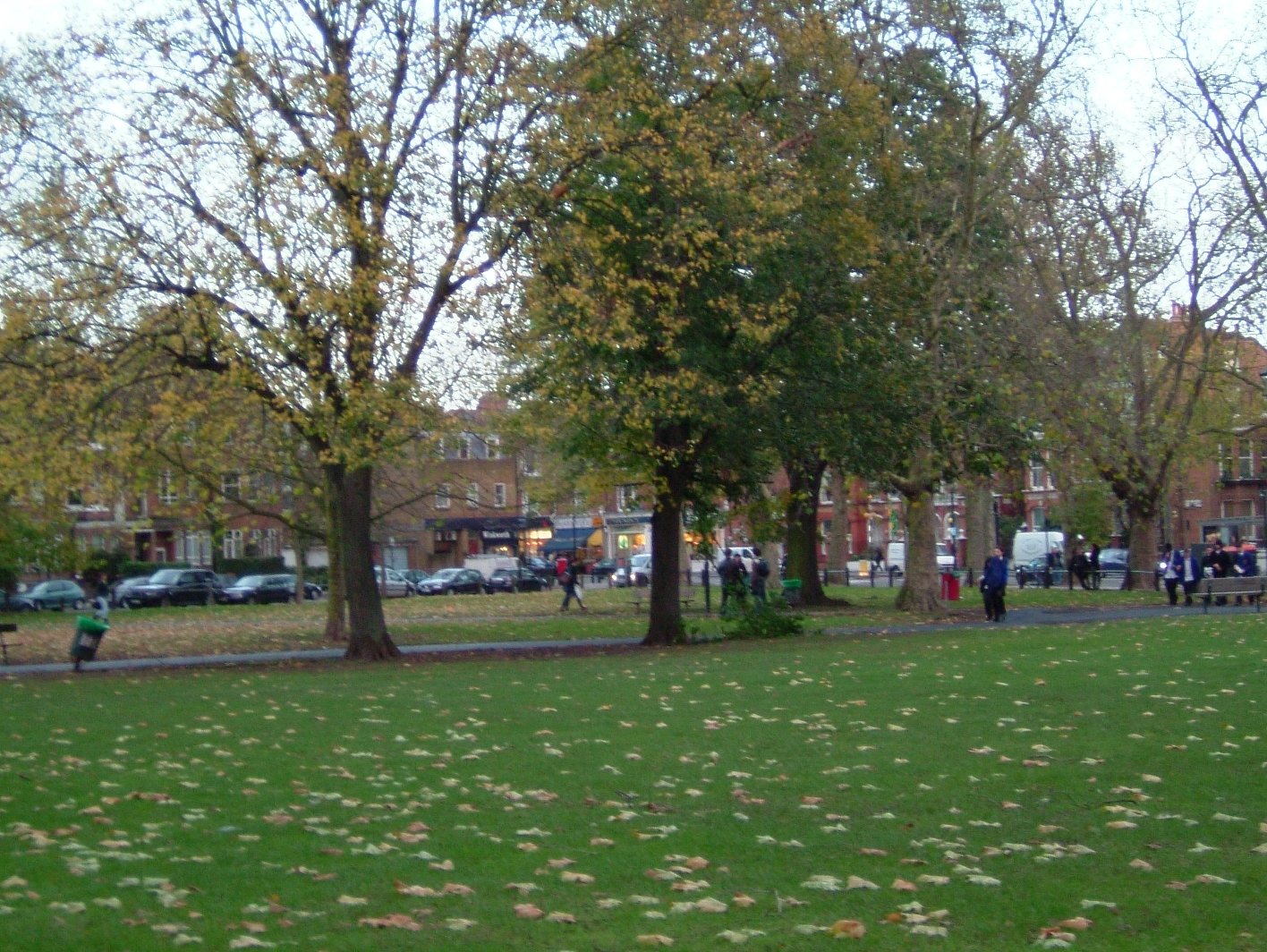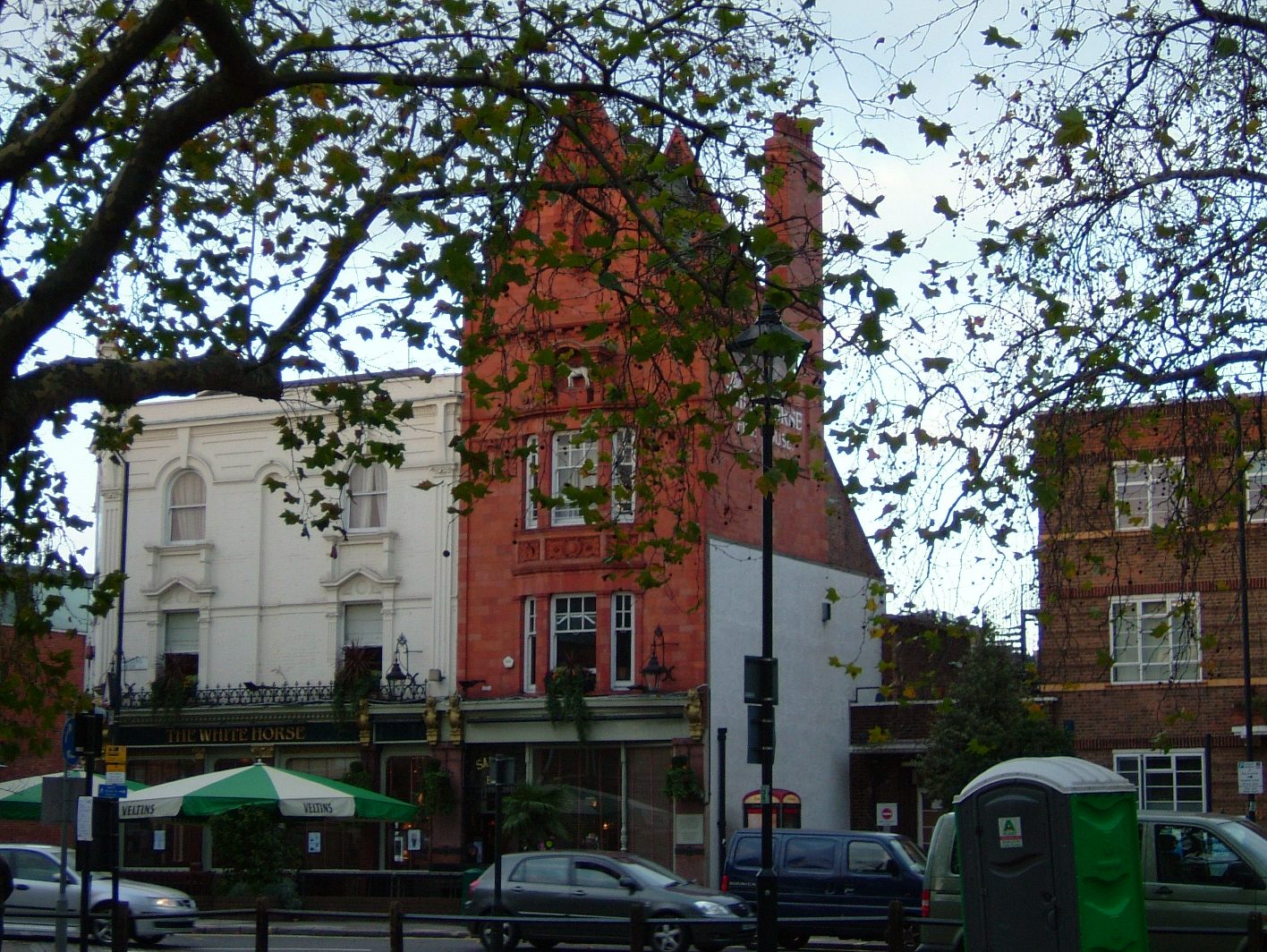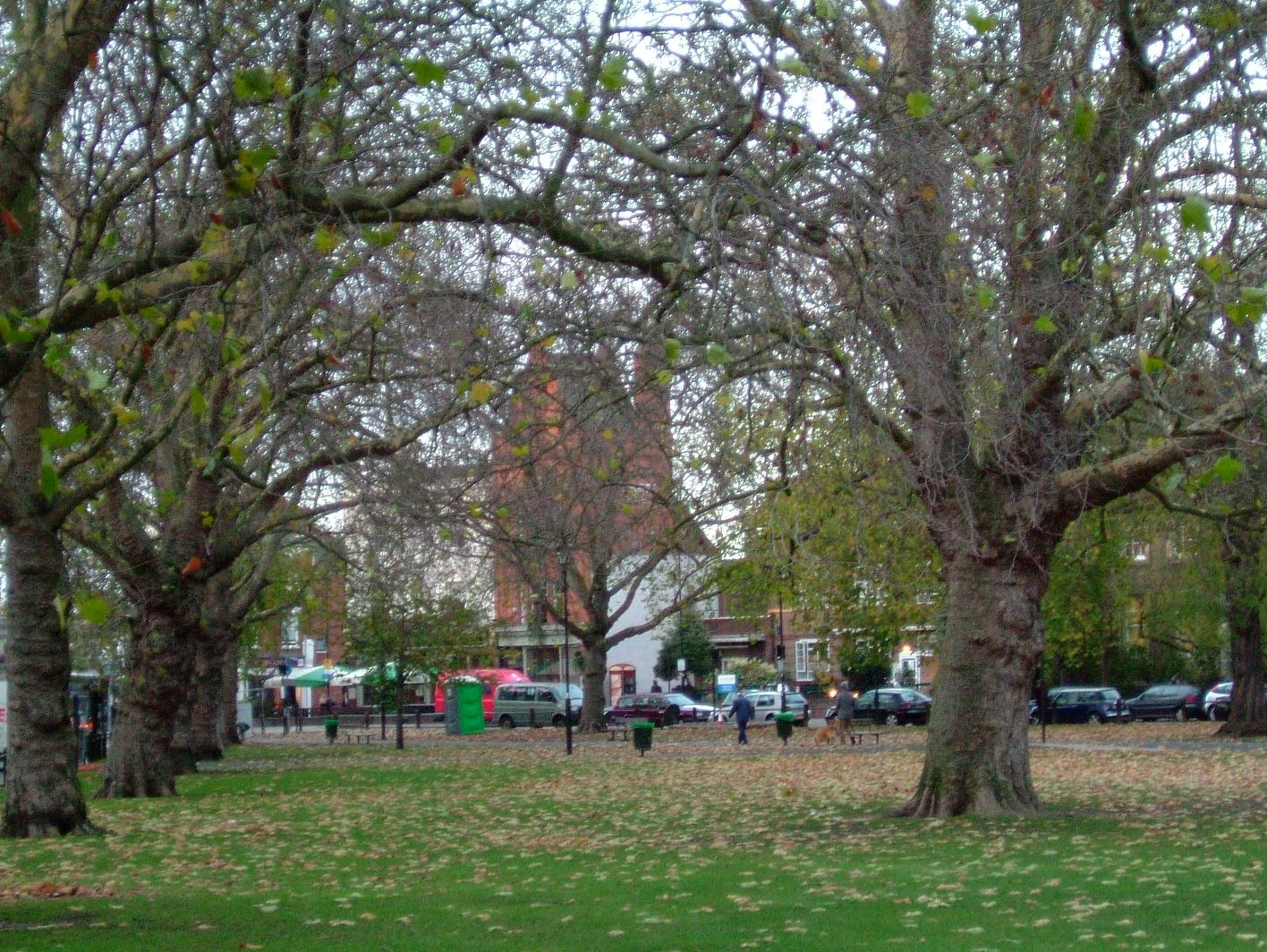 Pitts Place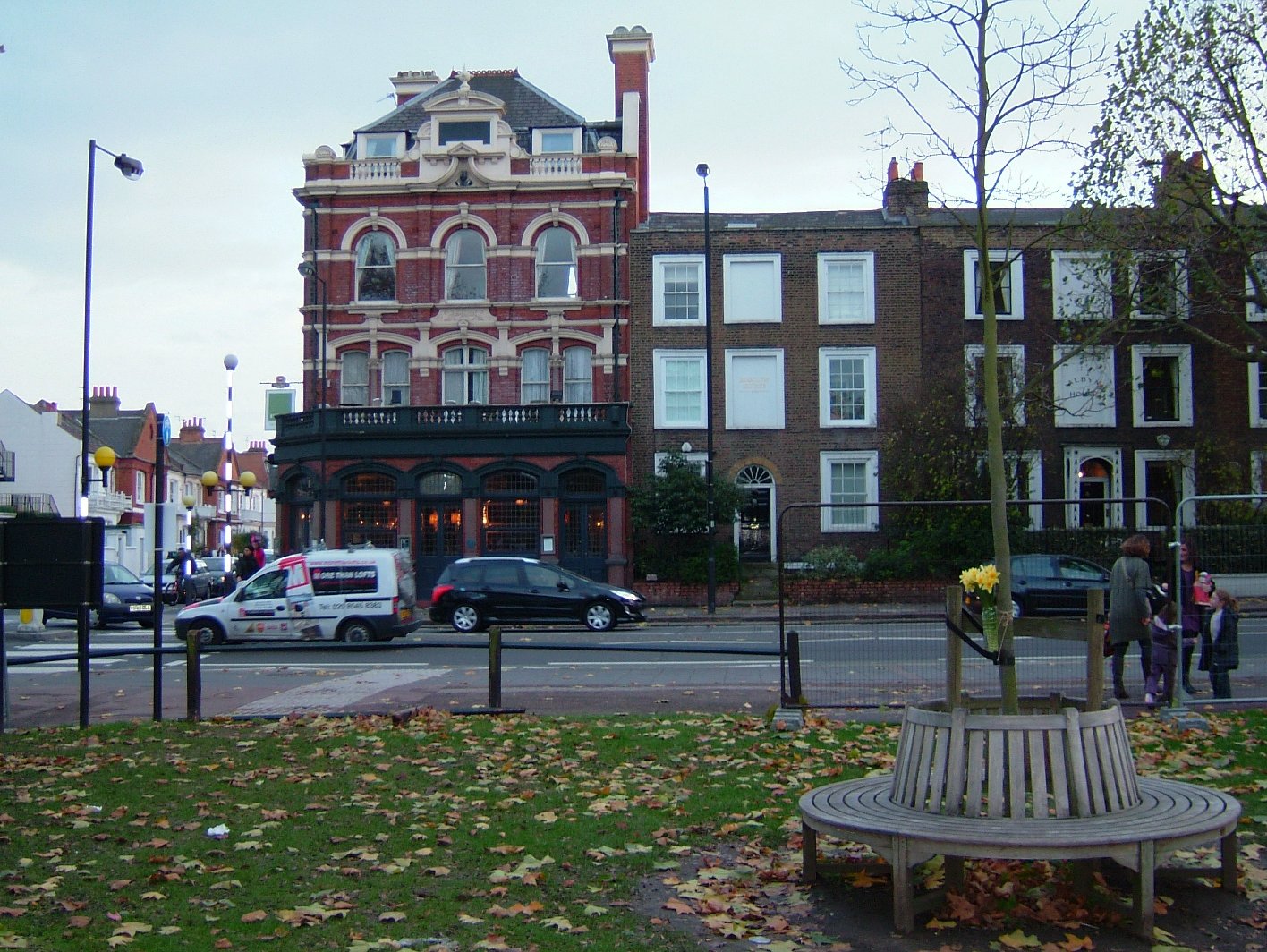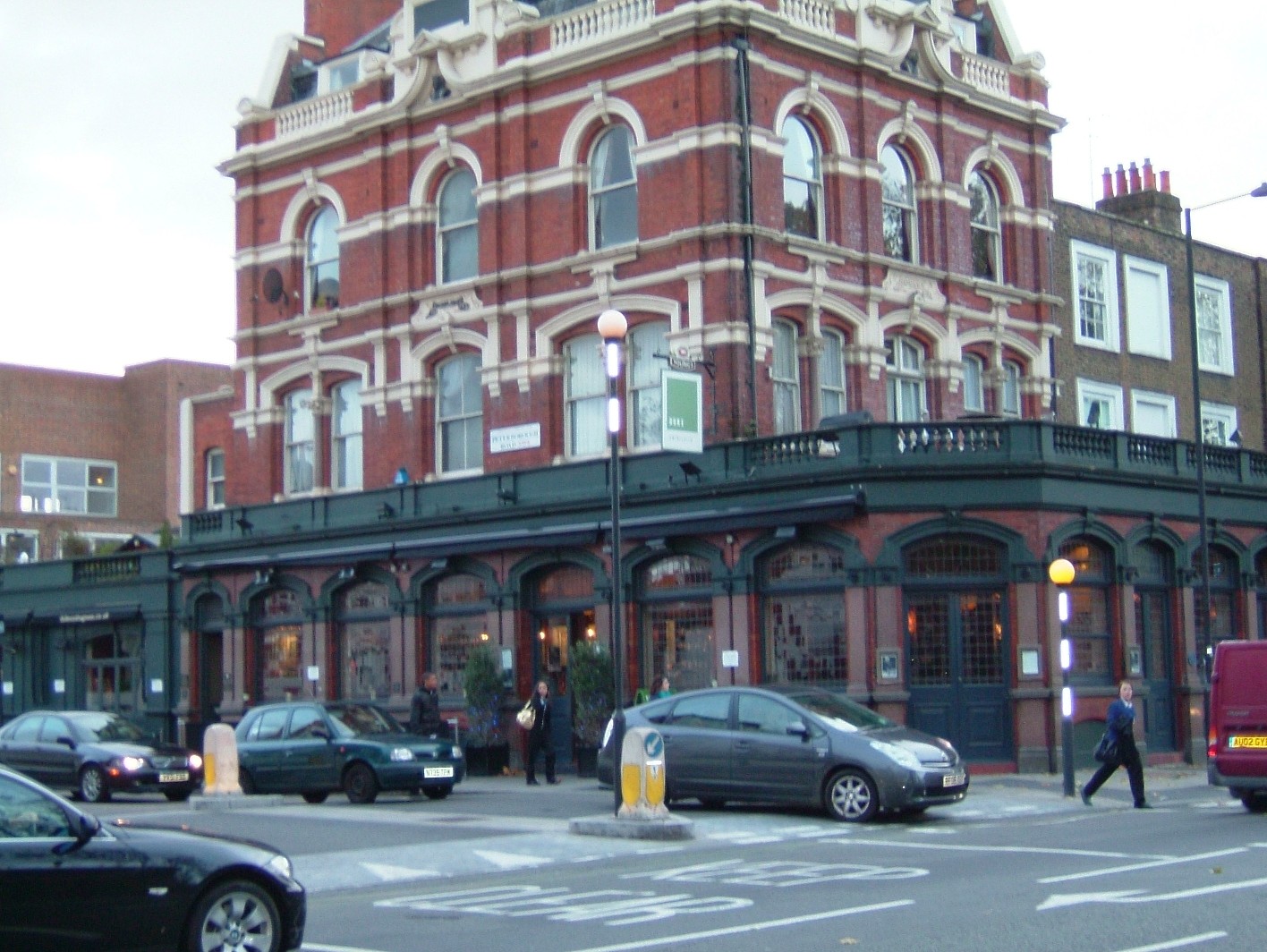 Visit to Islington December 2009
I made a long overdue visit to Islington to walk some of the streets my ancestors trod:
Henry Hayes/Charlotte Gardner Church
From Thornhill Road I made my way to what was Holy Trinity Church in Cloudesley Square where Henry Hayes married Charlotte Gardner in 1869.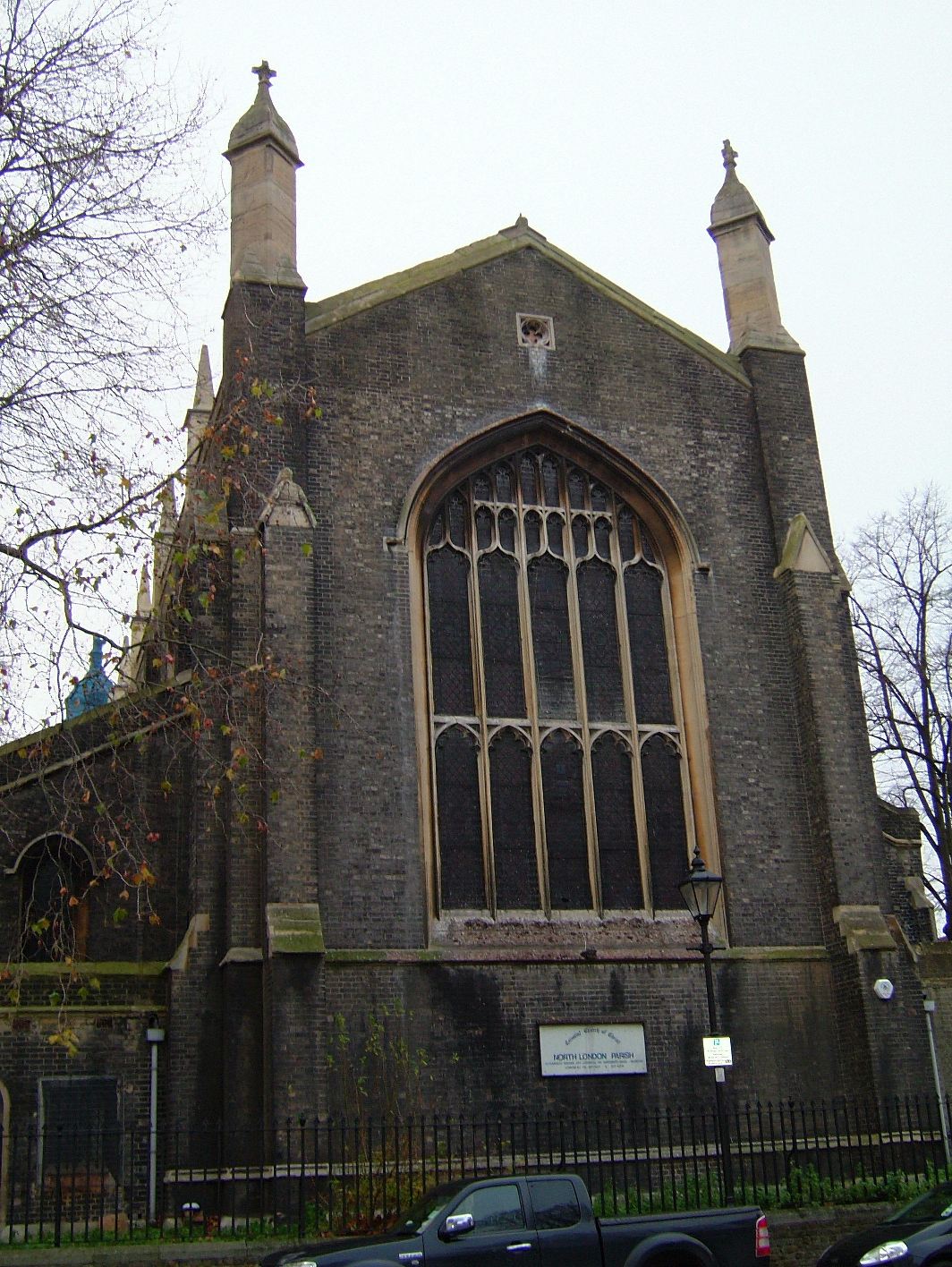 Site of Holy Trinity Church from Upper Street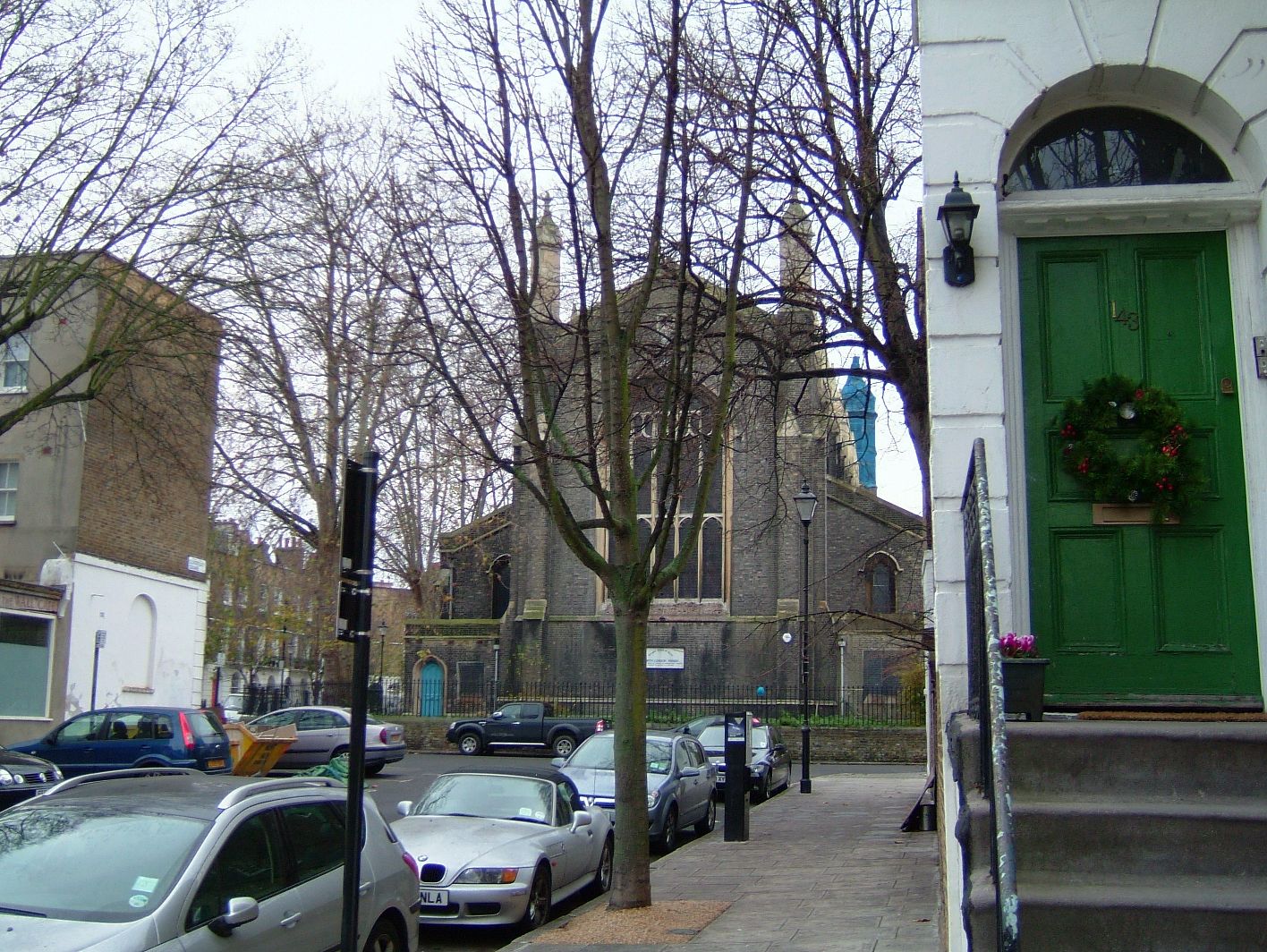 Colin Bower
31 March 2010
Links:
Beckenham
Sinking of S S Britnnia 1941