Visit to City of London Saturday 8 October 2011
I made an interesting, useful and nostalgic visit to the City of London where I spent most of my banking career. This is a brief summary of a tiring but enjoyable day:
1. Visit to Guildhall Library
My first surprise was that the Waterloo-City underground – the "Drain"- was open on a Saturday.
I walked from Bank underground to the Guildhall Library which was being refurbished on my last visit.
The reception staff explained that they had had a few visits following the BBC programme, Who do you think you are? And it turned out that there were 2 of us from Hampshire, sitting next to each other, looking at 2 parts of the same microfilm record of quarterage books!
I have recorded my findings in a separate note.
The Guildhall records could contain useful info.
2. 3rd Gaucheron/Kemp/Collier Gathering at "Dirty Dicks"
The event attracted about 30 people and I met the organisers.
Silk Weavers named Collier
(i) I met up with someone descended from Elizabeth (Collier) Furby who clarified that the witnesses at a wedding was Ann (Thwaites) Furby:
William Thwaites married 25.12.1853
Eleanor Collier (father William Collier, Weaver)
Witnesses: James Samuel Furby, Ann Furby
I was told that James Samuel Furby was bp 14.12.1823 at Shoreditch and in 1841 was living in Newcastle Street.
I am hoping to find out Eleanor Collier's mother's name.
(ii) I met someone who had used my website. He was descended from:
Thomas Collier born 1810 Bethnal Green
married Jane Chandler 2.3.1829
Daughter Hannah Jane Collier born 1844 Bethnal Green
married Samuel Hall 25.12.1865
I was told that generations of the Hall family were involved in the print industry.
(iii) I then met a distant cousin of my wife Chris who was descended from Charles Collier, Silk Weaver and his second wife Maria Sanders.
He had found that Charles Collier died before his first wife who finished in the workhouse.
His version of the family tree went further than mine and was in some ways extraordinary:
William Collier
Married
Phoebe Booth
Son James Collier
Married
Elizabeth Mason (parents James Mason & Sarah)
Son (1) Charles Collier
Married
(Second wife) Maria Sanders
(parents Thomas Sanders & Elizabeth)
Son (2) Joseph Collier
Married
Mary Ann Sanders
(parents Charles Sanders & Sarah)
Daughter of (1) above Clara Collier
Married
Son of (2) above James Collier
(iv) I met up with someone I had been corresponding with for some years. She had attended the second Gathering.
Her tree was tantalisingly close to my wife Chris' tree (and the one above):
James Collier, Silk Weaver
Married Elizabeth
Son Thomas William Collier
(brother of Charles & Joseph?)
Married
(2) Elizabeth Piper
Thomas William Collier
Married
Rachel Willett
It was great to meet her husband who is a cousin of mine (on the Saunders side of the family)!
Photographs taken at the Gathering:
Inside Dirty Dicks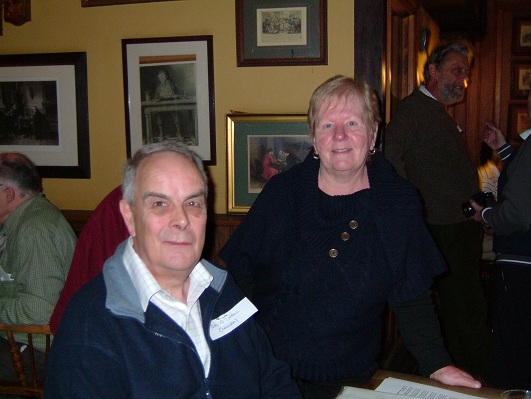 Outside in Bishopsgate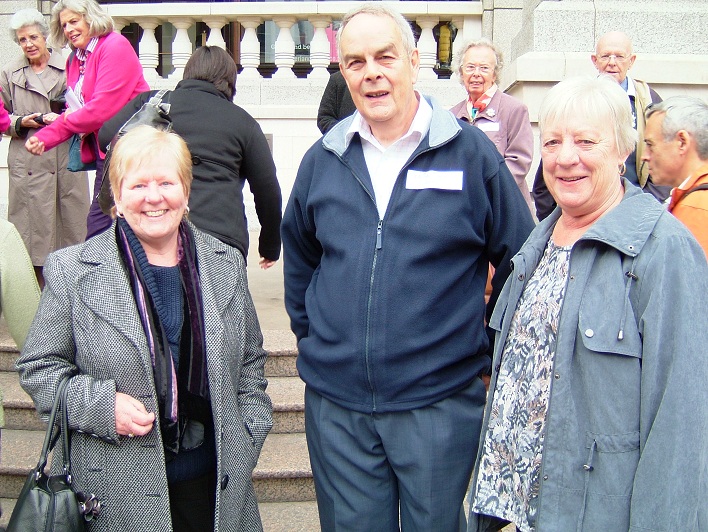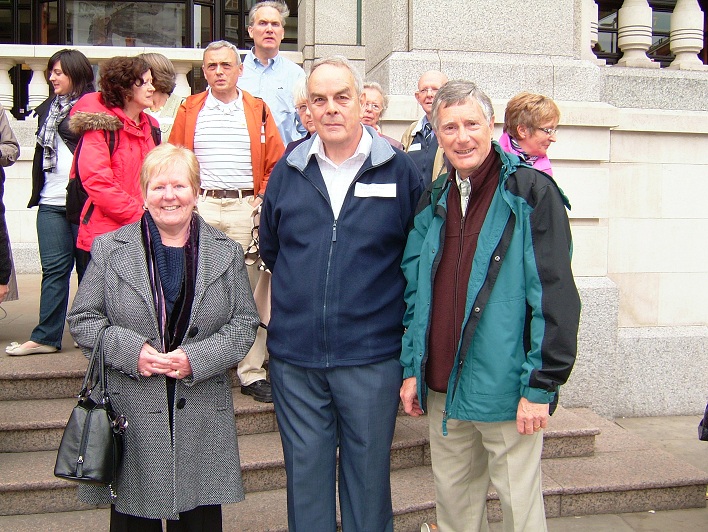 On way to Christ Church, Spitalfields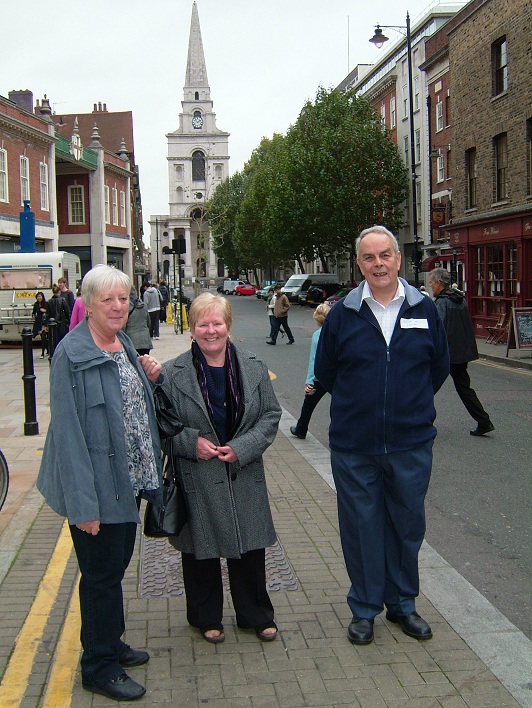 3. Visit to Christ Church, Spitalfields
The organisers of the Gathering had arranged a talk about nearby Christ Church, Spitalfields at the Church.
The talk included the following:
- The Hawksmoor Church was built in the 18th Century as part of a plan for 50 new churches
- The screen behind the altar was original but since our last visit new paintings had been added temporarily to the previously plain panels
- The stained-glass window above the screen was a Victorian addition
- The Church now use chairs rather than pews and the wood of the pews was used in the Church refurbishment
- The organ pipes from the Bridge built organ have been removed for refurbishment and it is hoped the organ will be refurbished by 2013. Unusually the church clock is run by the organ.
Photographs taken on visit to Christ Church, Spitalfields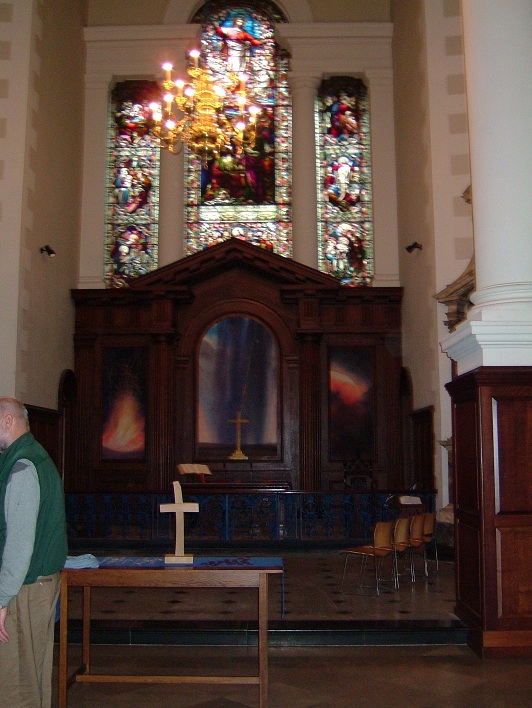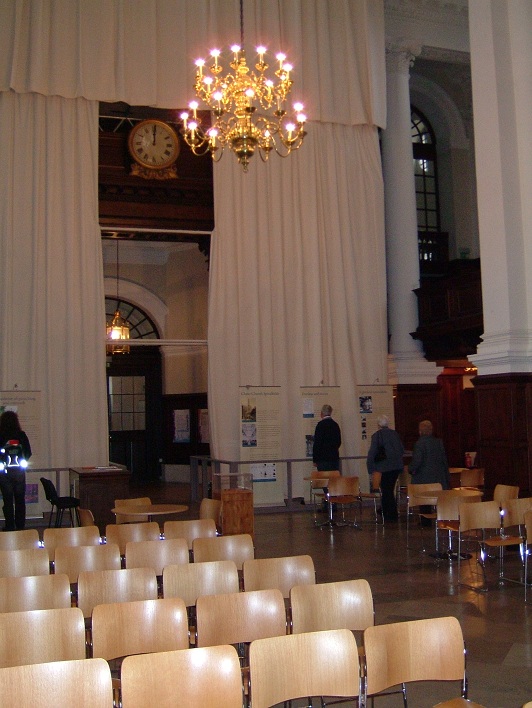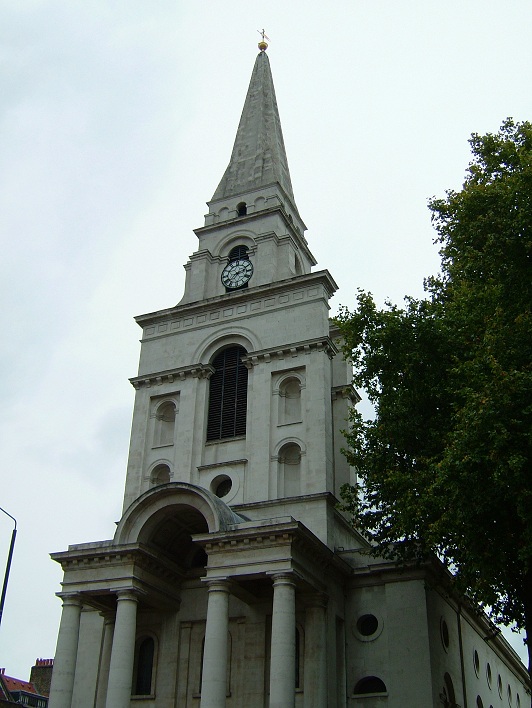 4. Walk to St Leonards, Shoreditch
I walked from Christ Church, Spitalfields past a vibrant Spitalfields Market which had that day extensive displays of photographs and art. I walked up Bishopsgate to High Street, Shoreditch passing Spital Square on the right and a number 47 bus going to Catford where I went to senior school!
St Leonards Church was not boarded up as it was in 2001 when we visited the East End of London with one of Chris' cousins. This time the church was set up for a play and I was not allowed to go in even for a peep. I could see a magnificent stained glass window and outside the Church the space had been developed as gardens.
Maybe next time.
Photographs of St Leonards, Shoreditch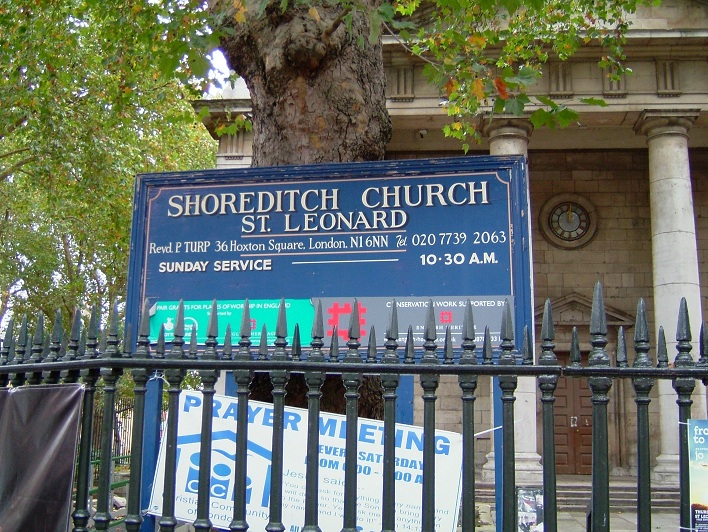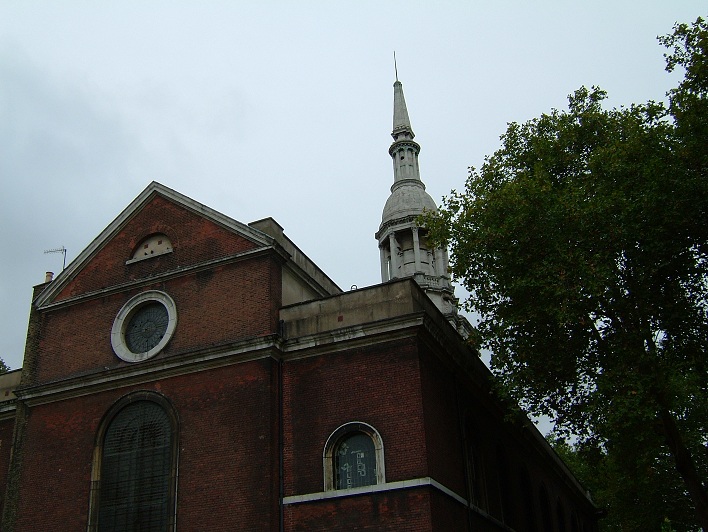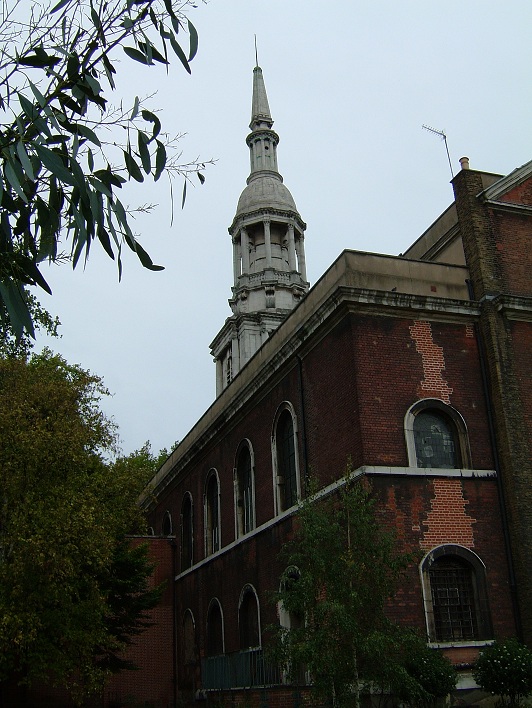 I spotted that next to the church was Austin Street where Emma Collier married William James Cordell in 1850 at the Providence Chapel. It appears that the current Tabernacle was built on the site of the old Chapel. Alongside the entrance to the Tabernacle are 2 foundation stones laid by Pastor Cuff and his wife in 1890.(I had previously obtained a drawing of the Providence Chapel made by Pastor Cuff).
I walked back to Dirty Dicks in Bishopsgate passing the new Shoredicth Station.
Austin Street next to St Leonards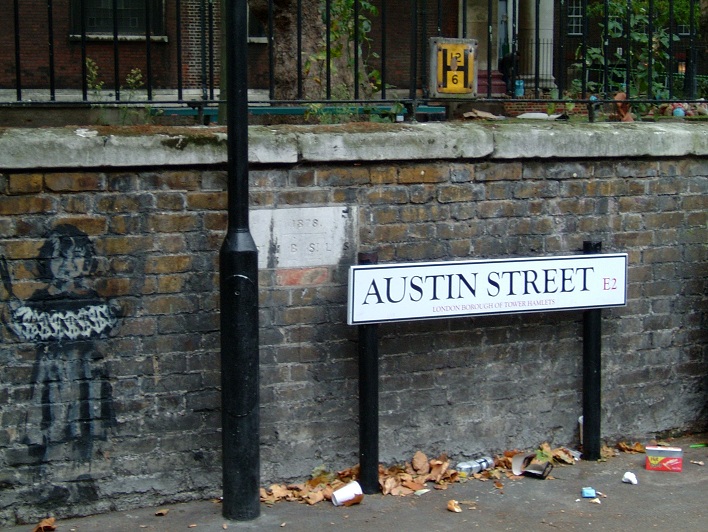 Site of the old Providence Chapel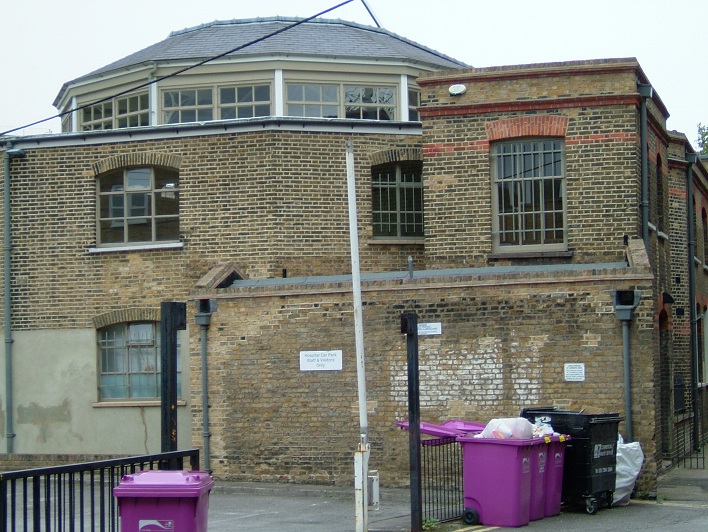 The Foundation Stones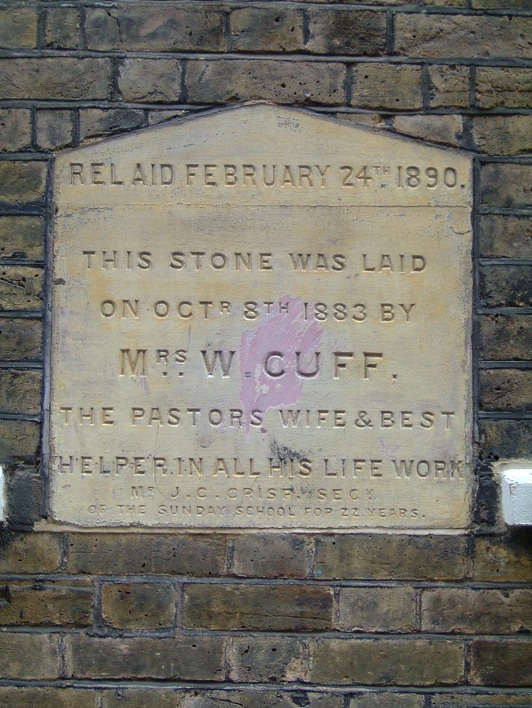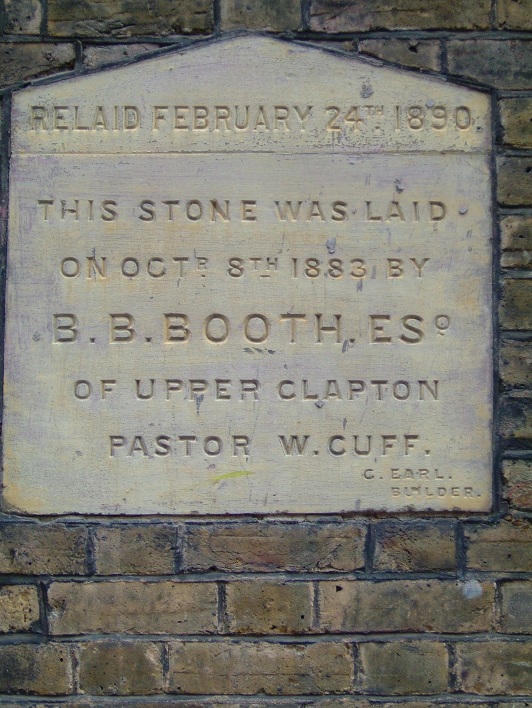 The current Tabernacle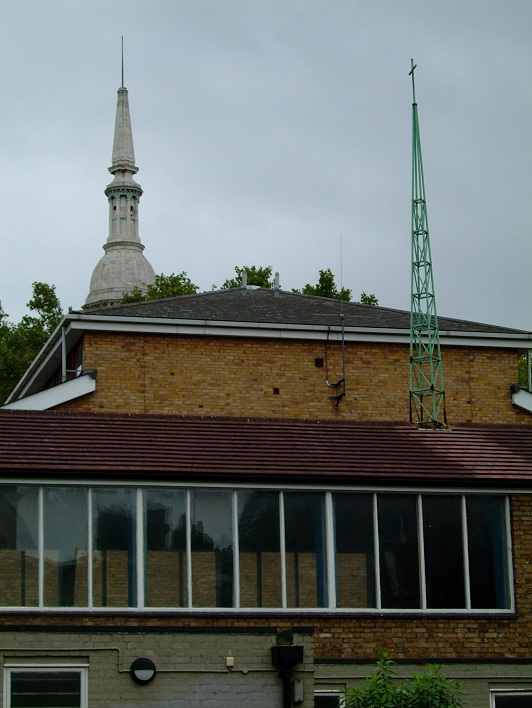 The New Station in High Street, Shoreditch with the "Gerkin" in the background!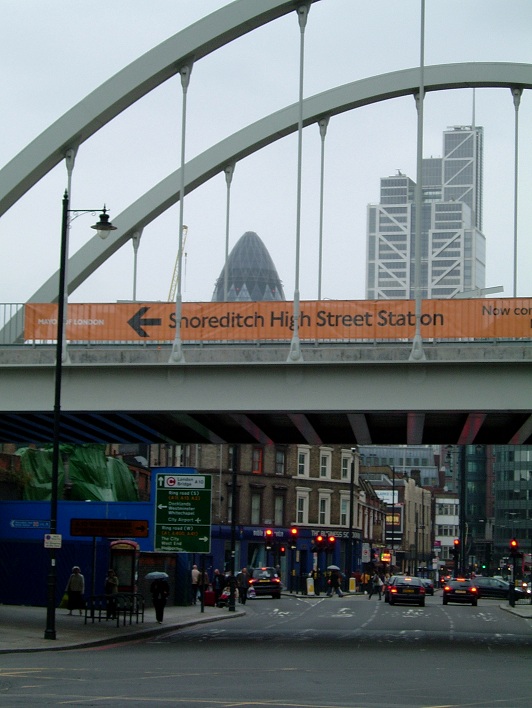 Colin Bower
8 October 2011
Links to:
Silk Weavers named Collier - Introduction& Index
Silk Weavers named Collier - The Story So Far