Contents of Dad's Pocket Book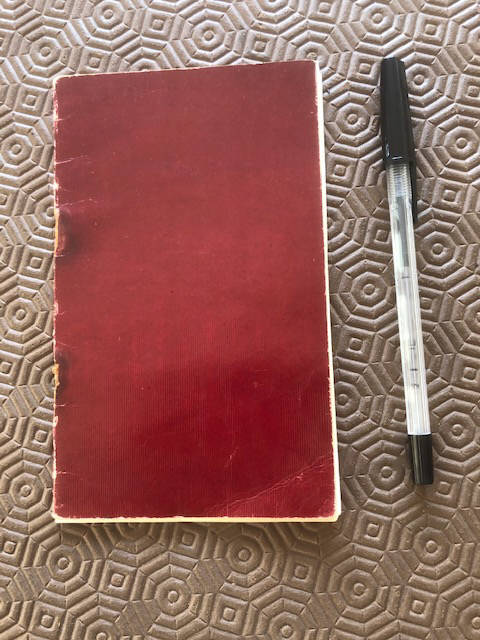 Remarkably my father had a pocket book and pencil with him in the lifeboat. The pocket book was among my Dad's Memorabilia and had the following contents:
1. A pencil note about the Raider:
" Raider reported at 0841 G.M.T. in position 2.49N 23.48W (names of ship reporting was blotted out by another station, possibly the raider) nothing reported since."
2. Dad's pencil drawing of the Thor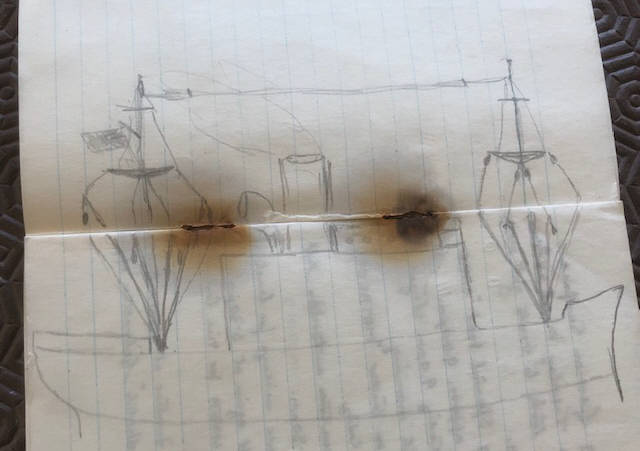 3. Dad's pencil drawing of lifeboats leaving the Britannia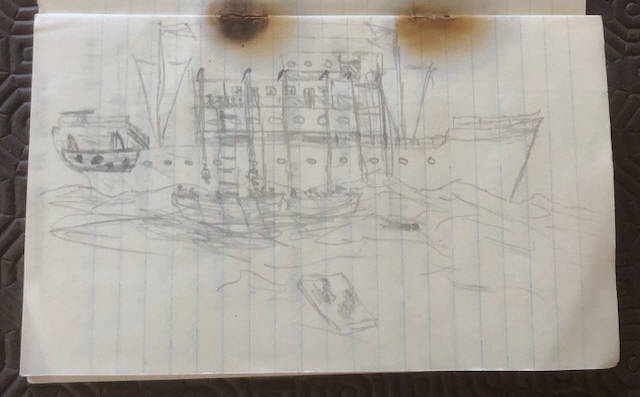 4. Dad's summary of events:
"Attacked by German surface raider on Tuesday March 25th 1941 at 7.40 a.m.
Took to boats. Got away approx. 9 a.m.
Picked up by Spanish boat "Cabo de Hornos" approx 9.40 p.m. (This was March 29th)
Arrived in Cadiz 9.00 p.m.
Stayed in harbour until morning
Left the boat on tender "Matagorda" at 11 a.m. for Cadiz
After seeing custom authorities left by bus at 12.30 a.m.
Stopped at small villages for lunch at 1,30 p.m.and left again at 3.30 p.m.
Arrived at La Linea for Vice Consulate Office at 6 p.m.
Crossed Spanish Frontier at approx 9.30 p.m.
Arrived at Grandhotel Gibraltar 10.45 p.m."
5. List of people staying at Grandhotel:
Mr F. Bower
Mr Stewart
Mr Maitherson
Mr Leitch
Mr Large
Mr Macdonald
Mrs Cane
6. List of people staying at Rock Hotel:
Miss Shipton
Miss Morgan
7. Words of song: "1 Finger, 1 Thumb keep moving" (sung in lifeboat)
8. Names & Addresses of 4 Survivors:
Natvarlal Chhotlal Patel
Naim Barzel
Mrs Cane
C. Steuart
Colin Bower
16 April 2019