Summary
There was quite a lot of activity again in 2022:/p>
- The Jones Family in Swaledale, North Yorkshire
- Awaiting the 1921 Census
- Collating Parish Records
- Finding Gardiners in Poor Law Records
- Another search for Jeremiah Marjoram
- Walter James Collier's Military Service
- More Information about Woman Aviator, Joan Hughes
- Photos of Junior Football Sidea in Beckenham
- Some family entries in the 1921 Census
- Mary Murray (Find the Lady!) at Hoopers Hill, Milton in 1921
- Information about Britannia survivors Clarice Gale & Tony Sangster and non-survivor Frederick Dudderidge
- Similarities in 1941 convoy taking Captain Tom Moore to India
- More information about Christopher & Susaana/Sussanah (Pardom) Brecht
Jones Family
At the turn of the year and into the New Year, I completed an Appendix of information about the Jones family, when they lived in the lead-mining area in Swaledale, North Yorkshire:
1921 Census
It will be a while before I can access the new Census via Ancestry but I did have a look at some of the changes I would expect and in so doing found out a lot of additional information:.
Parish Records
Over the years, I have neglected to build a separate set of Parish Records.
I made a start but it is a big job and it will be a gradual process.
This is as far as I have got:
Gardiner Family
Discovery March 2022
In the course of collating the family's Parish Records, I found that there were gaps in our knowledge of the Gardiner Family (a Collier Faamily).
I happened upon an enlightening entry which showed upheaval in the family:
London, England,
Selected Poor Law Removal and Settlement Records1698-1930
Name: Ann Matilda Gardener
Residence: Age: 41
Birth Date: abt 1813
Event Type: Settlement Papers
Residence Date: 12 Dec 1854
Residence Poor Law Union: Shoreditch
Residence: London, England
I have put the wording in a separate attachment:
The entry raises a number of questions and I have put what we know into a Timeline:
Marjoram Family
Whilst compiling the Parish Records for the Marjoram Family, I looked again at a fundamental puzzle.
Chris' Great Grandfather, Jeremiah Marjoram, was born in Wetheringsett circa 1826 but we have never been able to trace his christening.
One of Chris' Cousins said that Jeremiah's parents were John Marjoram amd Mary Rookyard but we have not traced any evidence of this.
In the 1841 Census (age 15) and 1851 (age 26) Jeremiah was on his own in Wetheringsett. We have not been able to find him in the 1861 and 1881 Censuses.
I have listed the various searches I conducted into John & Mary and Jeremiah and his children in an attachment:
Walter James Collier - Military Service 1880-1892
Walter James Collier was Chris' grandfather.
Chris had a picture of Walter wearing his medals, that had hung in her father's workshop (unfortunately by a nail visible above Walter's head!)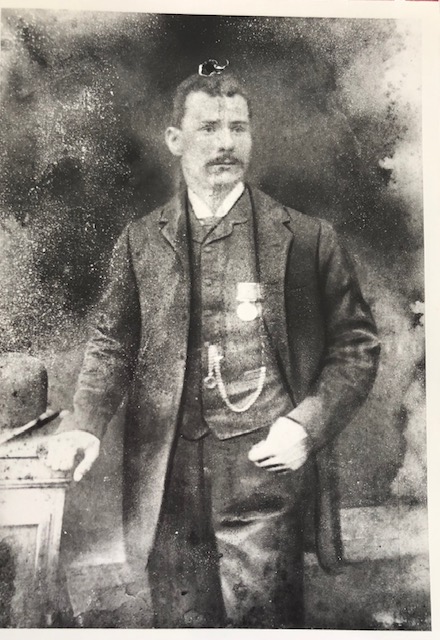 He joined the army unit, the Sherwood Foresters, in the 1880s and we obtained a photo of him in uniform taken in Alexandria in Egypt: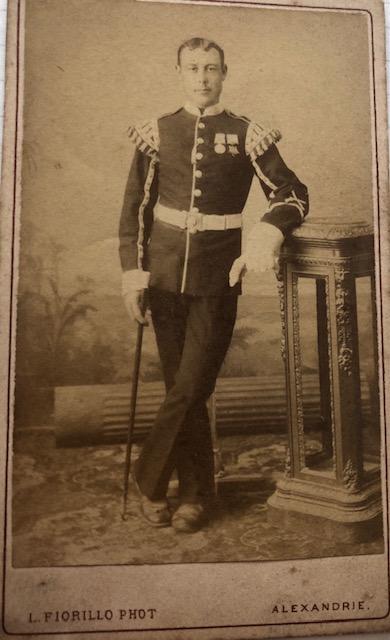 Some years ago, I researched Walter's military career and medals, and drafted a summary of his service record.
I recently completed the service summary for my grand-daughter, who was looking into the Mercia Regimental Museum in Nottingham Castle. The Sherwood Foresters had been absorbed into the Mercia Regiment after a series of Regimental mergers.
Summary of Walter Collier's Military Service
More Information about Woman Aviator, Joan Hughes
Loughton and District Historical Society
Newsletter 220 February/March 2019
In updating my records, I searched under History of Loughton Airfield and found a remarkably detailed article:
Joan Hughes Loughton's ATA Pilot
I listed the Census entries for Joans' family in comparison with the Gardiner/Hughes Family but could not find a link.
I found the registration of Joan's pilot's licence on Ancestry:
Royal Aero Club Aviators' Certificates 1910-1950
Hughes, Joan Lily Amelia, 12728
Eastdene, Spareleaze Hill, Loughton, Essex
Born 28.4.1918 at Woodford, Essex
Certificate taken on DH.60.Giposey I.85
At East Anglian Aero Club, Abridge
1.5.35
Football in the Family
Manor House, Beckenham/Stanhope Rovers
A hostelry in Beckenham was being refurbished under a new name Manor House.
The developers asked if they could use some of the Beckenham photos in my website.
Subsquently, my son visited the Manor House and found that 2 of the photos of football sides, that I played for, had been used:
Stanhope Grove Park Side circa 1955
- Winners of the Annual Inter-Park 6-a-Side Tournament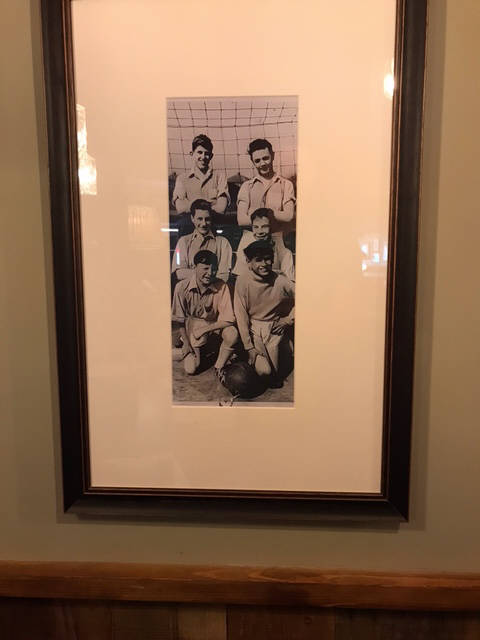 Stanhope's Junior Side at a very rainy Beckenham Place Park
(with 3 of the above in the team)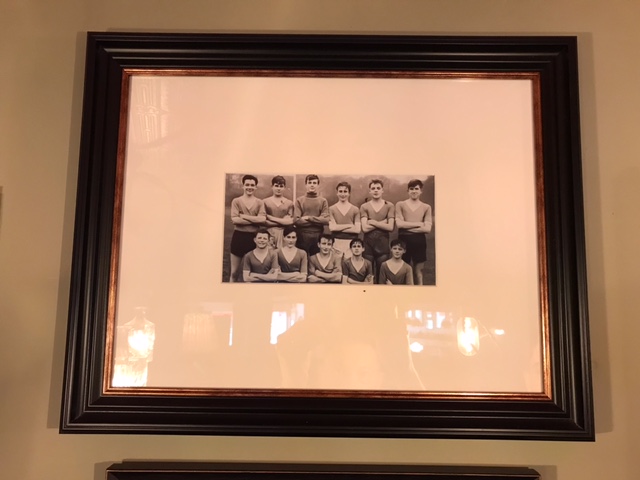 1921 Census
There has not been much acrivity on the website since May, so I decided to mount a small campaign.
I paid for 4 entries in the Census from Find My Past. This gave me the whereabouts of my parents and grandparents in 1921:
I was able to compare the details in the 1921 Census with 1911 and 1939:
Find the Lady!
We know that Henry & Mary (Fawcett) Murray lived at Hoopers Hill circa 1922.
It occurred to me to pay to obtain a copy of the 1921 Census entry from Find My Past:
Hoopers Hill, New Milton
Henry Stuart Murray, Head Major H M Army Retired born 1861 (age 60 1 month) born Edinburgh, Scotland
May (should be Mary) Florence Sophia Murray, Wife born 1862 (age 59 years 2 months) born Milford on Sea, Hampshire
Violet Mabel Lovell, Cook born 1901 (age 20 years 3 months) born Hampshire
Gwendoline May Doyall (could be Boyall), House Parlourmaid born 1900 (age 20 years 7 months) born Downton, Hampshire
* * * *
Major H. Stuart Murray, Hoopers Hill, New Milton made the return. On looking at the original of the entry his wife Mary is stated as May. The surname of the House Parlourmaid has been badly written and could be Doyall or Boyall or what else.
I had been thinking of Hoopers Hill because it was mentioned in our local paper this week and the area is steeped in history:
Sinking of SS Britannia
Frederick George Duddridge, Petty Officer, R.N.V.R.
Extraordinary to have another piece of information 80 years after the sinking:
Frederick was a passenger killed following the attack on the Britannia.
Various memorabilia was found in the papers of Frederick's parents including:
An article about Clarice Gale, one of the survivors:
A reply that Miss Gale sent to Frederick's ex-wife who was trying to trace Frederick's whereabouts:
Sadly, it turned out that Frederick had did not survive the sinking:
UK, Commonwealth War Graves 1939-1947
Memorial Register Plymouth Part 3
Duddridge, P.O. Frederick George
D/BD/X.1227 R.N.V.R. H.M.S. Drake
25th March 1941. Age 32.
Son of Frederick Albert and Florence
Dudderidge of Willsbridge, Gloucestershire
Panel 61, Column 3
Lieut. Anthony d'Evelyn Trevor Sangster R.N.
Lieutenant Tony g R.N. survived the sinking of the SS Britannia and went on to be Gunnery and Correpondence Officer on HMS Venomous.
I had spotted an account of Tony Sangster's naval career but I had not thought until now of putting in the extract about his time on the Britannia:
"Tony Sangster...was posted to the cruiser, HMS York, at Singapore.
On the 11 March 1941 he embarked at Liverpool on the SS Britannia, a passenger liner adapted for use as a troop carrier, bound for Bombay via Freetown and Durban. The Britannia was attacked and sunk by the German commerce raider Thor near the Cape Verde Islands on the 24th March and passengers and crew took to the lifeboats.
Tony Sangster's lifeboat was waterlogged with only the stem and stern above water. There were only nine survivors out of the fifty four in his lifeboat when they were picked up after five days by the neutral Spanish ship, Cabo de Hornos. (It appears that this was Lifeboat Number 10 commanded by Lt Tadhunter, he and Donald Brown were among the survivors.)
They were landed at Tenerife in the Canary Islands where the British Consul negotiated with the Captain General of the Canaries that they would be treated as, "Distressed British Seaman" and confined in a hotel at Santa Cruz which constituted an "internment camp". They were under parole and accountable to the Consul and their Senior Naval Officer. After four months the Consul was able to arrange for them to be released at Gibraltar and he was posted to the destroyer HMS Montrose as Sub Lt Navy Signals in September 1841".
Tony Sangster signed Dad's ship's menu as "A d'E. T Sangsta".
Captain Tom Moore
I know it is a bit of name-dropping but I came across an interesting extract in, Tomorrow will be a Good Day, the autobiography of Captain Tom, fund-raiser extraordinaire.
In August 1941 he boarded the troop ship, Duchess of York, as part of a convoy bound for India.
The similarities of his story with Dad's are that the convoy was escorted by HMS Repulse as Dad's was and Captain Tom also mentions the sinking of the Bismarck (on 27 May 1941 - just after Dad's arrival back in Scotland on 15 May 1941) and the Ark Royal, while Captain Tom's convoy was at sea.
The Duchess of York arrived at its destination in October 1941, something Dad did not achieve.
Brecht/Pardom Family
Parish Records
I set up pages for the Parish Records in the name of Brecht and Pardom.
In so doing, I did an extra search and found another entry for John Christopher Brecht:
St Nicholas, Cole Abbey, City of London
Charlotte Bright
born 12 Feb 1802, bp 28.2.1802
(Parents Christopher & Susanna Bright)
In view of the other christenings at the church, I am taking it that the father is John Christopher Brecht.
St Nicholas, Cole Abbey, City of London
Christening 3.4.1796 Maria Brecht born 13.3.1796
Daughter of John Christopher & Susannah Brecht
Hannah & Harriet Brecht (transcribed as Brhgt)
presumably twin sisters to Maria
born 25.11.1797 bp 17.12.1797
(parents Christopher & Susanna Brhgt)
Colin Bower
1 January 2023