Progress in the following subjects in 2007 has been summarised under the following headings:
Family History
Brecht One-Name Study
Naval History: Sinking of SS Britannia 1941
Local History: Find the Lady!
Family History
Genes Reunited
In a bid to develop the family history, we joined in on some of the latest technology by subscribing to broadband, and Genes Reunited.
Genes Reunited
The initial flurry of activity produced some worthwhile contacts and information:
Brecht/Saunders Family
Brecht/Walland Family

Remarkably 2 Walland contacts with similar ancestory back to the Whorland (& other variants)spelling of the name in Cambridgeshire.

Saunders/Seabourn & Holbrook Family

Contact with a distant Seaborn(e)/Seabourn(e)relative
Collier/Hunt Family
Collier/Peryer family

Contact with some of Chris' cousins

Hunt family

Contact with a distant cousin
Search facility
This encouraged me to use the Census search facility of Genes Reunited and I found the following entries:
1841 William & Sarah Holbrook & Family
1851 Sarah Holbrook Widow & Family
1861 James & Ellen Seaborne & Family
1871 Ellen Seabourn Widow & Family
to extend our knowledge of the family a lot.
Further Census Searches by my Cousin
My cousin went on to find more entries in the Censuses:
Holbrook
1851 Further child Lewis Holbrook age 6
1861 New Entry for Sarah Holbrook Widow & Family
1871 New Entries for William & Hannah Holbrook & Family and
Arthur & Emma Holbrook & Family and
Ellen A & Mary A Seaborn Servants
Seabourn(e)/Seabourn(e)
1851 New Entry for James & Ellen Saban (Seaborn(e)/Seabourn(e) & Family)
1861 Further child Wm Seaborne age 1m
Web Site
The web-site paid dividends when we received responses regarding:
Brecht Family

A Second Cousin and his daughter found the web-site and made contact via e-mail from Australia.

A further Second Cousin was put in contact and a certian notoriety may have cept in:

Peryer/Perrier Family

We had a welcome contact from a distant cousin on the Collier/Perrier side of the family
Bower Family
Visit to Whitechapel
After a visit to the Tower Hamlets Local History Library & Archives, I walked down the Mile End Road to Whitechapel Road and saw Raven Row, a turning off Sidney Street where my great great grandfather Benjamin Bower lived in 1876, and the site of 86 and 87 Whitechapel Road nearby, where his brother Alfred Bower was a Victorian photographer (one of whose neighbours was Henry Wainwright a famous Victorian murderer).
Visit to Whitechapel
Jones Family
Visit to Family Records Centre
I had been unable to trace the birth of my Great Grandmother Martha Hannah Jones so I turned my attention to her brother John Richard Jones and again made remarkable progress with what had been a difficult name previously.
John Richard Jones - brother of my Great Grandmother Martha Hannah Jones
I followed up the entry for John Richard Jones in 1861 Census and obtained two certificates:
Birth of John Richard Jones at 17 Cottage Lane, Stepney on 23 June 1847
Parents: John Jones, Dock Laborer and Elizabeth (Counter) Jones
Marriage of John Jones broker of 40 Road, Bethnal Green (father David Jones - School Master)
and Elizabeth Counter of 3 Road, Bethnal Green (father Richard Counter - Excise Officer)
at Parish Church of Bethnal Green 12 April 1841
You are left with the impression that the occupation of John Jones may have been "sexed up".
John Richard Jones
Collier Family
Visit to London Metropolitan Archives
I had time to do one more piece of research at the London Metropolitan Archives and chose to look up the Parish Record of the marriage of Thomas Collier & Mary Kemp in June 1802 and found that there were two witnesses Matthew & Phoebe Collier.
A search of the IGI revealed potential parents and siblings of Thomas Collier:
Parents:
William & Phebe Collier (see Note 1 below)
Children:
*Thomas Collier christened 18.1.1779 (see Note 2 below)
*Matthew Collier christened March 1781 (see Note 3 below)
*Sarah Debues Collier chistened 26.12.1782
*Phoebe Collier 17.2.1785 (see Note 3 below)

*all christened at St Leonards, Shoreditch
This could be important additional information about Thomas Collier, Silk Weaver.
Notes
1. A William Collier married Phebe Booth 3.9.1782 at St Leonards, Shoreditch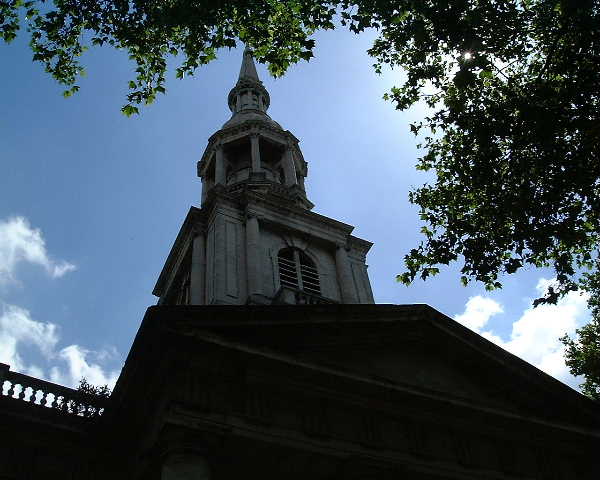 Photograph of St Leonard's Church, Shoreditch
(taken 2001 when the church was boarded up)
2. Thomas Collier was born c 1778/9 according to the 1851 Census (age 72)
3. A Matthew & a Phoebe Collier were witnesses at Thomas' marriage in 1802
Silk Weavers named Collier
Article in Cockney Ancestor
I was very pleased when an article I wrote about Silk Weavers named Collier appeared in Cockney Ancestor, the Journal of the East Of London FHS.
This produced a number of e-mails enquiries but regretably no link between Chris' Great Great Grandfather Charles Collier and other Silk Weavers named Collier:
Spitalfields & 19th Century Silk Weavers named Collier
One strange development was that a descendant of William & Phebe Collier had also written an article about the Colliers, Kemps and Gaucherons. She opened Cockney Ancestor expecting to read her article and found mine there instead! She was able to give me 2 other children of William & Phebe:
William Collier b 1773
Ann b 1776 who married William Kemp.
Visit of Chris' Cousins
Though Chris has had visits from family to our bungalow before, in September we had the first visit of family named Collier with Paul Collier and his sister Jill Williams, which we thoroughly enjoyed:
Visit of Chris Cousins - September 2007
Naval History
Sinking of the SS Britannia
Visit to Gibraltar
My Dad often talked about the short time he spent in World War II in Gibraltar waiting for a ship home. I would love to have been able to tell him that Chris and I spent a very short time in Gibraltar, which we thoroughly enjoyed:
Visit to Gibraltar
I received an enquiry from a nephew of a sailor who was a passenger on the Britannia but sadly did not survive.
Brecht One Name Study
Also see Genes Reunited above
Visit to Tower Hamlets Local History Library and Archives
I visited the Tower Hamlets Local History Library and Archives in Bancroft Road, near Stepney Green underground station. At the Archives I found out the following:
John Christopher Brecht
One of my cousin had traced in the IGI the 1795 marriage of John Christopher Brecht and Susannah Pardom at St Mary's, Whitechapel. I was hoping to find out more by looking at the Parish Records themselves, the main reason for the visit. I did not learn anything new and unfortunately there did not appear to be any other records to help.
Maria Catharine Brecht
I had traced her burial at Christ Church, Spitalfields in the IGI and wanted to look at the Parish Records. To my surprise I found another burial for a Charlotte Brecht, also of Fashion Street, who died in 1819 age 9. Neither Charlotte's baptism nor her burial had previously come to light before.
Catherine & Christiana Brecht
Again in the IGI, there appeared to be two adult christening at St Matthew's, Bethnal Green in 1865. The adult christenings were confirmed in the Parish Records and birth years were given: Catherine (born 1822) & Christiana ( born 1835).
This was one of the best sessions I had ever had.
Visit to London Metropolitan Archives
On a visit to the London Metropolitan Archives, I had one of the biggest finds to date. Heinrich (Henry) Brecht was associated with 3 churches:
Christ Church, Spitalfields
St Matthews, Bethnal Green
St George in the East, Stepney
It was in the Parish Records of Christ Church, Spitalfields where I surprisingly found the burial of Henry Frederick Ludewig Brecht of St Matthew's, Bethnal Green on 3 June 1838 (Age 54). Wonderful!
Local History
Find the Lady!
Visit to Christopher Tower New Forest Library, Lyndhurst
Foxlease, Lyndhurst
I went back to the Library to look at the 1882-1892 diaries of Maria (Stevenson) Hibbert who lived at Foxlease, Lyndhurst now a centre for the Girl Guide movement.
I was hoping that Maria met Constance Lascelles who married Gerald Lascelles a renowned Falconer, born in Yorkshire, the son of the Earl of Harewood. There was an outside chance that she was a candidate to be the Victorian lady who kept the Calling Book 1883-1893. However, though Maria Hibbert met Constance Lascelles on 31 August 1884, there is no entry in the Calling Book for either Hibbert or 31 August 1884.
The candidate is more likely to have lived in Lymington than Lyndhurst where Maria and Constance lived.
Rooke family of Lymington
A descendant of the Rooke family in Lymington e-mailed me to say that the house named Formosa was renamed Bywater House and Sir Giles Rooke was the first of the Rookes to occuppy it.
Colin Bower
31 December 2007
Links to:
Family History - Index