Progress Report
My Dad and Uncle Jack played football when they lived in the East End (and supported West Ham!) and when Dad moved to Beckenham in 1936. Uncle Tom was a first class referee. Dad became a linesman and referee when he stoppoed playing.
I played football for Marian Vian School, the Stanhope Grove Recreation Park (where Beckenham F.C. played) junior sides and Stanhope Rovers. I used to watch Beckenham play until I started supoporting Crystal Palace. At one time Dad was a trainer of the Beckenham side and was on the selection committee.
I left Beckenham in 1966 and did not expect to be corresponding about Stanhope Rovers and Beckenham F.C. all these years later!
New in 2020
Stanhope Rovers
It was a lovely surprise to be contacted by the son of someone I played football with. His father and I both played for Stanhope Rovers and I was able to provide him with a copy of the photo of the league-winning side, in which his father played.
On the downside, he told me that the local pub,the Rising Sun, had been turned into flats!
He also provided me with the names of some of the other players and a slip showing that his father had been selected to play for Stanhope:
New in 2021
Remarkably, within a few days of each other, I was contacted by 2 people about football in Beckenham
One wanted to put some historical information about Beckenham F C and Stanhope Rovers in Beckenham Town's programmes and I was able to send him:
1. A photo of a "Beckenham Town" Team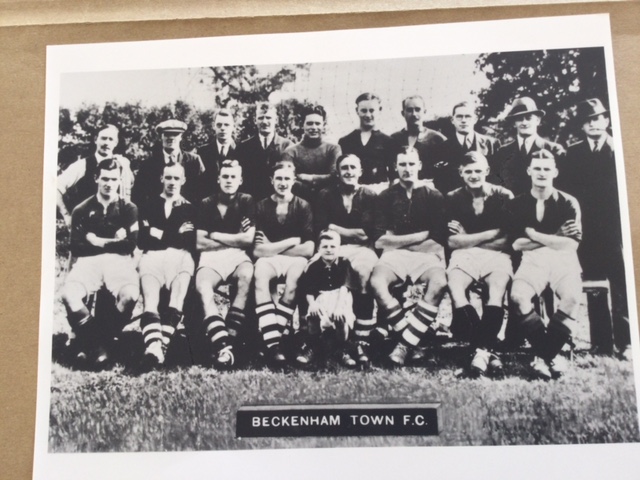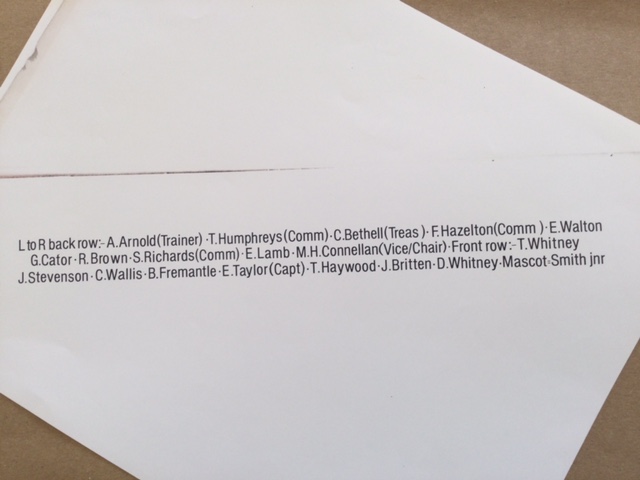 Some years ago, I was sent this undated puzzling photo by one of the founders of Stanhope Rovers.
My correspondent sent me the same photo believed to be dated 1936, published by the Ardath Tobacco Co Ltd as their Photocard No. 10.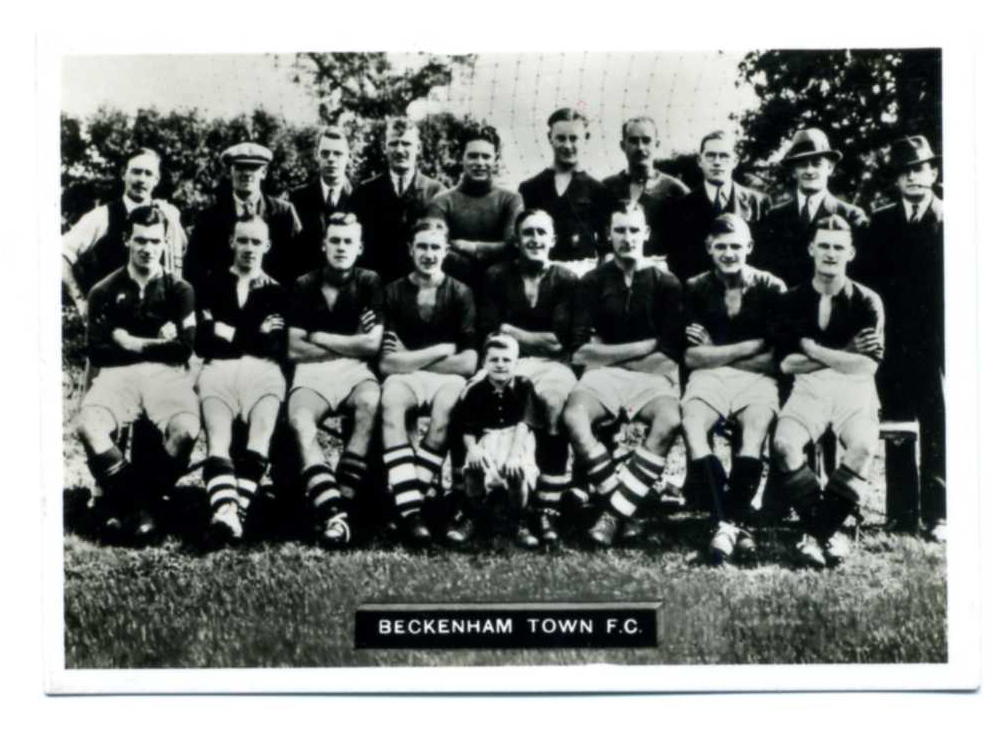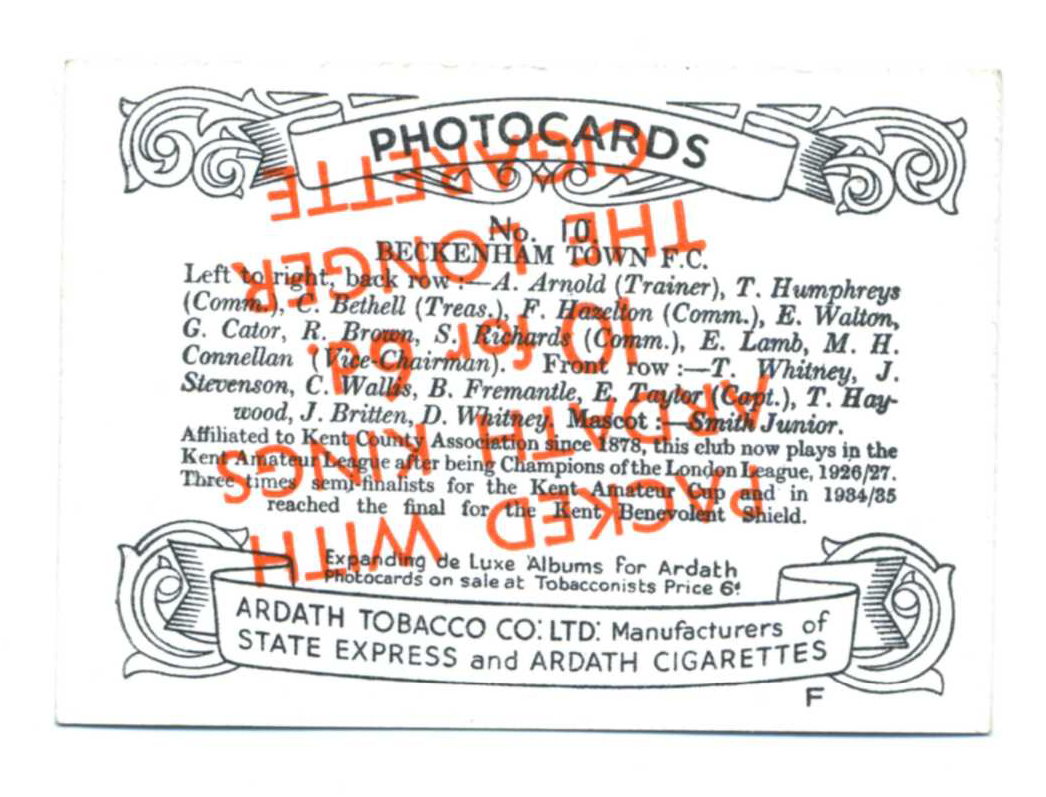 The above photocard had further information about Beckenham F C (called by Ardath, Beckenham Town):
"Affiliated to Kent County Association since 1878, this club now plays in the Kent Amateur League after being Champions of the London League 1926/27.
Three times semi-finalists for the Kent Amateur Cup and in 1934/35 reached the final for the Kent Benevolent Fund."
2. Copies of Beckenham's Fixture List in 1949/50.
Beckenham F C
The other correspondent told me that his father was a leading figure in Beckenham F C. He played for Beckenham in the 1940s and 1950s and stayed on as one of the club's officials
He sent me a copy of the programme for Beckenham's friendly against Charlton on Saturday 2 April 1949 played at Stanhope Grove.
Apart from the rareness of the programme, it was particularly interesting for 3 reasons:
1. His father played outside right in the match with well-known figures Cyril Roberts and Bunny Copper. ("Ticker" Walsh did not play against Charlton as he got married that day)
2. The programme shows the close links it had with Crystal Palace with "Mr F. Dawes (Crystal Palace F C )" named as Club Coach
3. The programme includes the statement, "Since the club's formation in 1947". Perhaps this is reference to the reformation of the club after WWII.
According to another website, it must be shortly after this that the club moved to Stanhope Grove:
Potted History of Beckenham F C
This gallery of photos includes a programme for a match Crystal Palace v Millwall in which 3 of the players played for Beckenham F C (Ray Potter and Frank Morris for Palace and Bill Lloyd for Millwall)
My correspondent also played for Beckenham and memorably played for a Beckenham XI against the original TV All Stars XI.
He recalls his father approaching Bromley F C in the late 1960s for a merger with Beckenham F C which had become very run down.
(According to Wikipedia, a new club Beckenham Town was formed in 1971 based on the Stanhope Rovers team and in July 1980 moved to its current ground in Eden Park.)
Easter Friendlies against Wageningen
I already had a photo of the annual friendly against Wageningen during Easter 1948 - March 29th 1948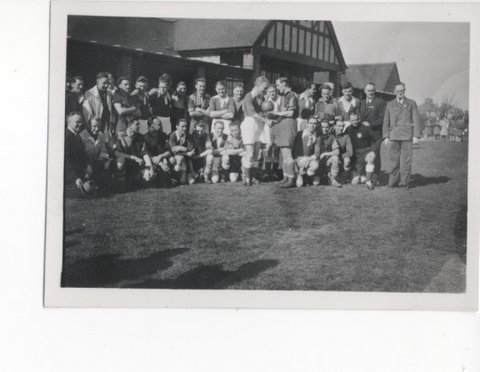 The annual event in 1950 is shown in the above Fixture List on April 10.
I was fairly sure that my uncle, Tom Bower, refereed one of the annual friendlies when I was a small boy.
Out of the blue, I spotted the programme for the 1948 match was for sale on the internet.
To my delight, this was the first visit of Wageningen to Beckenham and my Uncle Tom Bower was the referee!
The match was in fact played on Saturday 27 March 1948.
In the programme, it explains the above photo, where Beckenham F C presented an autographed football as a small souvenir of the occasion.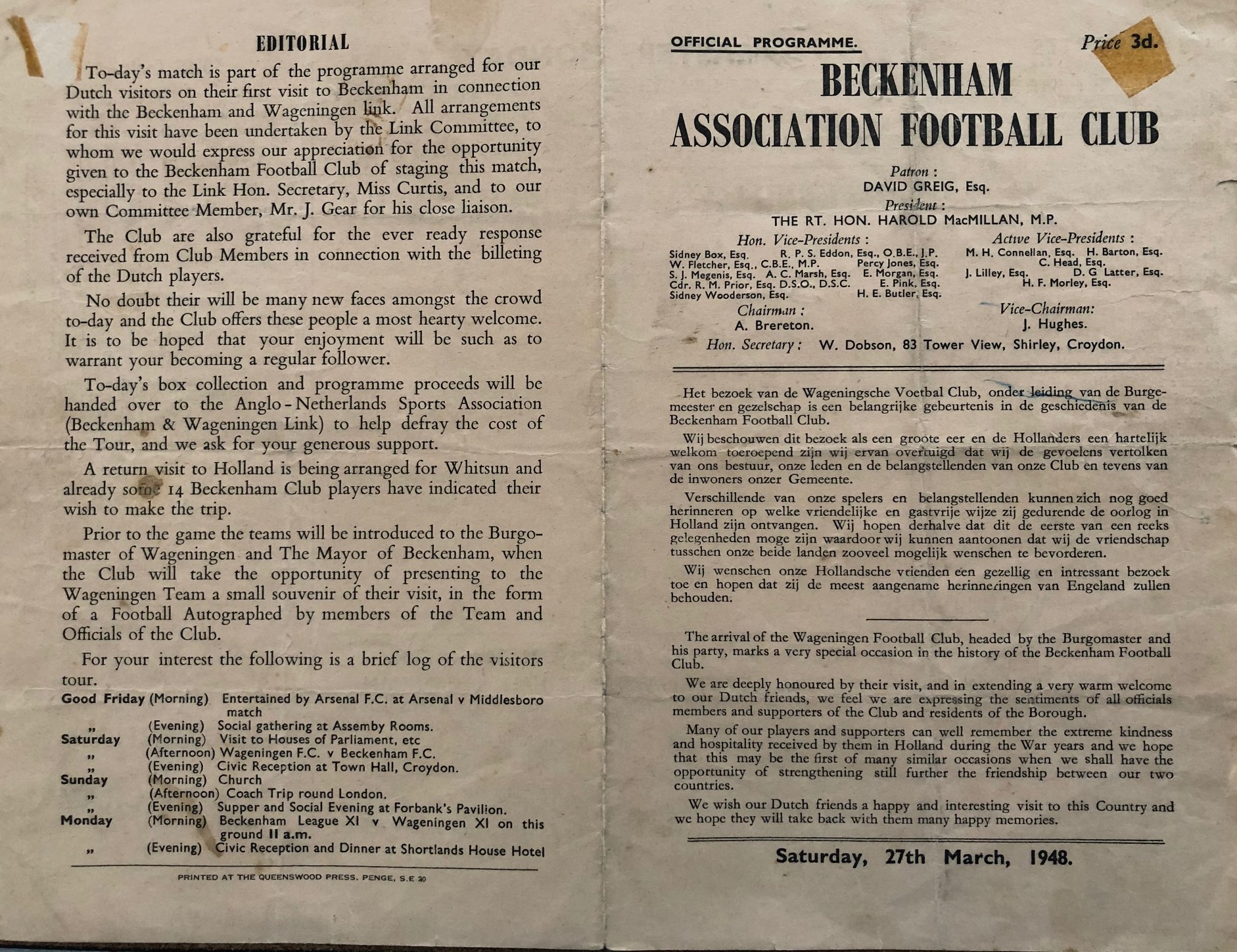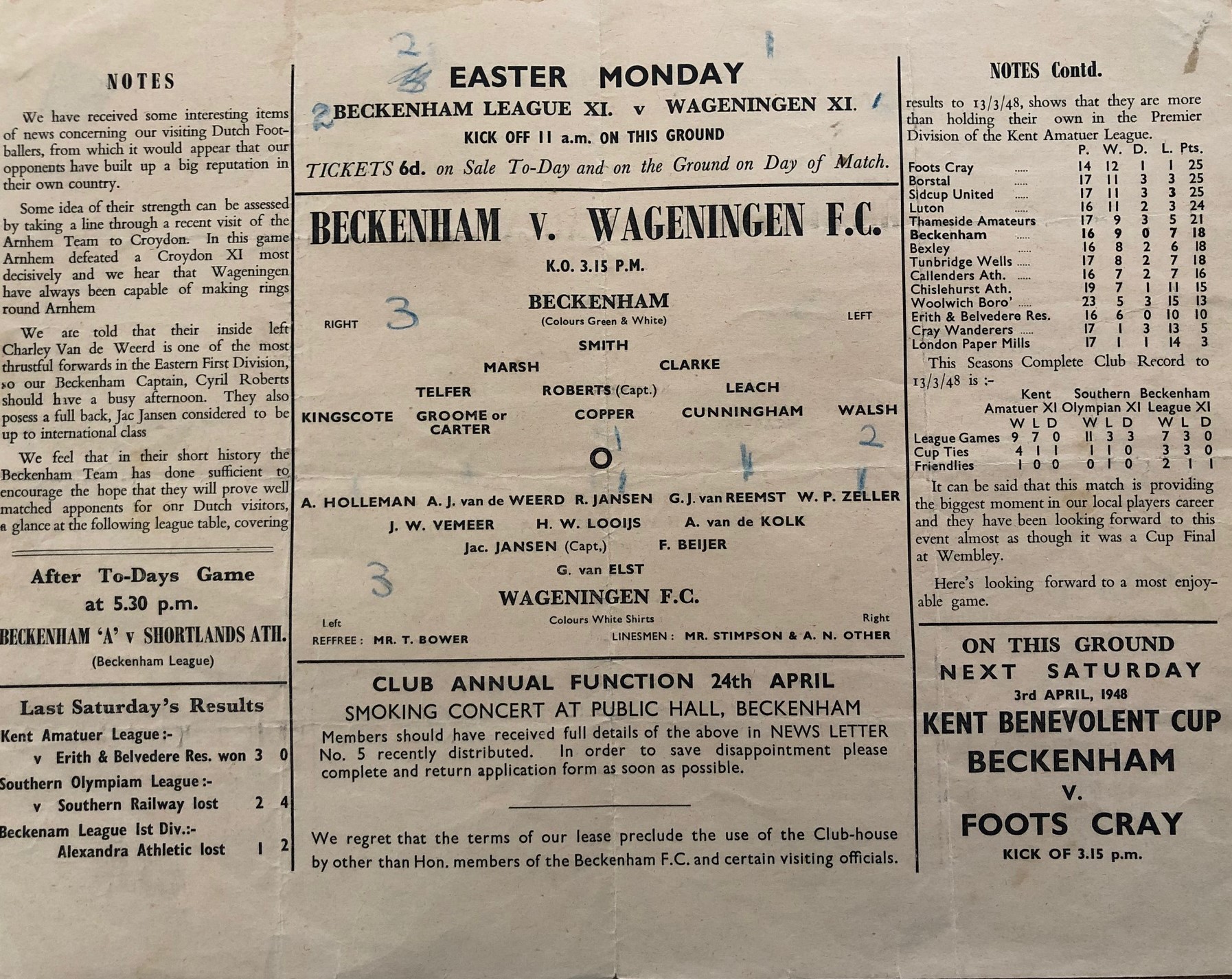 Extraordinarily I was then sent the match report in the Norwood News dated Friday 2 April 1948:

So after nearly 75 years, I have:
- the programme from the match
- a photo taken at the match, and
- a match report!
New in 2022
Manor House, Beckenham/Stanhope Rovers
A hostelry in Beckenham was being refurbished under a new name Manor House.
The developers asked if they could use some of the Beckenham photos in my website.
My son visited the Manor House and found that 2 of the photos of football sides, that I played for, had been used:
Stanhope Grove Park Side circa 1955
- Winners of the Annual Inter-Park 6-a-Side Tournament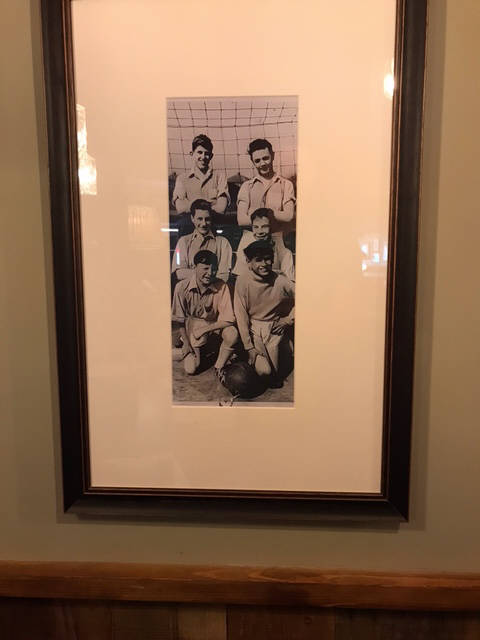 Stanhope's Junior Side at a very rainy Beckenham Place Park
(with 3 of the above in the team)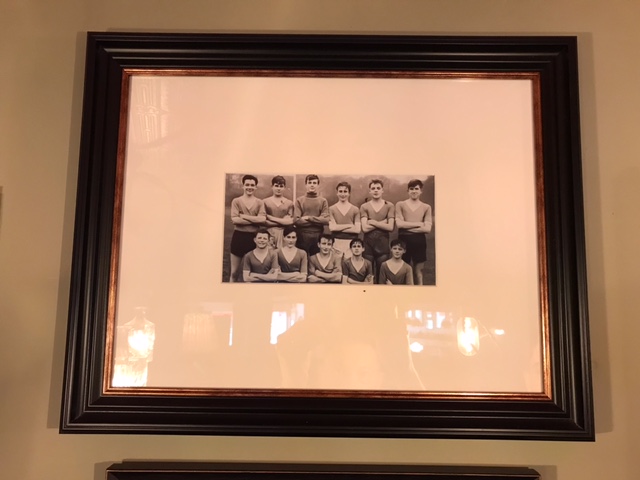 Colin Bower
1 December 2022
Football in the Family