Progress To Date
Great Grandparent: Emma Mary Seabourn(e)
- Her Parents: James Seabourn(e) & Ellen Maria Holbrook
- Her Grandparents: John Seaborn
Mini Family Tree (Direct Ancestors)
The family tree to date may be summarised:
Seabourn(e)/Saban Family Tree
John Seaborn b c 1800
?Married June 1824 Gt Hallingbury
?Mary Howard b c 1800
James Seabourn b c 1824 Gt Hallingbury d 6.8.1866
Married 10.10.1847
Ellen Maria Holbrook b 1831 bp 28.8.1831
(Ellen married John George Robson 16.6.1872)
Emma Mary Seabourn b 06.11.1853
Married 26.09.1876
Charles Herbert Saunders b 17.04.1844
Ellen Elizabeth Curran Saunders b 06.11.1877 d 19.3.1960
Married 25.12.1899
Arthur Brecht b 28.01.1877 d 28.12.1946
Doris Ivy Brecht b 15.03.1912
d 29.6.2003
Married 11.07.1936
Frederick Bower b 12.09.1910
d 10.9.2006
Colin Malcolm Bower b 12.01.1944
Married 15.10.1966
Christine Elizabeth Collier b 26.03.1946
Link to Family Tree

Emma Mary Seabourn(e) & Descendants
Summary of Research To Date
We have made reasonable progress with a relatively uncommon name which has variants.
James Seaborn (e)/Seabourn(e) was born in Great Hallingbury, Essex and died young in 1866 (age 42) and his widow Ellen Maria Seabourn(e) (Formerly Holbrook) remarried a Robson. We need to trace his christening to establish the name of his mother.
Birth Marriage & Death Certificates Held
- Births: 3
- Marriages: 3
- Deaths: 3

Certificates Held-Seabourn(e) Family
Census Records Obtained
- 1841 William & Sarah Holbrook & family
- John & Mary Saban
- John & Sarah Seaban (Saban)
- 1851 Sarah Holbrook Widow & family
- John & Sarah Saban & family
- John & Lois Saban & family
- James & Ellen Saban & family
- 1861 Sarah Holbrook Widow & family
- Thomas & Ellen Holbrook
- John Holbrook
- James & Ellen Seabourne & family
- 1871 William & Hannah Holbrook & family
- Arthur & Emma Holbrook & family
- Ellen Seabourn Widow & family
- Ellen A Seaborn & mary A Seaborn, Servants
- 1881 Ellen Robson (formerly Holbrook late Seabourn(e)) & family
- James & Elizabeth Seabourn & family
- George & Mary (Seabourn) Smith & family
- 1891 Ellen Maria Robson, Widow & family
James William Seabourne & family
William & Mary Seabourne & family
Thos Arthur Seabourn & family
- 1901 George & Mary (Seabourn) Smith & family
- Benjamin & Mary Ann (formerly Seabourn) Amos & family
Thomas & Emily Seaborne & family
- 1911 Thomas & Emily Seabourn & family
Elizabeth Seabourn, Widow
Herbert Seaborne
Other Research Undertaken
- IGI - Sheets held for London and Essex
- Parish Records - Lt & Gt Hallingbury
- Wills
- Businesses - Coal (James Seabourn), Beer Houses (James William & Thomas Seabourn)
- Correspondence
- Visits - Gt Hallingbury Church
- Photographs
- Misc Info/Documents
Progress 2004/6
-
Progress 2007
My great grandfather James Seabourn died in 1866. I was able to obtain the marriage certificate for the second marriage of Ellen Maria Seabourn (formerly Holbrook) to John George Robson in 1872.
My cousin traced the Seabourn (1851 & 1861)and Holbrook (1841-1861)families in some of the censuses and obtained the death certificates of Ellen Maria Holbrook's parents. This gives us a much clearer picture of the two families including the birth place of James Seabourne - Gt Hallingbury.
Progress 2008
The Sabans
This family name has a number of variants and my cousin found one entry in the 1851 Census for Saban!
This spelling of the family name appears to have been used in the Great Hallingbury area where my Great Great Grandfather James Seabourn was born in 1824/5 (per 1851 Census).
During a vist to Hertfordshire, we made a visit to Great Hallingbury near Bishops Stortford and took photo's of the church:
The Church of St Giles, Great Hallingbury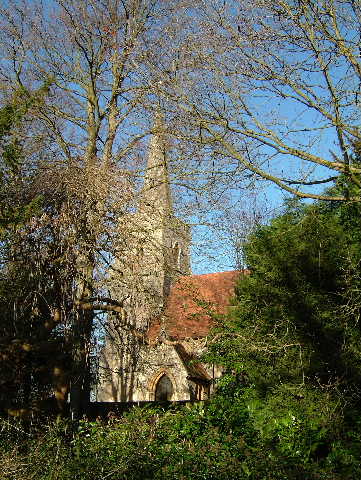 The Smiths
In the early 1980s, my mother & her sister Aunt Ellen Brecht told me that my Grandma Ellen (Saunders) Brecht had worked in the greenhouses of George Smith (husband of Aunt Polly).
A descendant of George Smith advised me that Aunt Polly was Mary (Seabourn) Smith, the sister of my Great Grandmother Emma Mary (Seabourn) Saunders
I searched the 1881 Census and found George & Mary (Seabourn) Smith living at the same address as her brother James Seabourn.
In all I added entries from the 1841, 1851, 1861, 1871, 1881 and 1901 Censuses.
Progress 2009
I added entries from the 1911 Census.
Progress 2010
-
Progress 2011
A correspondent contacted me regarding the Saban/Seabourn Family. James William Seabourn was her Great Great Grandfather. James' sister Emma Maria Seabourn was my Great Grandmother and James& Emma had a brother William Seabourn who was Great Grandfather of another correspondent!
Things we wish we knew
Birth details of John Seabourn (c1800)
Whether John Seabourn is the John Saban/Seban who married Mary Howard at Great Hallingbury in June 1824
Which was the family church
Birth details of James Seaborn(e) (c 1824)
John & Mary Seabourn in 1851 Census
Whether any connection to John & Sarah Saban & Family in 1841 and 1851 Censuses
1901 Census entries for James & Charles Seabourn
Progress 2012
Seabourne/Holbrook/Robson Family
A distant relative sent me a charming photo of Ruth Elizabeth (Robson) Wright born 1873 - parents George and Ellen Maria (born Holbrook late Seabourne) Robson.She is holding my correspondent's grandmother: