Progress 2011
John Christopher Brecht
A while ago my cousin turned up the following entry:
St Mary's Church, Whitechapel
Marriage 25.5.1795
Between John Christopher Brecht and Susannah Pardom, Widow
We have still not established who John was, whether he was related to my ancestor Heinrich Brecht and what happened to him. I have found out a little more about Susannah Pardom though:
Search for John Christopher Brecht & Susannah Pardom
Heinrich Fridrich Ludwig Brecht
There is an entry in a database of sugar refiners and bakers:
www.mawer.clara.net
for Jurgen Christoph Brecht who was a sugar refiner in London possibly between 1784-1822.
The correspondent in Germany, who was the source of this information, advised me that Jurgen Christoph Brecht was the uncle and godfather of Heinrich Fridrich Ludwig Brecht who was christened on 7 July 1784 in Germany, when Jurgen was said to be in London.
It is possible that Heinrich Fridrich Ludwig Brecht came to England and may be one and the same as my ancestor Heinrich (Henry) Frederick Ludewig Brecht born 1783/4.
Jurgen Christoph Brecht was buried on 1 April 1822 (age 70 and 18 days) in Germany (when it was noted that he had been a sugar refiner in London.)
Death of Mary Somes Wife of Heinrich/Henry Brecht
Browsing the internet for other names, I chanced upon a fascinating entry for Christ Church, Spitalfields:
The burial of Mary (Somes) Brecht (age 35) 3.1.1819 - per the New Family Search web-site.
This has partially solved a mystery that we have been trying to solve for 20-25 years!
There must have been appalling and desperate conditions at Fashion Street, Spitalfields where Henry had a colour maker's facility. He lost his wife and 3 young children perhaps to infection which may have been rife in this crowded area of London:
- Maria Brecht buried 16.11.1814 (age 2)
- Charlotte Brecht buried 15.1.1819 (age 9)
- Elisabeth Catharine Brecht buried 17.6.1821 (age 5)
Even after Mary's death, Henry lost another daughter at a young age:
- Eleanor Brecht buried 24.10.1824 (age 17 months)
Now we need to prove if Harriet Piper is the mother of Henry's children born after 1819
As soon as I realised that I had been "barking up the wrong tree", I started to look for evidence that Harriet Piper was my direct ancestor and found the following additional information:
Harriet Piper
St Mary's, Newington
24.11.1802 Harriet Piper bp (born 6.1.1802)
- parents John & Mary Piper
St Mary's, Lambeth
(?) 8.9.1782 John Piper married Mary Hunt
1861 Census (also see Notes)
17 Wapping (?) Walk, Shadwell (next to George & Vulture)
Henry Brecht Head 48 Coffee House Keeper born Bethnal Green, Middx
Harriet Brecht Wife 53 born Newington, Surrey
Harriet Brecht Daughter 19 born Bethnal Green, Middx
Rosina Page Boarder 19 Dress Maker born Wapping, Middx
William Colvin Son 15 Bricklayers Labourer born Whitechapel
Notes
Despite marrying in 1838 Henry & Harriet had chosen to use Harriet's former married name Brecht
I found this entry from tracing William Colvin under Calvin! The name Brecht was very difficult to read as Brecht.
1871 Census
24 Patterson St (Stepeny) Mile End Old Town
William Colvin Head 26 Painter born Poplar, Middx
Emily Colvin Wife 26 born Poplar, Middx
Emily Colvin was the witness on Harriet (Brecht) Colvin's death certificate.
George Brecht in Pentonville Prison 1911
The publication of the Household Questionnaire for the 1911 Census may have solved a mystery over why George Brecht's name appears to have been included twice in the 1911 Census:
HM Prison, Pentonville
George Brecht Inmate 31
51 Hermit Road, Canning Town
Henerina Brecht Widow 56 born Plaistow, Essex
George Henry Brecht Married Son 30 Ships Fireman born Plaistow, Essex
Oliver Brecht Son 29 Labourer born Plaistow, Essex
Roseretta Brecht Daughter 28 Shop Assistant born Limehouse, Middlesex
Alf Brecht Son 21 Labourer born Bromley, Middlesex
George Henry Brecht's wife was living with her children:
1 Oak Road, Canning Town, Essex
Lucy Ann Brecht Head Married 29 Factory Hand Bottle Fillers born Millwall, Middlesex
Albert Earnest Brecht Son 10 born Tidal Basin, Essex
George Henry Brecht Son 8 born Tidal Basin, Essex
Alf Brecht Son 5 born Plaistow, Essex
Frank Bert Brecht Son 15 months born Plaistow, Essex
On page 2 of the 2011 Census questionnaire are the instructions:
It is important to include visitors staying overnight in this household to make sure no-one is missed. Visitors who usually live elsewhere in the UK must also be included on a census questionnaire at their usual address.
On page 31 are the instuctions:
Anyone who is temporarily away from their permanent or family home on (census day) should be included at their home address.....This includes people who are in prison on remand (for any length of time) or sentenced to less than 6 months imprisonment.
If similar instructions were in place in 1911, prisoner George Brecht may also have been included by his mother in her census entry as well as the prison entry.
Christiana Piper Brecht
I was contacted by the 2 x Great Granddaughter of Christiana Piper Brecht the daughter of Heinrich (Henry) Brecht and sister of my ancestor George Frederick Brecht.
This was the first contact that I had received from a descendent of a sibling of George Frederick Brecht.
Christiana married Charles Waterman at Kings Somborne, Hampshire on 29.9.1857.
On a vist to Romsey in 2009, we drove out to King's Somborne to see the church: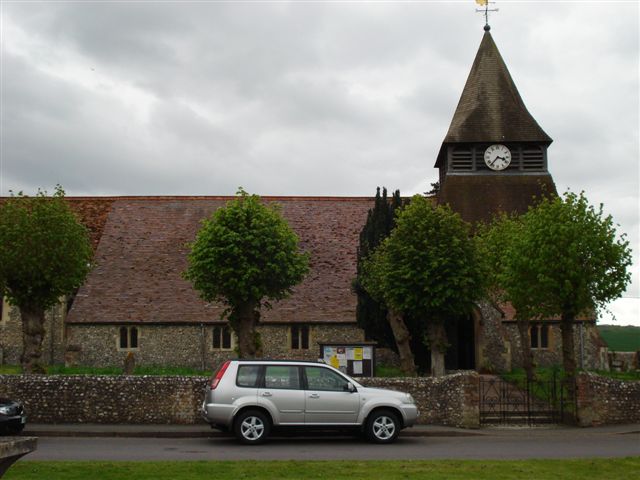 Christiana died in Kings Somborne on 13.10.1889.
Colin Bower
1 January 2012