Progress 2006
Photograph of Arthur (Senior) & Ellen Brecht & Family
My cousin sent me an exciting find, i.e.a photograph circa 1924 that my grandma Ellen Brecht (known as Brett) sent to his father, my uncle Arthur (Junior) Brett (born Brecht), in South Africa. The photo made its way back to England and finally got to me.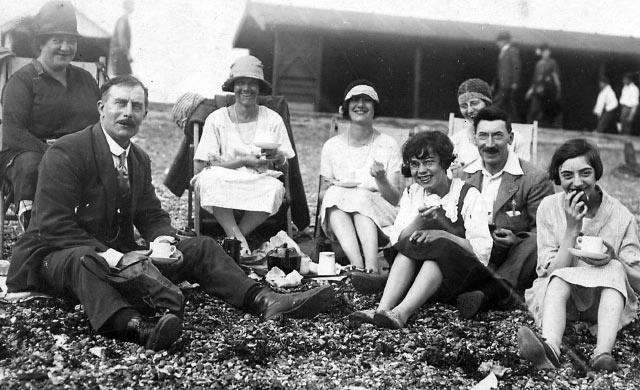 It shows my grandparents Arthur and Ellen Brecht (on the left) on the beach at Shoeburyness. My mother Doris Brecht (on the right) appears to be eating a large cake! Her sisters Enid Brecht and Ellen Brecht (you can just see her head) are siting at the back. Note the tea-set!
The other family is named Shepperd.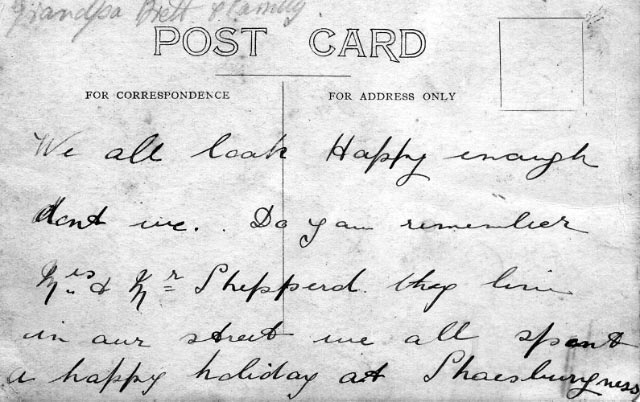 The reverse of the card has the message: "We all look Happy enough don't we. Do you remember Mrs & Mr Shepperd they live in our street (Clemence Street, Limehouse) we all spent a happy holiday at Shoeburyness."
1851 Census
Using one of the new Names Indexes to the Censuses (in this case 1851), I traced the children of Heinrich (Henry) Brecht living in Southwark with their step parents, Henry & Harriet (formerly Brecht born Piper) Colvin:
1861 & 1871 Censuses
My cousin found the Brecht family in the 1861 (Shadwell) and 1871 (St George in the East) Censuses
In 1861 George Frederick Brecht was living in Shadwell as a Master Dairyman (the Walland family had been dairy people there). By 1871 he had become a House Painter.
Brecht Family - Census Records
Colin Bower
28 February 2007
Link to: