There had been quite a lot of activity again this year:
- The Jones Family in Swaledale, North Yorkshire - Awaiting the 1921 Census - Collating Parish Records - Finding Gardiners in Poor Law Records - Another search for Jeremiah Marjoram - Walter James Collier's Military Service - More Information about Woman Aviator, Joan Hughes
Jones Family
At the turn of the year and into the New Year, I completed an Appendix of information about the Jones family, when they lived in the lead-mining area in Swaledale, North Yorkshire:
1921 Census
It will be a while before I can access the new Census via Ancestry but I did have a look at some of the changes I would expect and in so doing found out a lot of additional information:.
Parish Records
Over the years, I have neglected to build a separate set of Parish Records.
I made a start but it is a big job and it will be a gradual process.
This is as far as I have got:
Gardiner Family
Discovery March 2022
In the course of collating the family's Parish Records, I found that there were gaps in our knowledge of the Gardiner Family (a Collier Faamily).
I happened upon an enlightening entry which showed upheaval in the family:
London, England,
Selected Poor Law Removal and Settlement Records1698-1930
Name: Ann Matilda Gardener
Residence: Age: 41
Birth Date: abt 1813
Event Type: Settlement Papers
Residence Date: 12 Dec 1854
Residence Poor Law Union: Shoreditch
Residence: London, England
I have put the wording in a separate attachment:
The entry raises a number of questions and I have put what we know into a Timeline:
Marjoram Family
Whilst compiling the Parish Records for the Marjoram Family, I looked again at a fundamental puzzle.
Chris' Great Grandfather, Jeremiah Marjoram, was born in Wetheringsett circa 1826 but we have never been able to trace his christening.
One of Chris' Cousins said that Jeremiah's parents were John Marjoram amd Mary Rookyard but we have not traced any evidence of this.
In the 1841 Census (age 15) and 1851 (age 26) Jeremiah was on his own in Wetheringsett. We have not been able to find him in the 1861 and 1881 Censuses.
I have listed the various searches I conducted into John & Mary and Jeremiah and his children in an attachment:
Walter James Collier - Military Service 1880-1892
Walter James Collier was Chris' grandfather.
Chris had a picture of Walter wearing his medals, that had hung in her father's workshop (unfortunately by a nail visible above Walter's head!)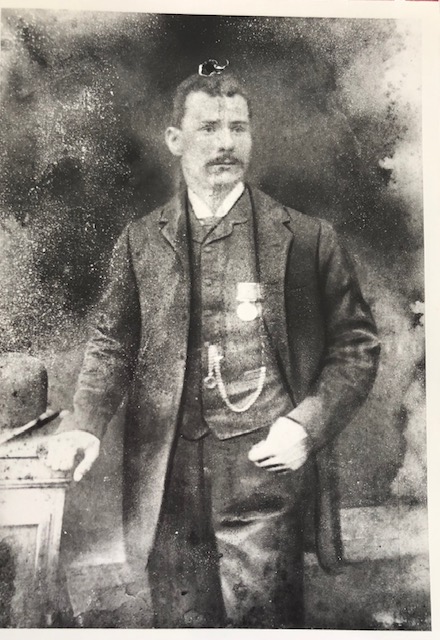 He joined the army unit, the Sherwood Foresters, in the 1880s and we obtained a phto of him in uniform taken in Alexandria in Egypt: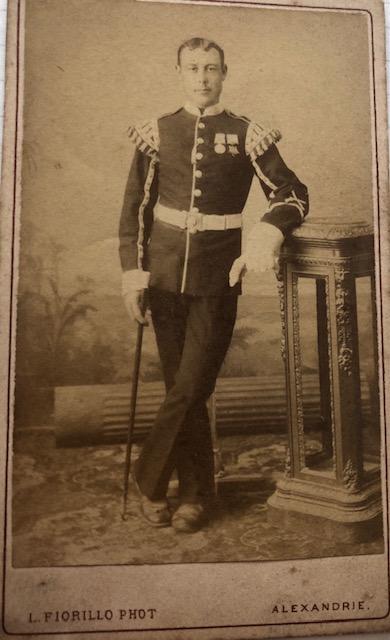 Some years ago, I researched Walter's military career and medals, and drafted a summary of his service record.
I recently completed the service summary for my grand-daughter, who was looking into the Mercia Regimental Museum in Nottingham Castle. The Sherwood Foresters had been absorbed into the Mercia Regiment after a series of Regimental mergers.
Summary of Walter Collier's Military Service
More Information about Woman Aviator, Joan Hughes
Loughton and District Historical Society Newsletter 220 February/March 2019
Joan Hughes Loughton's ATA Pilot
In updating this article, I searched under History of Loughton Airfield and found a remarkable publication:
Joan Hughes Loughton's ATA Pilot
Colin Bower
15 May 2022