Family Photos
We have some lovely photos from the family:
Wedding of Albert Collier with his brother (Chris' Dad) at front (left)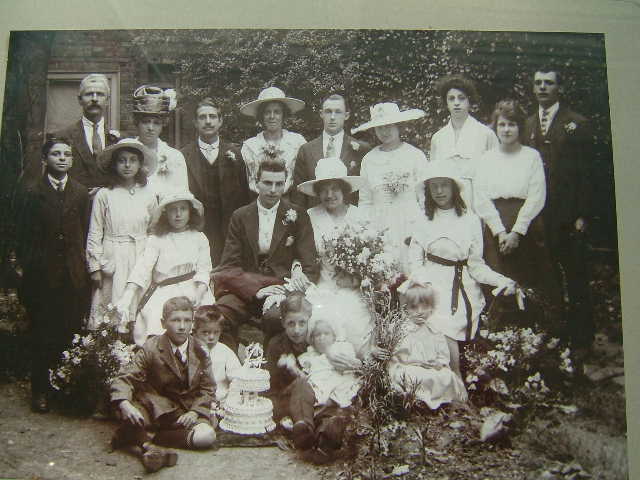 Wedding of Chris' parents (picture hangs in our hall)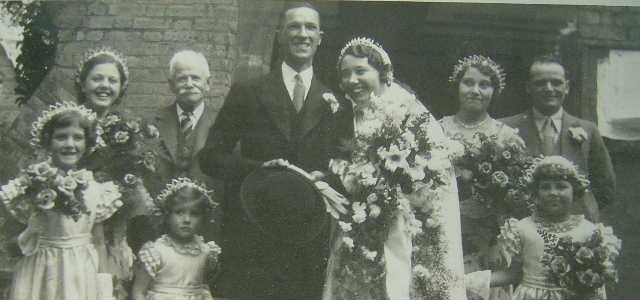 Chris' parents on thier Golden Weddding Anniversary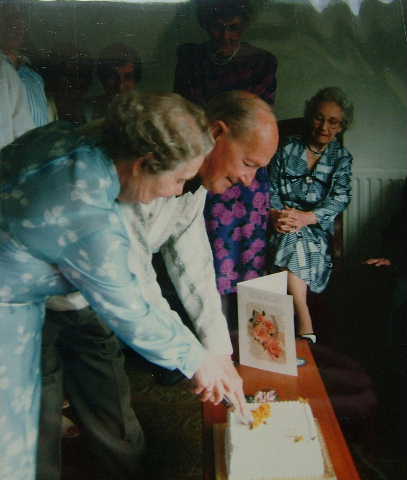 Chris' parents as we remember them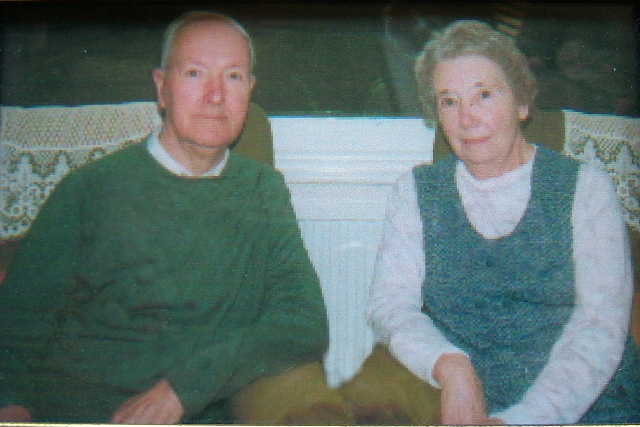 Visit to the East End of London June 2001
In 2001, Chris and I had an enjoyable day in the East End of London with Chris'cousin Maureen Baxter, who is a decendant of Emma (Collier) Cordell, sister of Charles Colier, the Ropmaker (Chris' ancestor).
We walked to Christ Church, Spitalfields where Thomas Collier married Mary Kemp (Huguenot descent) in 1802/3.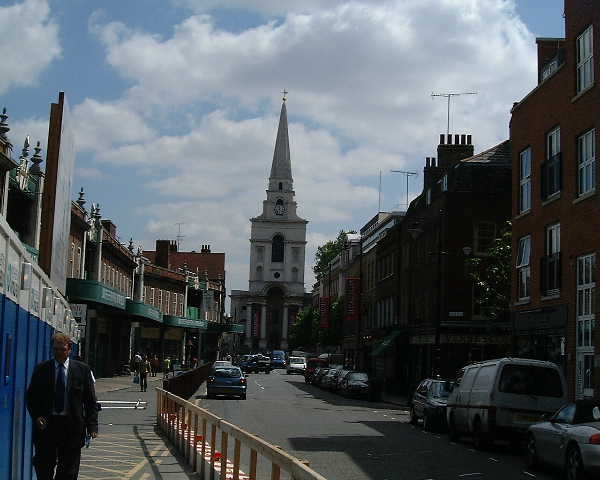 We then walked down Brick Lane to Shoreditch but could not find Providence Chapel in Austin Road where Emma Collier married William James Cordell. We did obtain a sketch made by Pastor W Cuff, from the Bancroft Library at Bancroft Road, London E1: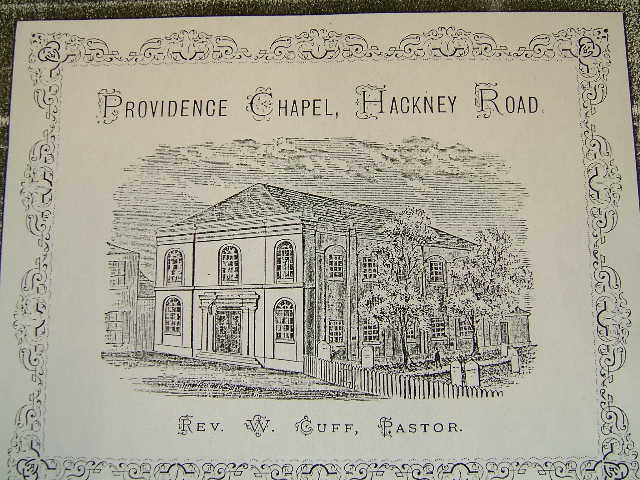 We walked past St Leonard's Church, Shoreditch: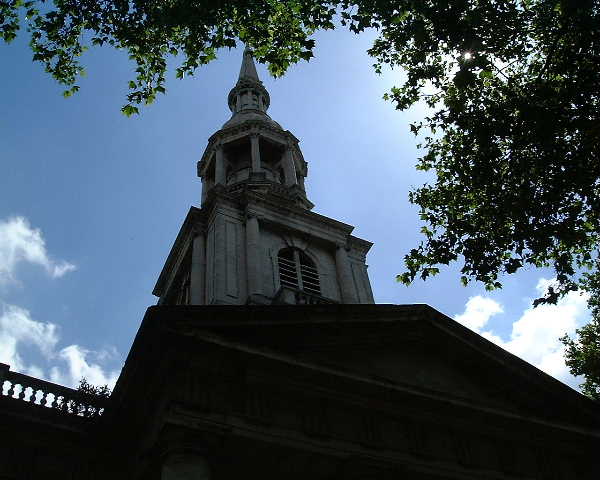 Nearby we had an interesting cafe lunch before we caught a bus to see St Matthew's Church in Bethnal Green where there were family christenings and marriages in the past: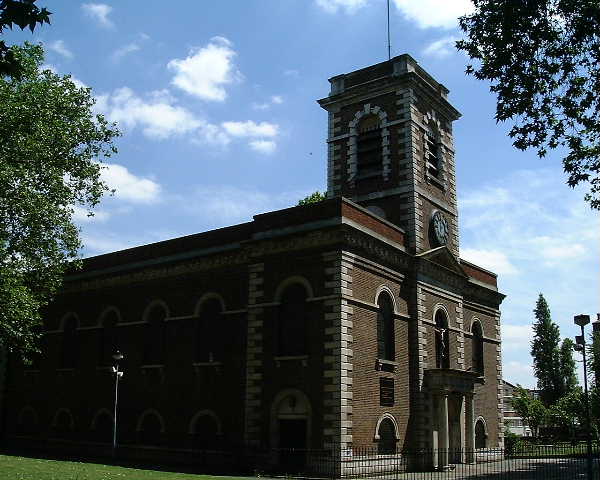 We walked up Roman Road (at one time Green Street) but the turning Harrold Street, where Charles Collier Silk Weaver & family lived, was no longer there.
We did have a short rest in Victoria Park before making our way to the Parish Church of South Hackney (St John of Jerusalem, Lauriston Road) nearby, where Charles Collier (Ropemaker), son of Charles Collier, Silk Weaver, married Matilda Gardiner in 1853.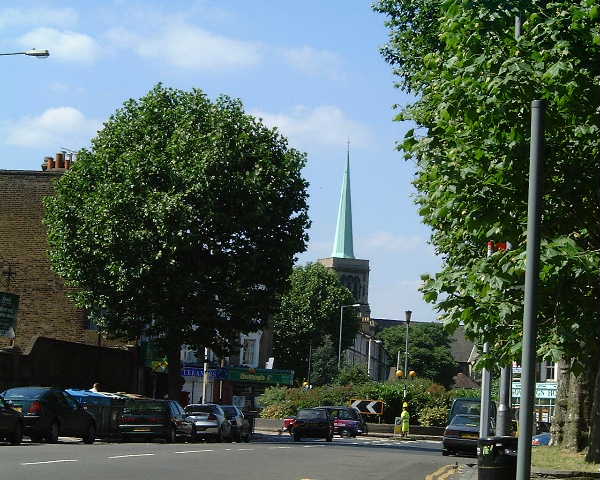 A very tiring day but really enjoyable to walk the streets where Chris' ancestors lived and see some of the places they saw.
Visit to Canada June 2006
Chris and I enjoyed a wonderful holidy on a Rockies and Vancouver tour followed by 3 nights in Saskatoon to meet up with some of Chris' second cousins (descended from Charles Collier, Silk Weaver and his son Charles Collier, the Ropemaker).
Apart from Vancouver (2 nights) and Saskatoon, we spent 2/3 nights in:
Banff
Jasper
Kelowna
Victoria
Among the highlights of the tour were:
the beautiful lakes, Moraine (pictured) Louise near Banff

seeing black bears near Jasper

the magnificent Buchart Gardens in Victoria and

the lovely waterfronts at Victoria and Vancouver
In Banff, we met up with Paul& Johanna Collier (Paul being Ted Collier's son, who lives in Calgary). Paul gave me a much-appreciated enlargement of Ted Collier's extraordinary handwritten Family Tree (Paul and Johanna are on Page 22 of the Tree!)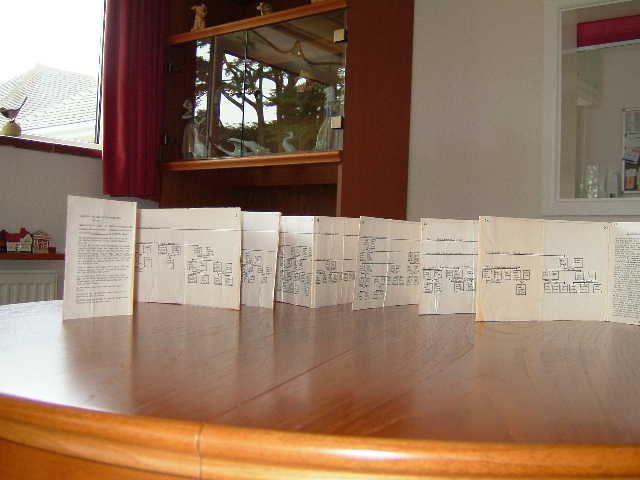 In Saskatoon, it was good to meet up again with Doug & Merle Bocking who we had got to know on their visits to England:
Chris with Doug, and his sister Esther and brothers Les and Ted at Esther's apartment.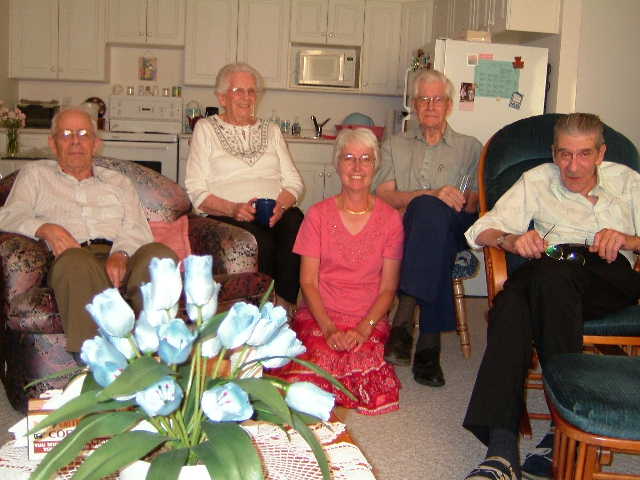 Chris took digital photo's of some of Doug's invaluable collection of family photo's including:
Doug's grandmother Alice (Collier) Cocker outside her "sod house" with her children:
Agnes, Charles and Francis
Dorothy and Mabel


Alice (Collier) Cocker outside her house with her daughters Dorothy and Mabel

Doug's parents Edgar & Agnes (Cocker) Bocking and Family:
Connie, Doug & Olive
Edgar, Les, Agnes, Joan


Visit of Chris' Cousins September 2007

In September 2007, we thoroughly enjoyed a visit of Chris' cousins Paul and Gill; in Paul's case the first visit of a Collier to our bungalow, which meant a lot to Chris:

Paul Collier

Paul, Jill with Chris

Paul, Jill with Me

Jill with Me

Peryer/Perrier Family

in 2009 Clandon Park in West Surrey mounted a small exhibition which included an album signed by or for James Perrier and Mrs Perrier (Martha (Smith) Perrier). Unfortunately Chris and I were unable to visit Clandon House but they were kind enough to send an image of the page on which the signatures appear:

Link to:
Visit to West Clandon 1987

Colin Bower
21 August 2020

Link to:
Family History Index