Family History Research Report
Gardiner Family
Introduction - Bower/Collier Family Tree
When I set out to study the Bower/Collier Family Tree, my initial aim was to identify my 8 Great Grandparents (Bower) and my wife Chris' 8 Great Grandparents (Collier).
Though I have tended to study the Family History of the 16 Great Grandparents, I have also sought to find out the additional 16 Great Great Grandparents' family names, and any 3 x Great Grandparents along the way!
The names that I have identified to date are:
Bower/Brecht Family Tree
Great Grandparents
Bower
Jones
Hayes
Gardner
Brecht
Walland/Worland
Saunders
Seabourne(e)/Saban
2 x Great Grandparents
Pitts (Bower)
Counter (Jones)
Bradbrook (Hayes)
Tunstell/Tunstill (Gardner)
Somes/Piper (Brecht)
Hutley (Walland/Worland)
Neville (Saunders)
Holbrook (Seabourn(e)/Saban)
3 x Great Grandparents
Pinnion (Pitts)
Spence (Jones)
Mason (Hayes)
Robinson (Bradbrook)
Shocke (Brecht)
Reynolds (Walland/Worland)
Hunt (Piper)
Howard (Seabourn(e)/Saban)
4 x Great Grandparents
Bates (Pitts)
Smithers (Pinion)
March (Jones)
Venice (Robinson)
Juliane (Brecht)
Adamson (Neville)
Siggins (Walland/Worland)
5 x Great Grandparents
Cook/Cock (Jones)
Wyat (Robinson)
Jahns (Brecht)
Odell (Walland/Worland)
6 x Great Grandparents
Amears (Robinson)
7 x Great Grandparents
Amore/Mills (Robinson)
Collier/Hunt Family Tree
Great Grandparents
Collier
Gardiner
Peryer/Perrier
Smith
Hunt
Farrow/Pharoah
Marjoram
Ransome(e)
2 x Great Grandparents
Adams (Collier)
Goodchild (Gardiner)
Mitchell (Peryer/Perrier)
Nye (Smith)
Sheldrake (Hunt)
Smith (Farrow)
Rookyard (Marjoram)
Aldous or Alhous/Ollis (Ransome(e))
3 x Great Grandparents
Mason (Collier)
Ridett (Adams)
Sly (Nye)
Snelling (Peryer/Perrier)
Spall (Hunt)
Shepherd (Farrow)
Allen (Ransome(e))
More (Aldous/Aldis or Alhous/Ollis)
4 x Great Grandparents
Trigg (Peryer/Perrier)
My research has included a One-Name Study into the name Brecht, my mother's maiden name.
Names Index
The additional surnames in this Report have been listed in the Names Index below.
Gardiner Family
Progress To Date
Chris' Great Grandparent: Matilda Gardiner
- Her Parents: John Gardiner and Ann Matilda Goodchild
- Her Grandparents:
Mini Family Tree (Direct Ancestors)
The Gardiner family tree to date may be summarised:
John Gardiner b c 1790 buried ?17.4.1846 (age 55)
married 6.2.1832
Ann Matilda Goodchild b c 1813/4 (later married Richard Jackson)
Children:
Matilda Gardiner b 1835 bp 25.2.1835
John Gardiner b 1837 bp 1.1.1838
Thomas Gardiner b 1840 bp 8.3.1840
William George Gardiner b 1844 bp 3.11.1844
Caroline Matilda Jackson b 28 .12.1851 bp 18.1.1852
Matilda Gardiner b 1835
married South Hackney 15.10.1853
Charles Collier b 15.9.1833 bp 19.1.1844
Walter James Collier b 09.06.1862
married St Luke's, Hackney 13.05.1894
Mary Perrier b 02.12.1869
d 10.02.1949 (Age 79)
Leonard Stanley Collier b 30.11.1909 Died 9.5.1988
married 6.06.1936 St John's, Clay Hill, Enfield
Phyllis Marjoram Hunt b 6.06.1912 Died 1991
Christine Elizabeth Collier
married 15.10.1966 St John's, Clay Hill, Enfield
Colin Bower
Summary of Research To Date
Chris' Great Grandmother Matilda Gardiner married Charles Collier the ropemaker in 1853.
Gardiner is a common name with many variants which has proved difficult to research. In particular it was difficult to find out much information about John Gardiner, Matilda's father.
Some progress was made with the discovery of Matilda Gardiner's sister Caroline and their mother (Ann) Matilda in the 1881 Census.
Caroline had married John Hughes and when Ted Collier researched the Collier/Gardiner Family Tree, he found that Caroline may have been related to Joan Hughes, one of the first female professional pilots.
Link to:
Joan Hughes
Before writing up this report in 2011, I took the opportunity to make some more searches and made significant progress.
Birth, Marriage & Death Certificates Held (see Appendix 1 below)
Births:
Marriages: 1 (Matilda Gardiner)
Deaths:
Census Records Obtained (see Appendix 2 below)
- 1841 - ?John Gardiner (Workhouse)
– Ann Matilda Gardiner & family
- 1851 – Richard & Ann Matilda Jackson & family
- 1861 – (Ann) Matilda Gardner Widow & family
- 1871 – (Ann) Matilda Gardiner Widow staying with daughter Caroline (Gardiner) Hughes
- 1881 - (Ann) Matilda Gardiner Widow staying with daughter Caroline (Gardiner) Hughes
- 1891
- 1901
- 1911
- 1939 Register
Other Research Undertaken
- IGI - nil
- Parish Records – marriage of John Gardiner & Ann Matilda Goodchild & baptisms of their children (see Appendix 3 below)
- possible bp and death of John Gardiner
- Wills -
- Businesses - nil
- Correspondence -
- Visits - South Hackney where Charles Collier married Matilda Gardiner
- Society of Genealogists to obtain details of Joan Hughes the woman aviator
- Photographs – Matilda Gardiner, Parish Church of South Hackney
- Misc Info/Documents – Potential entry in Trade Directory, Information about Joan Hughes, Woman Aviator (see Appendix 4 below)
Early Progress
On a visit to see relatives in Canada, Ted Collier, a cousin of Chris' father Len Collier, obtained a photo of Matilda Gardiner.
Matilda Gardiner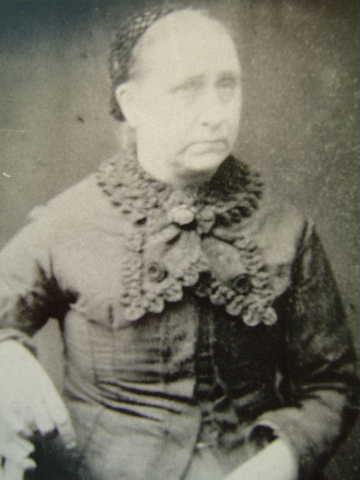 Chris and I joined a cousin in a visit to London when we saw the Parish Church of South Hackney:
Parish Church of South Hackney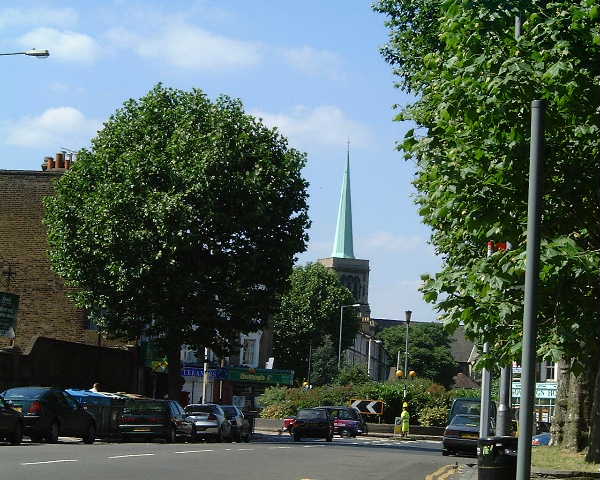 Joan Hughes, Woman Aviator
When members of the Collier/Cocker Family visited England, Ted Collier used to take them to Loughton in Essex to visit relatives and see memorabilia of Joan Hughes, the woman aviator, in an Essex pub: Visits to Loughton
Progress 2006
I found the following entry in the 1861 census which showed Matilda was a Widow and she had another child: George Gardiner:
16 Centre Street, Bethnal Green
Matilda Gardner (46)
George Gardner (16)
Caroline Gardner (9)
(The spelling should be Gardiner)
Progress 2007
-
Progress 2008
In reviewing progress to date, I followed up Caroline Gardiner's marriage to John Hughes and found that in 1881 Caroline's mother (Ann) Matilda was staying with them.
Progress 2009
The publication of the Parish Records held by the London Metropolitan Archives on the internet, enabled me to trace a possible marriage for John Gardiner to Ann Matilda Goodchild on 29.1.1832 at St John at Hackney.
Progress 2010
-
Progress 2011
I found a potential entry in the 1841 Census and a potential burial for a John Gardiner.
I traced entries in the 1841, 1851 and 1871 Censuses for Ann Matilda Gardiner. In 1851 Ann Gardiner is shown as the wife of Richard Jackson.
I also traced the christenings of Ann's children.
I wrote this report as part of the Big One! Project.
Progress 2012-2016
-
Progress 2017
I did a random search to try and find John Gardiner's parents and may have found his christening.
Saint Matthew, Bethnal Green
John Gardiner born 14,7.1790 bp 1.9.1790
(Parents William & Elizabeth Gardiner)
There is a possible marriage of William & Elizabeth but this is speculation:
St Mary Magdelene, Bermondsey
William Gardiner married 12.11.1788 Elizabeth Hazelman
Progress 2018
In April, the BBC broadcast a programme, RAF100, in which Joan Hughes was mentioned by name:
Joan Hughes
Progress 2019
Joan Hughes - Stirling Girl
I was given the excellent book, A Spitfire Girl, as told by Mary Ellis to Melody Foreman.
Over the last few years Mary Ellis was famous as one of the few remaining wartime ferry pilots for the ATA, the Air Transport Auxiliary.
In the book, Mary Ellis refers to one of the first ATA girls, Joan Hughes.
Collier/Gardiner/Hughes Family - Joan Hughes
One of Chris' father's cousins was Ted Collier who showed an interest in the history of another of the ferry pilots, Joan Hughes, who may be related.
I have extracted the references to Joan Hughes in Mary Ellis' book:
Progress 2020-2021
-
Progress 2022
Discovery March 2022
In the course of collating the family's Parish Records, I found that there were gaps in our knowledge of the Gardiner Family (a Collier Faamily).
I happened upon an enlightening entry which showed upheaval in the family:
London, England,
Selected Poor Law Removal and Settlement Records1698-1930
Name: Ann Matilda Gardener
Residence: Age: 41
Birth Date: abt 1813
Event Type: Settlement Papers
Residence Date: 12 Dec 1854
Residence Poor Law Union: Shoreditch
Residence: London, England
I have put the wording in a separate attachment:
The entry raises a number of questions and I have put what we know into a Timeline:
Loughton and District Historical Society
Newsletter 220 February/March 2019
Joan Hughes Loughton's ATA Pilot
In updating this article, I searched under History of Loughton Airfield and found a remarkable publication:
Joan Hughes Loughton's ATA Pilot
Things we wish we knew
Birth/Baptism & Death details of John Gardiner
Name of his parents
Also see a Summary of Records Obtained (Completed & To Do):
Summary of Records Obtained - Gardiner Family
Summaries
Where they were & what they did
The attached table summarises the name of my ancestors, where they lived and their occupations:
Where they were and what they did - Gardiner Family
Family Tree Maker Sheets
The family details of John Gardiner have been summarized in the attached Family Tree Maker sheets which I may enter into the relationship database Family Tree Maker in the future:
Family Tree Maker Sheet - John Gardiner
Names Index
The following surnames appear in this Report in addition to the names in Page 1:
Curtis
Durbin
Hughes
Jackson
Johnson
Knox
Wilmore
Colin Bower
11 May 2022
Appendices
Direct Ancestors have been highlighted
1. Birth, Marriage & Death Certificates Held
Full name: Charles Collier (of: Hackney Wick )
Occupation: Ropemaker (Age: Minor)
Father: Charles Collier, Weaver
Married at: Parish Church, South Hackney (Date: 15/10/1853)
Spouse: Matilda Gardiner (of: Hackney Wick)
Occupation: Seamstress (Age: Minor)
Father: John Gardiner, Cooper
Relevant Witnesses:
2. Census Records Obtained
1841 Census (Sunday 6 June 1841)
Mile End Workhouse#
?John Gardiner, Pauper, Farrier (50)
King St P.B., Bethnal Green
Ann Gardiner (*21) Shoe Binder born in County
Matilda Gardiner (6) born in County
John Gardiner (4) born in County
Thomas Gardiner (1) born in County
#Mile End Old Town Workhouse, Mile End Road
* should have been 27
1851 Census
22 Old Castle St, Bethnal Green
Richard Jackson Head (41) Rail Engine Driver born Bethnal Green, Middx
Ann Jackson Wife (37) Shoe Binder born Bethnal Green
John Gardiner Stepson (13) Shoe Maker born Clerkenwell
Thomas Gardiner Step son (11) born Mile End
George Gardiner Step son (6) born Haggerston
1861 Census
16 Centre Street, Bethnal Green
Matilda Gardner (46) Widow Boot & Shoe Binder born Bethnal Green, Middx
George Gardner (16) born Haggerstone, Middx
Caroline Gardner (9) (out nursing a child) born Bethnal Green, Middx
1871 Census
Wimbolt St, Bethnal Green
John Hughes Head (26) Smith born Mile End New Town, Middx
Caroline Hughes Wife (20) Machinest born Bethnal Green
Ann Gardiner Mother in Law (57) Widow Laundress born Bethnal Green
1881 Census
10 Queen Caroline Gardens, Bethnal Green
*John Hughs Head 38 Smith(B) Mile End, Middlesex
Caroline Hughs Wife 29 Boot Machinest Bethnal Green, Middlesex
John C Hughs Son 8 Bethnal Green, Middlesex
Henry G Hughes Son 7 Bethnal Green, Middlesex
Caroline Hughs Daughter 4 Bethnal Green, Middlesex
(Ann) Matilda Gardiner, Widow Mother in Law 67 Boot Binder Bethnal Green, Middlesex
Jane Knox Boarder 18 Boot Machinest Bethnal Green, Middlesex
Note:
* should have been Hughes
3. Parish Records
St John's, Hackney
John Gardiner married Ann Matilda Goodchild on 6.2.1832
?John Gardiner (55), Grove Place, buried 17.4.1846
St Leonard's, Shoreditch
Matilda Gardiner bp 25.2.1835
(Parents John (a Cooper) & Matilda Gardiner of New Inn, Broad Way)
John Gardiner bp 1.1.1838 (when 5 weeks 3 Days old)
(Parents John (a Cooper) & Ann Matilda Gardiner of New Inn Yard)
Thomas Gardiner bp 8.3.1840 (when 5 weeks old)
Parents John (a Cooper) & Matilda Gardiner of Hoxton)
St Mary's, Haggerston
William George Gardiner bp 3.11.1844
Parents John (a Cooper) & Ann Matilda Gardiner of (?) Jobe Row)
St Mary Magdelene, Bermondsey
William Gardiner
married 12.11.1788
Elizbeth Hazelman
Saint Matthew, Bethnal Green
John Gardiner born 14,7.1790 bp 1.9.1790
(Parents William & Elizabeth Gardiner)
St Matthias, Bethnal Green
Caroline Matilda Jackson born 28.12.1851 bp 18.1.1852
(Parents Richard (a Weaver) & Matilda Jackson of 22 Castle St)
Parish Church, South Hackney (St John of Jerusalem)
Caroline Gardiner of South Hackney (father John Gardiner, Cooper)
married 31.7.1870
John Hughes, Smith of South Hackney (father John Hughes, Silk Dyer)
4. Misc Information/Documents Obtained
Certificates held
Full name: George Francis Gardiner
Born at: 237 High Street, Shadwell (Date: 1.8.1845)
Father: William Gardiner (Occupation: Grocer)
Mother: Harriett Gardiner (Maiden Name: Durbin)
Censuses
1881
29 Boleyn Road, Islington
Jno Gardiner, Widower (age 74) Retired Teacher born Mile End
Louisa Fran Gardiner Daughter (age 34) Waistcoat Maker born Hackney Wick Lane
Entry in Trade Directory
Pigot& Co's London Directory 1824
Gardiner Chris, Wine Cooper 80 Greenfield-st, Commercial rd