Family History Research Report
Jones Family
Introduction - Bower/Collier Family Tree
When I set out to study the Bower/Collier Family Tree, my initial aim was to identify my 8 Great Grandparents (Bower) and my wife Chris' 8 Great Grandparents (Collier). Though I have tended to study the Family History of the 16 Great Grandparents, I have also sought to find out the additional 16 Great Great Grandparents' family names, and any 3 x Great Grandparents along the way!
The names that I have identified to date are:
Bower/Brecht Family Tree
Great Grandparents
Bower
Jones
Hayes
Gardner
Brecht
Walland/Worland
Saunders
Seabourne(e)/Saban
2 x Great Grandparents
Pitts (Bower)
Counter (Jones)
Bradbrook (Hayes)
Tunstell/Tunstill (Gardner)
Somes/Piper (Brecht)
Hutley (Walland/Worland)
Neville (Saunders)
Holbrook (Seabourn(e)/Saban)
3 x Great Grandparents
Pinnion (Pitts)
Spence (Jones)
Mason (Hayes)
Robinson (Bradbrook)
Shocke (Brecht)
Reynolds (Walland/Worland)
Hunt (Piper)
Howard (Seabourn(e)/Saban)
4 x Great Grandparents
Bates (Pitts)
Smithers (Pinion)
March (Jones)
Venice (Robinson)
Juliane (Brecht)
Adamson (Neville)
Siggins (Walland/Worland)
5 x Great Grandparents
Cook/Cock (Jones)
Wyat (Robinson)
Jahns (Brecht)
Odell (Walland/Worland)
6 x Great Grandparents
Amears (Robinson)
7 x Great Grandparents
Amore/Mills (Robinson)
Collier/Hunt Family Tree
Great Grandparents
Collier
Gardiner
Peryer/Perrier
Smith
Hunt
Farrow/Pharoah
Marjoram
Ransome(e)
2 x Great Grandparents
Adams (Collier)
Goodchild (Gardiner)
Mitchell (Peryer/Perrier)
Nye (Smith)
Sheldrake (Hunt)
Smith (Farrow)
Rookyard (Marjoram)
Aldous or Alhous/Ollis (Ransome(e))
3 x Great Grandparents
Mason (Collier)
Ridett (Adams)
Sly (Nye)
Snelling (Peryer/Perrier)
Spall (Hunt)
Shepherd (Farrow)
Allen (Ransome(e))
More (Aldous/Aldis or Alhous/Ollis)
4 x Great Grandparents
Trigg (Peryer/Perrier)
My research has included a One-Name Study into the name Brecht, my mother's maiden name.
Names Index
The additional surnames in this Report have been listed in the Names Index below.
Jones Family
Progress To Date
Great Grandparent: Martha Hannah Jones
- Her Parents: John & Elizabeth (Counter) Jones
- Her Grandparents: David Jones, School Master of Yorkshire & Martha Spence
Mini Family Tree (Direct Ancestors)
The Jones Family Tree to date may be summarised:
Jones Family
David Jones, Farmer 1721-1800
Married 18.5.1748
Susannah Cook or Cock 1726-1811
Charles Jones b 1751 bp 14.4.1751 d 1841 (age 90)
Married 18.5.1772
Eleanor March b 1754
David Jones, School Master b 1780 bp 26.11.1780 d 1841 (age 61)
Married 15.3.1803
Martha Spence 1772-1850
John Jones, Broker fomerly Lead Miner b c 1809
Married 12.4.1841
Elizabeth Counter b 10.11.1815 bp 3 or 8.12.1815
died 29.3.1850
Children:
Elizabeth Jones b 1842/3
Martha Hannah Jones b 1844/5
John Richard Jones b 23.6.1847
Martha Hannah Jones b c 1844 bp 21.7.1844
d 15.5.1889 (age 40?)
Married (1) 13.08.1864 (age 20)
(1) George Christopher Bower b c 1841/2
d 15.03.1877 (age 35)
(2) 1.2.1880 (age33) Frederick Hennenn b 1856/7
William Bower b ?23.10.1867 d 2.12.1948
Married 06.06.1897
Charlotte Hayes b 15.08.1876
Frederick Bower b 12.09.1910 d 10.9.2006
Married 11.07.1936
Doris Ivy Brecht b 15.03.1912 d 29.6.2003
Colin Malcolm Bower
Married 15.10.1966
Christine Elizabeth Collier
Summary of Research To Date
My Great Grandmother Martha Hannah Jones lost her husband George Christopher Bower at an early age. I have found the birth of her brother John Richard Jones but not Martha Hannah Jones as yet (though I have traced her christening in 1844).
Surprisingly good progress has been made with this difficult name particularly when I found a John Jones in the 1851 and 1861 Censuses! In 1880 Martha (Jones) Bower remarried Frederick Hennenn a surname which has many variants! The family stayed close (see Certificates Held below)
The 1880 marriage certificate shows Martha's father as John Jones, Foreman of Docks.
Martha had 9 children from 2 husbands:
George Christopher Bower (1871 Census age 29 d 1877 age 35)
Alice Bower (1871 Census age 9, 1881 Census age 18, 1891 Census age 29)
George Bower (1871 Census age 5, 1881 Census age 15)
William Bower - my grandfather ( 1871 Census age 4)
Louisa Bower (1871 Census age 1, 1881 Census age 11, 1891 Census age 21)
Alfred Bower (1881 Census age 9, 1891 Census age 19)
John Bower (1881 Census age 7)
Charles Bower (1881 Census age 4, 1891 Census age 14)
Frederick Hennenn (1881 Census age 27, 1891 Census age 35, 1901 Census age 45)
Frederick Hennenn (1881 Census 5 months, 1891 Census 10)
Henry Hennenn (1891 Census 4, 1901 Census 14)
Progress 2004
I obtained the 1889 death certificate of Martha Hannah Hennen (formerly Bower born Jones) who after the death of George Christopher Bower married Frederick Hennen.
Progress 2005
-
Progress 2006
Extraordinarily, I traced the family in the 1851 and 1861 Censuses to learn that John Jones (Senior), Widower was born in Yorkshire.
Progress 2007
I found John Richard Jones' name in the 1861 Census meant that I could obtain:
- his birth certificate to give me his mother's maiden name (Elizabeth Counter) for the first time.
- John Jones Senior's marriage certificate giving his father as David Jones, School Master
Progress 2008
-
Progress 2009
Entries in the 1881, 1891, 1901 and 1911 Censuses were added.
Progress 2010
I wrote this report as part of the Big One! project
In writing up the research report for the Jones Family I traced the birth and baptism of Elizabeth Counter and a potential entry in the 1841 Census for John & Elizabeth (Counter) Jones.
Progress 2011 -2015
-
Progress 2016
Some while ago I spotted a family tree via Ancestry. It gave the names of John Jones' mother (Martha Spence), his grandparents and great grandparents! I have accepted that this information is true.
If it is, it takes our tree back to David Jones born in 1723, married in Marrick, North Yorkshire and died there in 1800 (age 77).
Marrick (on the right) is near Reeth, which was the main centre of the Swaledale lead mining industry.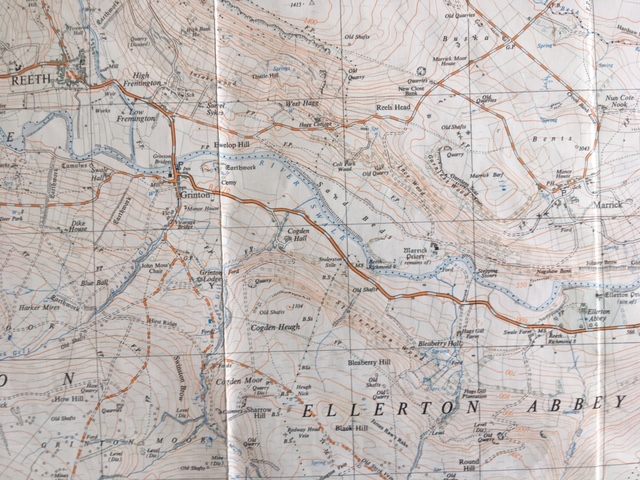 I also found an entry in the 1841 Census for John and Elizabeth Jones (later found to be incorrect).
Progress 2017-2019
-
Progress 2020
I hold a certificate for the marriage of:
John Jones (Father David Jones, School Master)
married 12.4.1841
Elizabeth Counter (Father Richard Counter, Excise Officer)
at St Matthew's, Bethnal Green
I did find out a little more on Ancestry:
1. Elizabeth Counter born 10.11.1815
bp 8.12.1815 at St Matthew, Bethnal Green
(Parents Richard Counter, Excise Officer& Elizabeth of Collingwood Street)
2. Richard Counter (1783-1855)
married 29.3.1804
Elizabeth Jones
at Old Church, St Pancras
3. A Richard Counter lived at 58 Clark Street, Mile End Old Town from 1833 for some years, per the Electoral Roll 1832-1965
I updated the individual records including Elizabeth Jones:
Progress 2021
I had previously found out that an ancestor in the Jones Family was a lead miner in Swaledale.
I was lucky enough to find a map of Swaledale in a local charity shop. It shows places where the family lived, e.g. Reeth, Grinton and Marrick: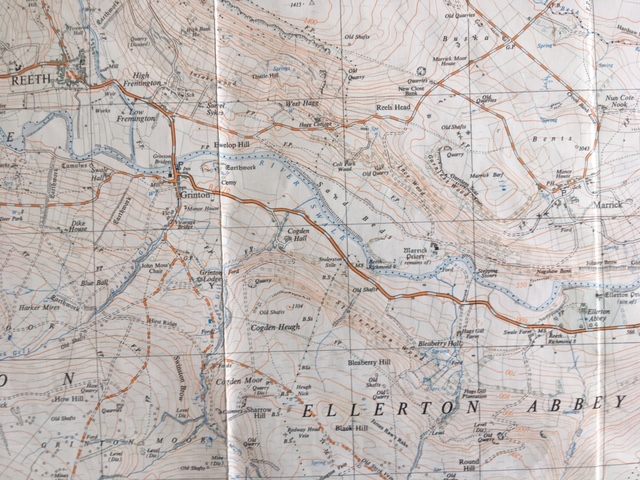 I had noticed some errors which reminded me to go back to the Family Trees submitted to Ancestry by other people.
At the end of 2021, I started to put information into an Appendix:
Census 1841
I found brothers John and David Jones, Brokers living together in London. This was before John Jones married Elizabeth Counter later in 1841:
1841 Census
Wellington Place, Mile End Old Town, Stepney
John Jones (25) Broker (not born in Middlsex)
- he married Elizbeth Counter later in the year
David Jones (30) Brother Broker (not born in Middlesex)
Hannah Jones (30) David's Wife
Martha Jones (3)
David Jones (2)
Thomas Jones (9 months)
Bp of Martha Hannah Jones
At long last, I found the christening of Martha Hannah Jones but not the registration of her birth.
St Dunstan's, Stepney
Martha Anne Jones (should be Martha Hannah) bp 21.7.1844
(Parents John Jones, Labourer of Mile End Old Town and Elizabeth)
John Jones' mother Martha (Spence) Jones and his sister Isabella were still living in Reeth in 1841:
1841 Census
Reeth, Grinton, Yorkshire
Martha Jones (age 70) born in County - Yes
Isabella Jones (age 25) ditto
Mary Jones (age 2 months) ditto
(Isabella, Charwoman (age 37) and Mary (age 7) were still living in Low Street, Reeth in 1851)
Progress 2022
I completed the Appendix which contains:
Family Search
Some Burials in Marrick 1700-1850
Parish Records - Marrick
Some Christenings 1748-1845
Some Marriages 1726-1830
Some Censuses Entries 1841, 1851, 1911
Some Misc Entries 1798, 1834. 1837
Parish Records - Grinton
Some Christenings 1804-1830
Some Marriages 1803-1864
Some Deaths/Burials 1676-1850
Parish Records - Reeth
Some Christenings 1804-1830 (Grinton)
From Civil Registration of Births & Marriages
- Some Births 1841-1865
- Some Marriages 1844-1864
Some Censuses Entries 1841, 1851, 1861
Things we wish we knew
- Date of Birth for Martha Hannah Jones (bp 21.7.1844 St Dunstan's Stepney)

Also see Summary of Records Held (Completed & To Do):
Summary of Records Held - Jones Family
Research Undertaken
Birth Marriage & Death Certificates Held (see below)
- Births: 1 + 3 Unwanted
- Marriages: 3
- Deaths: 1
Census Records Obtained (see below)
- 1841 Martha & Isabella Jones
- John & David Jones
- Charles & Jane Jones
- 1851 John Jones Widower & family
- Thomas & Sarah Jones
- Isabella Joines
- Mary Jones
- William & Jane Jones
- David & Hannah Jones
- William & Elizabeth Jones
- 1861 John Jones Widower & family
- Mary Jones
- Hannah Jones
- 1871 Martha (Jones) Bower and brother John R Jones
- 1881 Martha (Bower) Hennenn
John R & Matilda Jones & family
William & Sarah Jones
- 1891 George & Alice Blake (Martha's daughter)
- John R & Matilda Jones & family
- 1901 John R & Matilda Jones & family
- 1911 John Richard Jones, Widower
- Mary & Kate Jones
- 1939 Register
Other Research Undertaken
- Appendix (Parish , Census & Other Records)
- IGI -
- Parish Records - bp Elizabeth Counter
- Ancestry - Family Tree for Jones Family in Yorkshire
- Wills -
- Businesses -
- Correspondence inc Genes Reunited–
- Visits -
- Photographs - St Matthews, Bethnal Green
St Matthew's, Bethnal Green where John Jones married Elizabeth Counter (who had been christened there)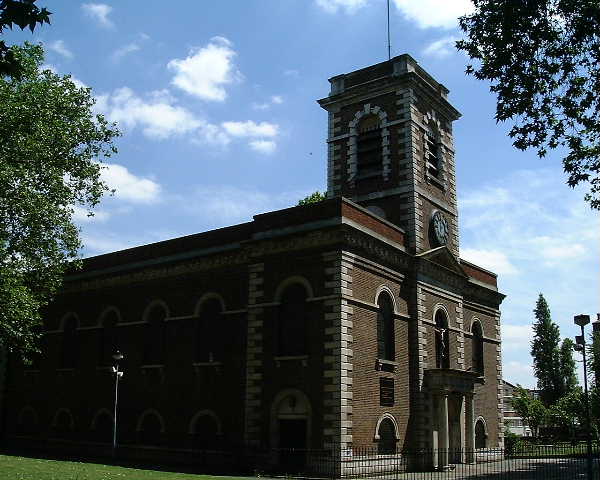 - Misc Info/Documents – see below
Summaries
Where they were & what they did (see attached)
The attached table summarises the names of my ancestors, where they lived and their occupations:
Jones Family - Where they were & what they did
Family Tree Maker Sheet – John Jones (see attached)
The family details of John Jones have been summarized in the attached Family Tree Maker sheet which I may enter into the relationship database Family Tree Maker in the future:
Family Tree Maker sheet - John Jones
Names Index
The following additional surnames appear in this Report in addition to those shown in Page 1:
(?) Beitchford
Blake
Block
Burton
Davis
Goodman
Hennenn
Pearce
Colin Bower
11 January 2022
Appendices (Direct Ancestors are Highlighted)
1. Certificates held (see attached)
Full Name: John Jones (of: 40 Road)
Occupation: Broker (Age: Full )
Father: David Jones, School Master
Married at: Parish Church (St Matthews), Bethnal Green (Date: 12.4.1841)
Spouse: Elizabeth Counter (of: 3 Road )
Father: Richard Counter, Excise Officer
Occupation: - (Age: Full )
Relevant Witnesses: -
Full name: John Richard Jones
Born at: 17 Cottage Lane, Stepney (Date: 23.6.1847)
Father: John Jones (Occupation:Dock Laborer)
Mother: Elizabeth Jones (Maiden Name: Counter)
Full Name: George Christopher Bower (of: 42 Vincent Street )
Occupation: Baker (Age: 21) Father: Benjamin Bower, Photographer
Married at: Register Office, Mile End Old Town (Date: 30/8/1864 )
Spouse: Martha Hannah Jones (of: 42 Vincent Street)
Occupation: (Age:20)
Father: John Jones, Laborer
Relevant Witnesses: John Jones
Full Name: Frederick Hennenn (of: 22 Charles Street )
Occupation: Carman (Age: 23)
Father: Frederick Hennenn, Carman
Married at: St Thomas Church, Stepney (Date: 1/2/1880 )
Spouse: Martha Hannah Bower Widow (of: 23 Charles Street )
Father: John Jones, Foreman in Docks
Occupation: (Age: 33)
Relevant Witnesses: Selina Hennenn
Full Name: Martha Hennenn (formerly Bower born Jones) of: 19 Eastfield Street (Age: 40 )
Occupation: Wife of Frederic Hennenn, Carman at Builders
Died at: 19 Eastfield Street, Limehouse (Date: 15/5/1889 )
Cause: Bronchitis Apoplexy
Informant: A Blake, Daughter (of: 24 Eastfield Street, Limehouse )
Note
It fascinates me how some families stayed living close by:
Bower/Jones/Hennenn Family
One such family was the Bower/Jones/Hennenn Family:
*1881 Census – 19 Eastfield St, Limehouse
Elizabeth Hennenn Widow Age 49
- lodging there was a George Blake, Ostler
1889 Death Certificate – Martha Hannah Jones – 19 Eastfield Street, Limehouse
Martha Hennenn (formerly Bower born Jones) died age c 40
- witness was Alice Blake (daughter Alice who married George Blake) 24 Eastfield St
*1891 Census – 18 Eastfield St, Limehouse
Charles Hennenn Head (age 30) son of Elizabeth Hennenn (above)
- Alfred & Charles Bower (sons of Martha) were boarding there
*1891 Census – 28 Eastfield St Limehouse
George & Alice (Bower) Blake
- Louisa Bowers (another of Martha's daughters) was lodging there
*see Census Records Obtained below
2. Census Records Obtained
1841 Census
Reeth, Grinton, Yorkshire
Martha Jones (age 70) born in County - Yes
Isabella Jones (age 25) ditto
Mary Jones (age 2 months) ditto
(Isabella, Charwoman (age 37) and Mary (age 7) were still living in Low Street, Reeth in 1851)
Wellington Place, Mile End Old Town, Stepney
John Jones (25) Broker (not born in Middlesx)
- he married Elizabeth Counter later in the year
David Jones (30) Brother Broker (not born in Middlesex)
Hannah Jones (30)David's Wife
Martha Jones (3)
David Jones (2)
Thomas Jones (9 months)
Hurst, Marrick
Charles Jones (65) Ind.
Jane Jones (60)
William Jones (20) Pauper
Thomas Jones (18) Lead Miner
Jane Jones (15)
1851 Census
35 Jubilee Place, Stepney – staying with Thomas & Mary Goodman
Thomas Goodman Head 32 Copper plate printer born Whitechapel, Middx
Mary Goodman Wife 30 Waistcoat worker born Stepney, Middx
Mary Maria Goodman Daughter 4 born Stepney, Middx
Thomas Goodman Son 1 born Stepney, London
John Jones(40) Widower Head Laborer born Yorkshire (Brother in law)
Elizabeth Jones (8) born Stepney, Middx (Niece)
Martha Jones (6) born Stepney, Middx (Niece)
John Jones (3) born Stepney, Middx (Nephew)
Hurst, Marrick
Washfold
Thomas Jones (28) Lead Miner
Sarah Jones (27)
Thomas Jones (4)
David Jones (1) born Durham
1861 Census
16 Dempsey Street, Stepney
John Jones (50) Widower Labourer Docks born Yorkshire
Martha Hannah Jones (16) Dress Maker born London
John Richard Jones (13) Scholar born London
1871 Census
John Richard Jones staying with sister Martha (Jones) Bower
6 Edinboro Road, Tower Hamlets
Edward Beitchford (?) Head 27 Baker born Middx St Luke's
Mary Ann Beitchford Wife 23 born St George's
Elizabeth Beitchford Daughter 3 Scholar born Bethnal Green
William Beitchford Son 2 born Mile End
Alice Beitchford Daughter 2 mos born Mile End
George Bower Head 29 Pastry Cook born Fulham
*Mary Ann Bower Wife 27 Dress Maker born Whitechapel
George J Bower Son 5 Scholar born Middx Stepney

William Bower Son 4 born Middx Stepney
Alice Bower Daughter 9 born Middx Stepney
Louisa Bower Daughter 1 born Middx Stepney
John R Jones Brother in Law 26 Foreman in Docks born Middx Stepney
Note:
*Should have been Martha Hannah Bower
1881 Census
Martha Hennenn (formerly Bower born Jones) had married Frederick Hennenn
6 Edinboro Road, Tower Hamlets
*Frank Henham or Henhem Head 27 Carman born Middx Stepney
*Martha Henham or Henhem Wife 35 Confectioner born Whitechapel
Alice C Bower Step Daughter 18 or 19 born Mile End Old Town (see Note)
George J Bower Step Son 15 Carman born Mile End Old Town
Louisa Bower Step Daughter 11 Scholar born Mile End Old Town
Alfred Bower Step Son 9 born Mile End Old Town
John Bower Step Son 7 born Mile End Old Town
Charles Bower Step Son 4 born Mile End Old Town
*Fredk Henhem Son 5 mos born Mile End Old Town
Alfred Pearce Lodger 19 Carman born N K (not known)
Note:
Alice Bower married Alfred Pearce in 1882 and george Blake in 1885 (see George & Alice Blake in 1891 Census)
* Spelling should have been Hennenn
44 Culford Road, Hackney
John R Jones Head 29? Warehouseman Docks born Middx Stepney
Matilda Jones Wife 26 born Middx, St Lukes
John R Jones 3 born Middx, Shoreditch
Herbert Jones 1 born Middx Hackney
Matilda Jones 5 born Middx Shoreditch
1891 Census
28 Eastfield St, Limehouse
George Blake Head 30 Horse Keeper Groom born Shoreditch, London
Alice Blake Wife 29 born Stepney, London
Louisa Blake Daughter 1 born Stepney, London
Louisa Bowers Sister in Law Siungkle 21 Wholesale Confectionery Factory Hand born Stepney, London
Note:
In 1889 the address given for the Blakes was 24 Eastfield St
34 Featherstone Street, St Lukes, Finsbury
John R Jones Head 38 Grocer born London St Lukes
Matilda A Jones Wife 35 born London, St Lukes
John R Jones 13 born London St Lukes
Herbert Jones 11 born London St Lukes
Matilda Jones 15 born London St Lukes
Jenny Jones 8? born London St Lukes
Martha Jones 6? born London St Lukes
1901 Census
7 Eastbourne Road, Tottenham
John Richard Jones Head 51 Grocer& Provision Dealer born London
Matilda Jones Wife 35 born London
Matilda M Jones 15 Grocers Assistant born London
Jennie Jones 18 Cardboard Box Maker born London
Martha Jones 16 Milliner born London
1911 Census
The Broadway, London Road, Hadleigh, Essex
John Richard Jones Head Widower 64 Grocer born London, Stepney
Ernest William Davis Son in Law 27 Shop Assistant born London, Barnes
Martha Davis Daughter 26 born London, St Lukes
Ernest John Davis Grandson 1 born Baldock, Herts
Preston under Scar, Yorkshire
Leyburn St
Mary Jones (69) Widow
Farming
Born in Marrick, Yorks
Kate Lavinia Jones (26) Single
Farmer's daughter, Assisting on Farm
Born Preston, Yorks
3. Misc Information/Documents Held
Unwanted Certificates Held
Full name: Martha Jones
Born at: 111 Brick Lane, Bethnal Green (Date: 24/12/1844)
Father: John Henry Jones (Occupation: Green Grocer)
Mother: Martha Jones (Maiden Name: George)
Full name: John Robert Jones
Born at: 8 Raven Street, Whitechapel (Date: 2/9/1846)
Father: Robert Jones (Occupation: Excise Officer)
Mother: Elizabeth Jones (Maiden Name: Jones)
Note:
My ancestor Benjamin Bates Bower died in Raven Street, Whitechapel
Other Census Records Obtained
1881 Census
19 Eastfield St, Limehouse
Elizabeth Hennenn Head Widow age 49 born Stepney, Middlesex
Charles Hennenn son Carman age 20 born Whitechapel, Middx
William Hennenn son Umemployed age 18 born St Georges East, Middx
Clara Hennenn daughter Scholar age 11 borm St Georges East, Middx
Lodgers included
George Blake lodger Ostler, age 21 born Shoreditch, Middx
1891 Census
91 Cleaves Road, East Ham
Frederick Hennan Head 35 Carman born Stepney, Middx
Amelia Hennan Wife 25 Metal(?) Machinest born Poplar, Middx
Frederick Hennan son 10 Scholar born Stepney, Middx
Henry Hennan son 4 born Stepney, Middx
Note:
Should be Hennenn throughout
18 Eastfield St, Limehouse
Charles Hennenn Head 30 Carman born Shadwell, London
Elizabeth Hennenn Wife 28 Tailoress born Limehouse, London
Elizabeth E Hennenn Daughter 7 Scholar born Limehouse, London
Herbert Hennenn Son 2 born Limehouse, London
Caroline E Hennenn Daughter 1 born Limehouse, London
Thomas Block Boarder Dock Laborer born Shadwell, London
Elizabeth Burton Head Widow 60 born Shadwell, London
George J Burton Son 24 Carman born Limehouse, London
Alfred Bower Boarder 19 Goods Porter – Railway born Stepney, London
Charles Bower Boarder 14 Errand Boy – Clothes Warehouse born Stepney, London
1901 Census
Near Trinity Street, West Ham
Frederick Hennen Head 45 Brick Setter born Stepney, Middx
Amelia Hennen Wife 31 Shirt Maker born Poplar, Middx
Henry Hennen son 14 Sail Maker born Stepney, Middx
1911 Census
Preston under (?) South
Leyburn St
Mary Jones (69) Widow
Farming
Born in Marrick, Yorks
Kate Lavinia Jones (26) Single
Farmer's daughter, Assisting on Farm
Born Preston, Yorks
4. Parish Records
St Matthews, Bethnal Green
Elizabeth Counter born 10.11.1815, bp 3 or 8.12.1815
(Parents Richard & Elizabeth Counter of Collingwood St)
Colin Bower
5 January 2022