Family History Research Report
Gardner Family
Introduction - Bower/Collier Family Tree
When I set out to study the Bower/Collier Family Tree, my initial aim was to identify my 8 Great Grandparents (Bower) and my wife Chris' 8 Great Grandparents (Collier).
Though I have tended to study the Family History of the 16 Great Grandparents, I have also sought to find out the additional 16 Great Great Grandparents' family names, and any 3 x Great Grandparents along the way!
The names that I have identified to date are:
Bower/Brecht Family Tree
Great Grandparents
Bower
Jones
Hayes
Gardner
Brecht
Walland/Worland
Saunders
Seabourne(e)/Saban
2 x Great Grandparents
Pitts (Bower)
Counter (Jones)
Bradbrook (Hayes)
Tunstell/Tunstill (Gardner)
Somes/Piper (Brecht)
Hutley (Walland/Worland)
Neville (Saunders)
Holbrook (Seabourn(e)/Saban)
3 x Great Grandparents
Pinnion (Pitts)
Spence (Jones)
Mason (Hayes)
Robinson (Bradbrook)
Shocke (Brecht)
Reynolds (Walland/Worland)
Hunt (Piper)
Howard (Seabourn(e)/Saban)
4 x Great Grandparents
Bates (Pitts)
Smithers (Pinion)
March (Jones)
Venice (Robinson)
Juliane (Brecht)
Adamson (Neville)
Siggins (Walland/Worland)
5 x Great Grandparents
Cook/Cock (Jones)
Wyat (Robinson)
Jahns (Brecht)
Odell (Walland/Worland)
6 x Great Grandparents
Amears (Robinson)
7 x Great Grandparents
Amore/Mills (Robinson)
Collier/Hunt Family Tree
Great Grandparents
Collier
Gardiner
Peryer/Perrier
Smith
Hunt
Farrow/Pharoah
Marjoram
Ransome(e)
2 x Great Grandparents
Adams (Collier)
Goodchild (Gardiner)
Mitchell (Peryer/Perrier)
Nye (Smith)
Sheldrake (Hunt)
Smith (Farrow)
Rookyard (Marjoram)
Aldous or Alhous/Ollis (Ransome(e))
3 x Great Grandparents
Mason (Collier)
Ridett (Adams)
Sly (Nye)
Snelling (Peryer/Perrier)
Spall (Hunt)
Shepherd (Farrow)
Allen (Ransome(e))
More (Aldous/Aldis or Alhous/Ollis)
4 x Great Grandparents
Trigg (Peryer/Perrier)
My research has included a One-Name Study into the name Brecht, my mother's maiden name.
Names Index
The additional surnames in this Report have been listed in the Names Index below.
Gardner Family
Progress To Date
Great Grandparent: Charlotte Gardner
- His/Her Parents: Edward & Martha (Tunstell) Gardner
- Her Grandparents: not known
Mini Family Tree (Direct Ancestors)
The Gardner Family Tree to date may be summarised:
Gardner Family
Edward James Gardner b c 1808/9
Married (1) 6.6.1830
Married (2) c 1852
1.Martha Tunstell b 13.10.1809 bp 22.2.1810
2. Hannah (Gardner) b c 1832/3

Children:
Edward Gardner b 7.8.1832 bp 14.10.1832
John Gardner b 1833/4
Mary Ann Gardner b 1838/9
Elizabeth Gardner b 20.12.1841 bp 9.1.1842
Charlotte Gardner b 20.12.1841 bp 9.1.1842
Ellen Gardner 1845/6
Eliza Gardner b 23.2.1850
Henry Gardner b 1854/5
Charlotte Gardner b 20.12.1841 bp 9.1.1842
Married 3.10.1869
Henry Thomas Hayes b 11.7.1849
Charlotte Hayes b 15.08.1876
Married 06.06.1897
William Bower b ? 23.10.1867 d 1948
Frederick Bower b 12.09.1910 d 10.9.2006
Married 11.07.1936
Doris Ivy Brecht b 15.03.1912 d 29.6.2003
Colin Malcolm Bower
Married 15.10.1966
Christine Elizabeth Collier
Summary of Research To Date
Charlotte Gardner was my Great Grandmother born in 1841 but I have never traced her birth certificate.
Of the 16 Great Grandparents, we have made less progress tracing the Gardners than any other, equal to Jones! The surname is very common yet has many variants (Gardiner, Garner) making it difficult to progress.
It was a boost to find the family in the 1851 and 1861 Censuses in which it turns out that Edward had 7 children by 2 wives! In both years his age was given as 42 which does not help!
It is fascinating that the family lived in Drury Lane near St Giles C hurch.
Progress 2004
Family proving somewhat elusive. I obtained the birth certificate of another of Charlotte Hayes' children Mary Hayes to prove that Charlotte Gardner's maiden name was Gardner; the one certificate we had, had suggested it was Garner.
Progress 2005
-
Progress 2006
Found the family in the 1861 Census. There was a lot of new information but we still did not know Charlotte's mother's name yet.(see 2010)
The family were living at 45 St Pauls St, Islington:
Edward (42)
Charlotte (17)
Eliza (9)
It appears that Edward must have married again and had a further child:
Hannah (28)
Henry (6)
Progress 2007
-
Progress 2008
Good progress was made with the discovery of Edward & Martha Gardner & family in the 1851 census.
There were 3 other children:
John (17)
Mary Ann (12)
Ellen (5)
Progress 2009
The publication of the Parish Records held by the London Metropolitan Archives on the internet, enabled me to trace a possible marriage for Edward James Gardner to Martha Tunstell on 6.6.1830 at St George, Bloomsbury. This may be possible as Martha was born in Bloomsbury (per 1851 Census).
Progress 2010
I obtained the birth certificate of Eliza Gardner to prove that Martha Tunstell married Edward James Gardner, parents of Charlotte Gardner, my 2 x Great Grandmother.
I wrote this report as part of the Big One! project.
Progress 2011
I visited London to take photo's of some of the streets that my ancestors walked including 180 Drury Lane where Edward Gardner was a compositer:
Progress 2012-2015
-
Progress 2016
We would like to find the birth of Edward Gardner to get the names of his parents; also the birth of Henry Gardner to get the surname of Edward's second wife Hannah.
In conducting many and various searches, we found the birth of Edward's son Edward James Gardner and an entry for the latter's family in the 1861 Census
Progress 2017-2019
-
Progress 2020
We have not made the same progress with the Gardner name as other names, though name variants are a known problem, as illustrated below.
After many years of trying, I traced the Gardner Family in the 1841 Census, which shows an elder child Martha.
The family were listed by the enumerator as Gardiner and transcribed on Ancestry as Gardina!
The illusive Edward is shown as a Baker but previously and subsequently was a Printer or Compositer:
1841 Census
34 (?) Ginger Street, St Giles in the Fields, Finsbury
Edward Gardiner (32) Baker
Martha Gardiner (31)
Martha Gardiner (11)
Edward Gardiner (9)
John Gardiner (7)
Mary Gardiner (3)
I updated the list of census entries
Things we wish we knew
- Birth of Edward Gardner c 1808/9 to give parents' names
- Entry in 1871 Census & Death certificate of Edward Gardner (born c1808/9)
- Death certificate of his wife Martha Gardner (c 1855)
- circa 1852 marriage certificate giving maiden name of his second wife
-Birth of Henry 1855/6 to give second wife's maiden name
Also see Summary of Records Held (Completed & To Do):
Summary of Records Held - Gardner Family
Research Undertaken
Birth Marriage & Death Certificates Held (see below)
- Birth: 3 inc 2 for Hayes Family (plus 6 Unwanted)
- Marriage: 1 (plus 1 unwanted)
- Death:
Census Records Obtained (see below)
- 1841
- 1851 Edward & Martha Gardner & family
- 1861 Edward & Hannah Gardner & family
Edward & Emma Gardner & Family
- 1871
- 1881
- 1891
- 1901
- 1911
Other Research Undertaken
- IGI-nil
- Parish Records - bp Martha Tunstill
-Marriage of Edward Gardner & Martha Tunstell, bp of Edward & Elizabeth/Charlotte
- Wills - nil
- Businesses-nil
- Correspondence: Paradoxically we have written to more people about Gardners (& Gardiners) than any other name, without success!
- Genes Reunited - nil
- Misc Info/Documents – Unwanted certificates held
- Visits- Visits to Islington and Drury Lane (see Progress 2011)
Holy Trinity Church, Islington 11 Decmber 2009
On a visit to London in December 2009, I made my way to what was Holy Trinity Church in Cloudesley Square, Islington where Henry Hayes married Charlotte Gardner in 1869.
Formerly Holy Trinity Church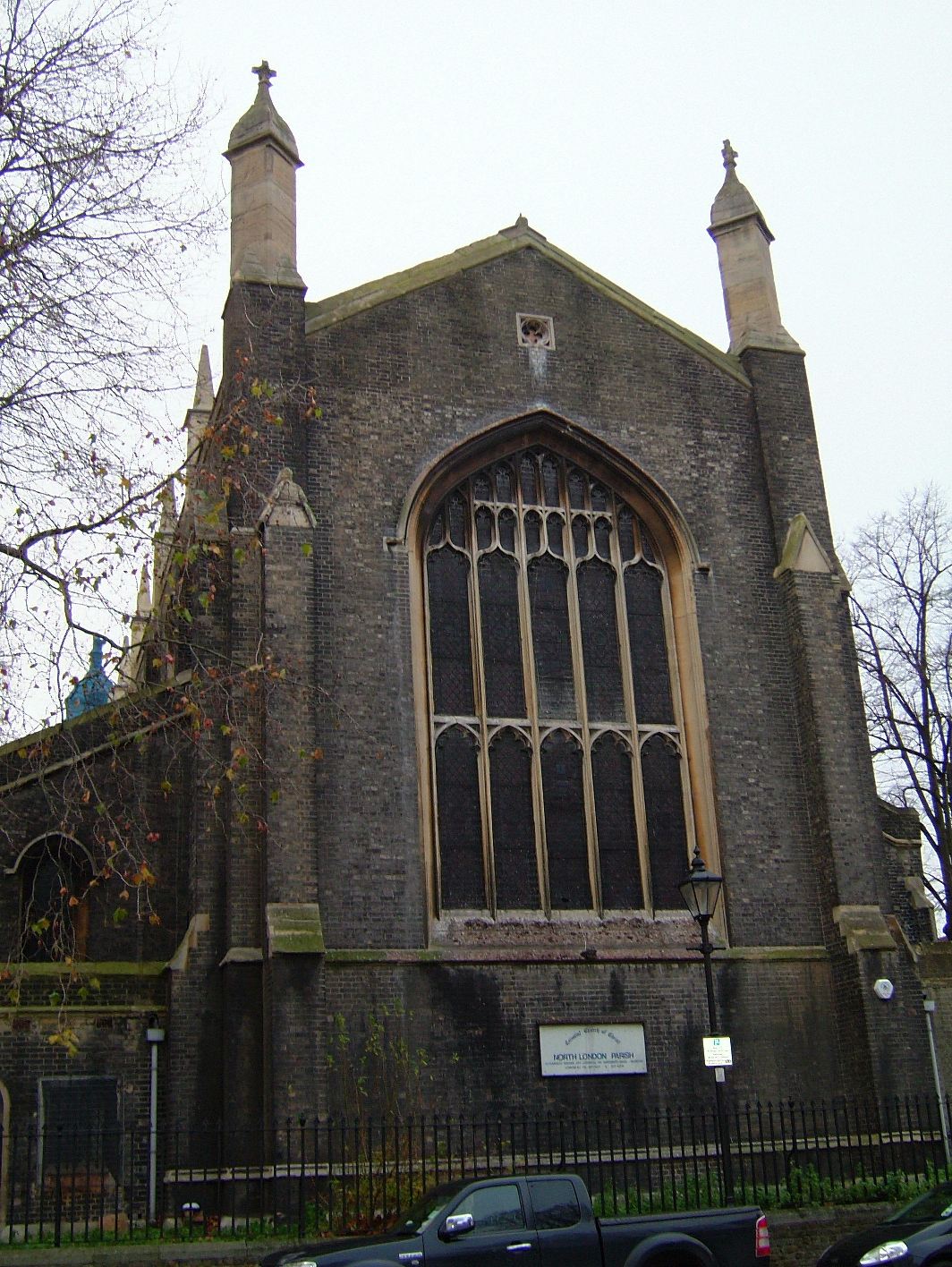 Site of Holy Trinity Church from Upper Street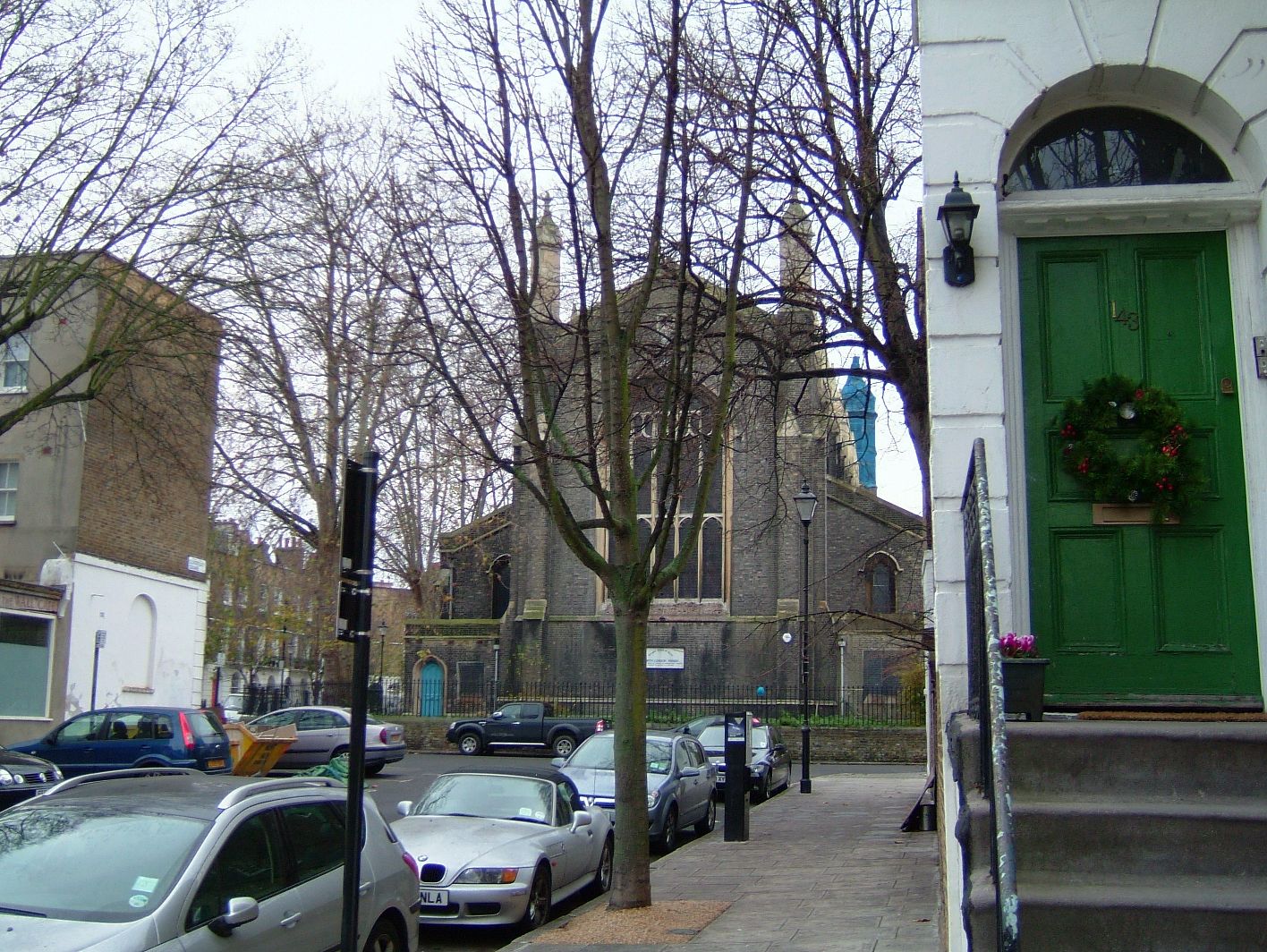 Summaries
Where they were & what they did (see attached)
The attached table summarises the names of my ancestors, where they lived and their occupations:
Gardner Family - Where they were & what they did
Family Tree Maker Sheet – Edward James Gardner (see attached)
The family details of Edward James Gardner have been summarized in the attached Family Tree Maker sheet which I may enter into the relationship database Family Tree Maker in the future:
Family Tree Maker Sheet - Edward Gardner
Family Tree Maker Sheet - Edward Gardner (Contd)
Names Index
The following additional surnames appear in this Report in addition to those shown in Page 1:
Ault
Burrell or Burrett
Dunmore
Farmer
Martin
Rogers
Wilmore
Colin Bower
21 December 2020
Appendices (Direct Ancestors are highlighted)
1. Birth, Marriage & Death Certificates Held
Full name: Eliza Gardner
Born at: 180 Drury Lane, South St Giles (Date: 23.2.1850)
Father: Edward James Gardner (Occupation: Compositer)
Mother: Martha Gardner (Maiden Name: Tunstell)
Full name: Henry Thomas Hayes (of: Islington)
Occupation: Bricklayer (Age: Full)
Father: Thomas Henry Hayes, Bricklayer
Married at: Holy Trinity, Islington (Date: 3/10/1869)
Spouse: Charlotte Gardner (of: Islington )
Occupation: (Age: Full)
Father: Edward Gardner, Compositer
Relevant Witnesses: Martha Hayes
Full name: Mary Ann Hayes
Born at: 5 Prospect Terrace, Pancras (Date: 4.2.1872 )
Father: Henry Thomas Hayes (Occupation: Bricklayer)
Mother: Charlotte Hayes (Maiden Name: Gardner )
Full name: Charlotte Hayes
Born at: 11 Eccleston Road, Islington (Date: 15.8.1876 )
Father: Henry Hayes (Occupation: Bricklayer)
Mother: Charlotte Hayes (Maiden Name: Garner - should have been Gardner )
2. Census Records Obtained
1841 Census
34 (?) Ginger Street, St Giles in the Fields, Finsbury
Edward Gardiner (32) Baker
Martha Gardiner (31)
Martha Gardiner (11)
Edward Gardiner (9)
John Gardiner (7)
Mary Gardiner (3)
1851 Census
180 Drury Lane, St Giles in the Fields, Finsbury
Edward Gardner 42 Printer & Compositer born St Johns, Westminster(?)
Martha Gardner Wife 42 born Bloomsbury
Edward Gardner Son 19 Printer & Compositer born St Giles
John Gardner Son 17 Errand Boy born St Giles
Mary Ann Gardner Daughter 12 born St Giles
Charlotte Gardner Daughter 8 born St Giles
Ellen Gardner Daughter 5 born St Giles
Eliza Gardner Daughter 1 born St Giles
1861 Census
45 St Paul Street, Islington
Edward Gardner (42) Compositor born Middx
Hannah Gardner (28) born Kent
Charlotte Gardner (17) born Middx
Eliza Gardner (9) born Middx
Henry Gardner (6) born Surrey
43 John's Terrace, Newington
Edward J. Gardner (28) Printer Compositer born Bloomsbury, Middex
Emma S. Gardner (28) born Marylebone, Middx
Thomas E. Gardner (4) born London
Emma A. Gardner (2) born Newington, Surrey
William Gardner (10 mos) born Newington, Surrey
3. Parish Records
St George, Bloomsbury
Baptisms 22.2.1810
Martha Tunstill b 13.10.1809
Elizabeth Tunstill b 19.1.1806
Rebecca Tunstill b 27 11.1807
(parents James & Elizabeth Tunstill)
Edward James Gardner married Martha Tunstell 6.6.1830
Edward James Gardner bp 14.10.1832 (born 7/8/1832)
(Parents Edward James Gardner, Printer & Martha, George St)
Elizabeth & Charlotte Gardner bp 9.1.1842 (born 20.12.1841)
(Parents Edward James Gardner, Baker & Martha, George St)
4. Misc Information/Documents Obtained
Certificates Held
Full name: Charlotte Gardner
Born at: 16 Little Gower Place, Saint Pancras (Date: 5/5/1848)
Father: Thomas Gardner (Occupation: Calico Glazier)
Mother: Charlotte Gardner (Maiden Name: Dunmore)
Full name: Eliza Gardner
Born at: Merton, Surrey (Date: 24/1/1850)
Father: William James Gardner (Occupation: Tailor)
Mother: Ann Gardner (Maiden Name: Ault )
Full name: Caroline Gardner
Born at: 39 Sclater St, Bethnal Green (Date: 2.11.1851)
Father: James Gardner (Occupation: House Painter Journeyman )
Mother: Frances Gardner (Maiden Name: Wilmore)
Full name: Henry Burrell or Burrett Gardner
Born at: Clarence Gardens, Regents Park (Date: 28.12.1854)
Father: James Gardner (Occupation: House Painter Journeyman )
Mother: Queenie Gardner (Maiden Name: Burrell or Burrett)
Full name: Henry Martin Gardner
Born at: 11 Chalton Street, Somers Town (Date: 22.1.1855 )
Father: Edwin Gardner (Occupation: Stonemason)
Mother: Mary Ann Gardner (Maiden Name: Martin)
Full name: George Gardner (of: 75 Whitfield Street)
Occupation: Soap hand (Age: 28)
Father: Charles Gardner (deceased), Coachman
Married at: St John, Fitzroy Square (Date: 25/04/1896)
Spouse: Elizabeth Frances Rogers (of: 75 Whitfield Street)
Occupation: (Age: 24)
Father: John Rogers, Laborer
Relevant Witnesses: John & Alice Rogers
Full name: James Gardner
Born at: 46 Dorset Street, Islington (Date: 1.12.1903)
Father: John Gardner (Occupation: Timber Porter)
Mother: Isabella Gardner (Maiden Name: Farmer)