Analysis of Maddy's Scripts and Tapes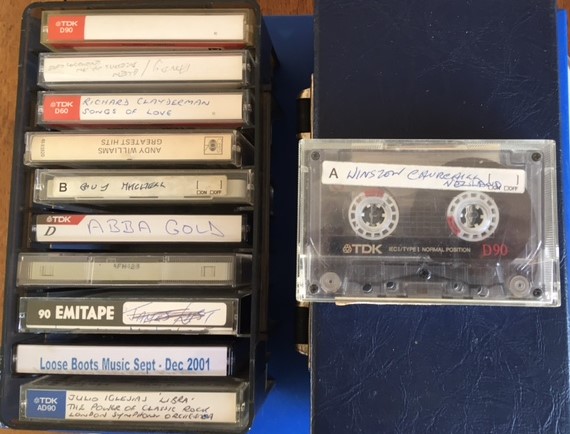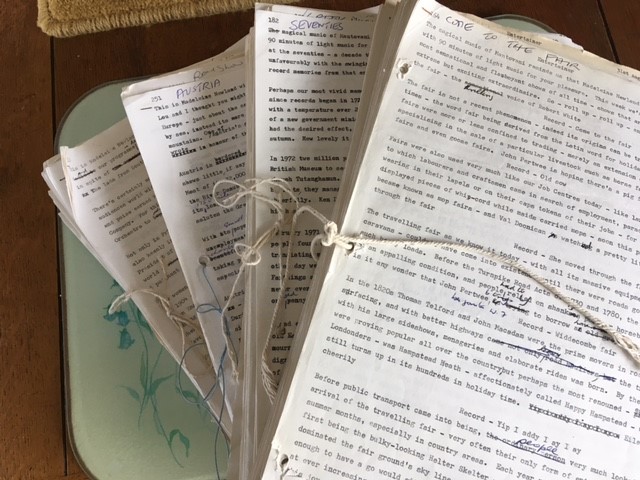 In 2016, I completed the following analysis of Maddy's scripts and tapes:
1. Number of Tapes & Scripts
There were 316 tapes & scripts listed:
Tapes & Scripts
Hospital Radio 133*
Monday Morning Tape Service 183
Total 316
*73 of which were re-recorded for the Monday Morning Tape Service
60 originals were not re-recorded
2. Hospital Radio 1986 - 1988
Approx. 130 recordings were made for Lymington Hospital Radio between Jan 1986 and Dec 1988. Most of these were broadcast on a Sunday.
Though none of the recordings for Hospital Radio survive, approx. 60 of the scripts do.
3. Monday Morning Tape Service
Some of the original recordings were not used for the Monday Morning Tape Service.

For others, Maddy changed the introduction which mentioned Hospital Radio and used the Nutcracker as her signature tune, which was changed to the Entertainer.
The new/changed recordings were given new index numbers. Most of the tapes and scripts for the Monday Morning Tape Service have survived.
First 4 Recordings
The first 4 recordings provided were:
Walk in New Milton/Barton
(original Index Number 11 new edition 217 dd 2.2.1989)
Roses
(original Index Number 131 new edition dd 9.2.1989)
New Forest Quiz
(original Index Number 50 new edition 16.2.1989)
Ladies
(original number 80 new edition 245 dd 23.2.1989)
There were 33 recipients of the tapes including 26 care homes:
The first tapes went to Carlton House and Moorland House on 2.1.1989.
The scheme was particularly buoyant in the early years 1989-1996 and gradually the numbers declined in 1997-2006:
Number of Recipients of Monday Morning Tape Service 1989-2006
Year with 3 Columns - New Recipients, (then Recipients Finishing that Year and Total that Year in brackets)
1989 14 (-, 14)
1990 6 (3, 17)
1991 2 (3, 16)
1992 2 (2, 16)
1993 3 (2, 17)
1994 - (2, 15)
1995 1 (2, 14)
1996 2 (1, 15)
1997 - (4, 11)
1998 1 (5, 7)
1999 - (1, 6)
2000 1 (2, 5)
2001 - (3, 2)
2002 - (1, 1)
2003 - (-, 1)
2004 - (1, Nil)
2005 1 (-, 1)
2006 - (1, Nil)
Totals 33 (33, -)
4. Items of Interest in Individual Tapes
Tape 2
In Tape 2 Maddy mentions in her introduction that the tape dd 13 February 1986 marked the third birthday of one of her biggest achievements..... her Charities Stalls at the Catholic Church in New Milton.
She says that 68 voluntary organisations had participated during the three years and mentions a number by name:
- Guide Dogs for the Blind
- Lymington's Thursday Club for the Disabled
- Hampshire Association for the Care of the Blind (since renamed Open Sight)
And in the early days
- Radio Link, Lymington Hospital Radio
Tape 26
In July 1986, Maddy mentions her signature tune used on Hospital Radio:
"…one of the things I've managed to do is to select a signature tune for our Sunday evening programme. It is part of Tchaikovsky's famous Nutcracker Ballet…"
Also mentioned are 2 birthdays in Linden House.
Tape 32
In October 1986, Maddy begins the tape with reference to Hordle House School:
"Last Monday evening the choir of Hordle House School gave a concert at Our Lady of Lourdes Church in New Milton."
There is a short account of the concert (shown below).
Tape 133
In Tape 133 Maddy, as Madeleine Hall, reviewed the year of 1988.
In her introduction she says:
"My musical themes began three years ago when I had only about a dozen records to choose and had to borrow from my friend – now it's a very different story with some thousand records of my own."
Colin Bower
17 October 2021
Tape 32 - Extracts from Script "The Good Old Days"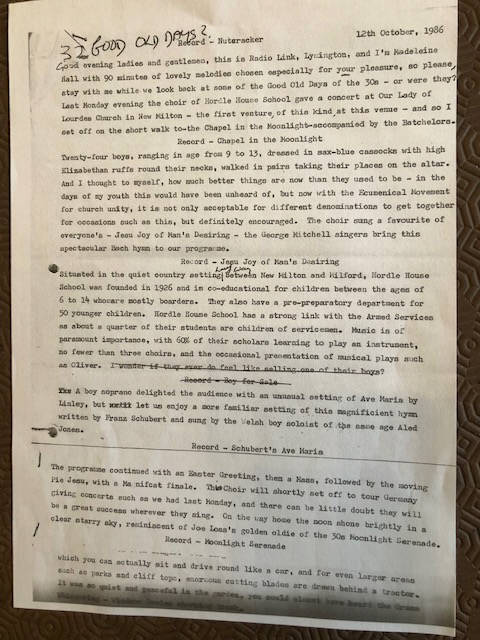 Hordle House School
The script begins with Maddy's signature tune before moving on to an account of a concert given by pupils at Hordle House School (I have added some comments at the end of this article):
"Record - Nutcracker
Good evening ladies and gentlemen, this is Radio Link, Lymington and I'm Madeleine Hall with 90 minutes of lovely melodies chosen especially for your pleasure, so please stay with me while we look back at some of the Good Old Days of the 30s - or were they?
Last Monday evening the choir of Hordle House School gave a concert at Our Lady of Lourdes Church in New Milton - the first venture of this kind, at this venue - and so I set off on the short walk to the Chapel - accompanied by the Batchelors:
Record - Chapel in the Moonlight
Twenty-four boys, ranging in age from 9 to 13, dressed in sax-blue cassocks with high Elizabethen ruffs around their necks, walked in pairs taking their places on the altar, and I thought to myself, how much better things are now, with the Ecumenical Movement for church unity. It is not only acceptable for different denominations to get together for occasions such as this, but definitely encouraged.
The choir sung a favourite of everyone's - Jesu Joy of Man's Desiring. The George Mitchell singers bring the spectacular Bach hymn to our programme:
Record - Jesu Joy of Man's Desiring
Situated in the quiet country setting half way between New Milton and Milford, Hordle House School was founded in 1926 and is co-educational for children between the ages of 6 to 14 who are mostly boarders. They also have a pre-preparatory department for 50 younger children.
Hordle House School has a strong link with the Armed Services as about a quarter of their students are children of servicemen. Music is of paramount importance, with 60% of their scholars learning to play an instrument and no fewer than three choirs, and the occasional presentation of musical plays such as Oliver.
A boy soprano delighted the audience with an unusual setting of Ave Maria by Linley, but let us enjoy a more familiar setting of this magnificent hymn written by Franz Schubert and sung by the Welsh boy soloist of the same age Aled Jones:
Record - Schubert's Ave Maria
The programme continued with an Easter Greeting, then a Mass, followed by the moving Pie Jesu, with a magnificent finale. The choir will shortly set off to tour Germany by giving concerts such as we had last Monday, and there can be little doubt they will be a great success wherever they sing......"
Colin Bower
17 November 2021
Comments
Hordle House School continued as an independent scool until 1997 when it merged with Walhampton School in Lymington.
We knew Hordle House School well, because it was on the cliff-top walk from Barton on Sea to Milford on Sea.
The school buildings were converted to private housing. The development is called Scholars' Retreat.