Family Visits to Loughton
Introduction
Loughton Aerodrome
Joan Hughes had her first flight in 1933, age 15, at Loughton Aerodrome.
There is a picture of Joan at Loughton Aerodrome on the internet. In another website, it says that Joan flew solo in January 1934 and qualified for her pilot's licence in April 1935 (age 17); both at Loughton Aerodrome.
Visits to Loughton
The Collier Family has a large branch of the family in Canada, resulting from Alice Collier and Edgar Cocker marrying and emigrating there.
When various members of the Collier/Cocker Family visited England, Ted Collier used to take them to visit relatives in Loughton, Essex and visit a pub, presumably the Gardeners Arms, which had memorabilia of Joan Hughes, the woman aviator.
The Gardeners Arms in Loughton and the Gardiner/Hughes Family
The Gardeners Arms was run by John Hughes and Caroline Hughes (sister of Matilda Gardiner)., possibly related to Joan.
The pub was in the Hughes' family 1886-1925 per Kelly's etc. (before Joan learnt how to fly)
The pub is still in existence.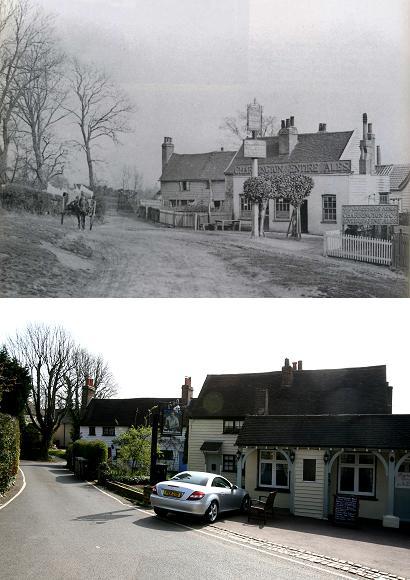 The Gardener's Arms photographed in around 1889 and more recently on the corner of York Hill and Pump Hill, Loughton.,/p.
The Britannia in Leyton
Joan Hughes' parents were Arthur Edward Hughes and Lily Amelia Lekeup (also spelt as Lehkup or Leheup) and research reveals that the Britannia was run by Joan Hughes' grandfather Samuel Leheup 1872-1925 per Kelly's etc.
The pub has since been demolished.
Colin Bower
1 December 2022
Links to:
Gardiner Family