Entries in the Victorian Calling Book for Stay in Galway 1885
One of the main sources which enabled me to Find the Lady! were the entries for the Victorian lady's stay in Galway in 1885:
Photocopy of Page in Calling Book - Entries for Stay in Galway 1885 (1)
Photocopy of Page in Calling Book - Entries for Stay in Galway 1885 (2)
Photocopy of Page in Calling Book - Entries for Stay in Galway 1885 (3)
Also Photograph of Calling Book itself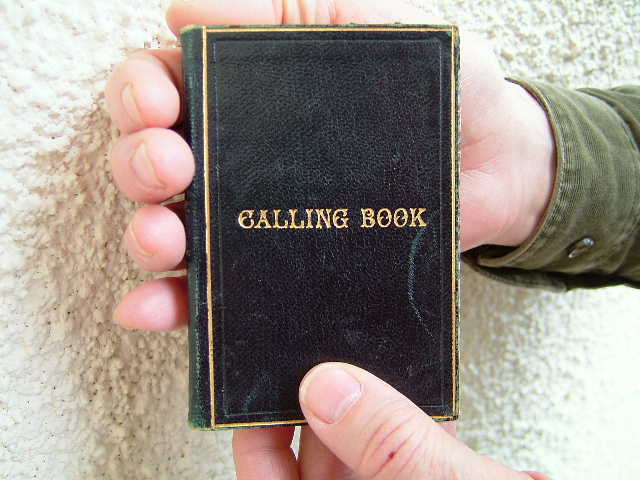 Names Index for Galway 1885
The names in the entries for Galway in 1885 may be summarised as follows:
Athy (Lynch) (Mrs)
Blake, Salthill
Blake (Lady) (2)
Bunbury (Major (?) )
Colakaw (Mr (?) & Mrs)
Corrigan (?) (Lt. Col)
Cosby (?)
Cosby (?) (Mrs)
Crampton (Mrs)
Daly (Mrs)
Dundas
Eyre Coote (see Note below)
Eyre Coote (Mrs)
Fitzgerald
Freeman (Miss)
Gillespie (Mrs), West House
Herries (Mrs)
Jesson (Mrs), Fort Eyre
Jesson
King
King (?) (D) or Brig Ridgeway (see Ridgeway)
Kingscote (?)
Kinkead (?) (Mrs), West House
Lennon
Lennon (Mrs)
Long
Lopdell
Lynch (Miss)
Lynch Athy (Mrs) (see Athy)
Lyster
Mason
McDowell
McDowell (Mrs)
Moffett (Mrs)
Nelson Palmer (Mrs) (see Palmer)
Nolan (Dr?)
O'Farrell
O'Hara (Mrs)
O'Hara (Miss)
O'Sullivan
Oldham (Mr & Mrs (?))
Oldham (Mrs)
Palmer (Misses)
Palmer (Mrs) (Nelson)
Persse (Mrs H), Glenande
Persse
Pilkington
Reade (Mrs & Misses)
Ridgeway (?) (Miss) and Brig Ridgeway or D King
Rutllege (Major D), Corrikarper (?)
Sorte (?)
Stephens (Mrs & Miss), Eyre Square
Steen (Mrs), Clairmont Lodge, Blackrock
Stevens
Taylor (Miss), St Mary's
Townsend
Whitling (?) (Mrs)
Wilson
Woodhouse (Mrs), Eyre Square
Note: In England, there is a monument to Sir Eyre Coote at West Park near Fordingbridge. In the 1881 Census a Henry Eyre Captain, Coldstream Guards was living at Winkton House, Christchurch.
The Murray/Fawcett Family
Henry Stuart Murray married Mary Florence S Fawcett in Lymington in 1883 (the year of the first entries in the Calling Book).The Calling Book may have been a wedding present or part of the information given to an officer's wife.
By the 1891 Census Henry Murray was a Captain (Major by 1901) in the 4th West Yorkshire Regiment - actual full name the Prince of Wales's Own (West Yorkshire) Regiment (formerly the 2nd West York Light Infantry and the 4th West York Militia which merged in 1881).
In 1885, Henry Murray and his wife visited Galway during which there were celebrations to mark Queen Victoria's birthday on 24 May 1885. I found two Galway photos on the internet taken in 1885:
1. The 1st Bn The Prince of Wales's Own (the West Yorkshire Regiment) taken at Renmore Barracks, Galway on the Queen's Birthday
- on which Henry Stuart Murray may appear
2. Regimental Family Outing Galway 1885
- on which Henry & Mary Murray may appear
Information about the Galway Entries in the Calling Book
I did not find out a great deal about the Galway entries in the Calling Book
Irish Records held by the Society of Genealogists in London
The availability of Irish genealogical records like Census records is limited. In September 2005, I visited the Society of Genealogists to look at their Galway records and my findings were:
1. There were 14 important families or "tribes" in the Galway area including Blake.
2. A name that I was reading as Lynch Asky appears to be Lynch Athy, both important names in Galway (Galway Roots 1993)
3. The Persse family lived at Glenand(e) which on first reading could have been the family's double-barrelled name (Galway Roots 1998).
4. The death of John Lopdell at Raheen Park (residence of his son Captain Lopdell), which settled the spelling of the family name. (Galway Roots 1998)
5. A marriage and christening for a family named Jesson, which could have been Jenson (Vital Records Index).
Information from a descendant of the Jesson, Palmer, Nelson Palmer and Stephens families.
In 2010, a descendant of the Jesson, Palmer, Nelson Palmer and Stephens families gave me the following family information:
The Jesson family.
About 1870 Thomas Jesson moved to outside Galway at Killeen.
"Fort Eyre" mentioned in the Calling Book was:
- immediately south of Eyrefield, the residence of John Blakeney, and
- next door to Glenlough, the Palmer residence.
Thomas Jesson was probably born in Westerham, or Beach House, Christchurch , and his mother was a Percy (probably the Galway connection). His Grandfather was High Sheriff for Staffordshire and the family seat was Coopers Hill and Leveretts.
Thomas Jesson married Esther Marguerite de Caen in London in 1869.
The Palmer family
The Palmer family originaly came from Durrow and Deansport later Streamestown, Co.Tipperary where they had extensive flour and oat mills. The Palmer mills in Galway were in existence at least in the early 1900s.
Thomas Nelson Palmer married Anna Sophia de Caen in 1849.
>b>The Stephens family
The Stephens family probably came from England in the early 1700s, and thence to Tralee later that century. In the 1830s they were brewers in Galway.
Robert Stephens, who married Anne Blakeney in 1865, was Crown Solicitor for Galway amongst other titles. In 2000 their house still stood as one of the tallest in Eyre Square.
Many of the descendants of the above families moved to North America in the last (20th) Century.
Colin Bower
24 December 2017
Links to: