The Tower Hill Memorial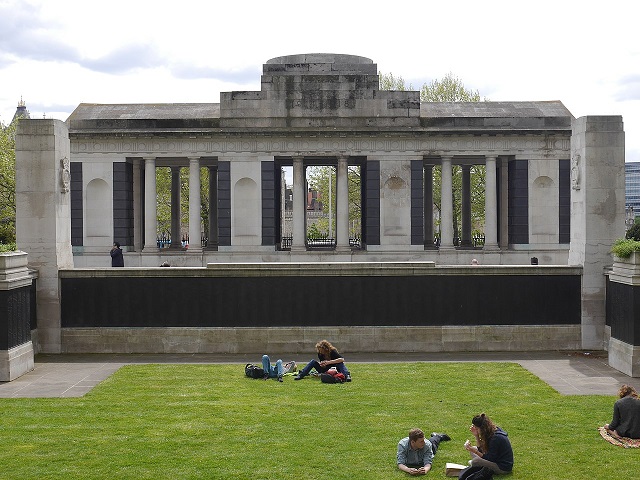 The Tower Hill Memorial commemorates men and women of the Merchant Navy and Fishing Fleets who died in both World Wars and who have no known grave.
It stands on the south side of the garden of Trinity Square, London, close to The Tower of London.
The First World War section of the Tower Hill Memorial commemorates almost 12,000 Mercantile Marine casualties who have no grave but the sea. The memorial was designed by Sir Edwin Lutyens with sculpture by Sir William Reid-Dick. It was unveiled by Queen Mary on 12 December 1928.
The Second World War extension, which commemorates almost 24,000 casualties, was designed by Sir Edward Maufe, with sculpture by Charles Wheeler. It was unveiled by Queen Elizabeth II on 5 November 1955.
The Second World War memorial takes the form of a semi-circular sunken garden located behind the First World War Memorial, to its north in Trinity Square Gardens.
The names of the missing from the Second World War are listed on 132 bronze panels fixed to the walls. The name panels circle the entire sunken garden and includes the panel for the SS Britannia: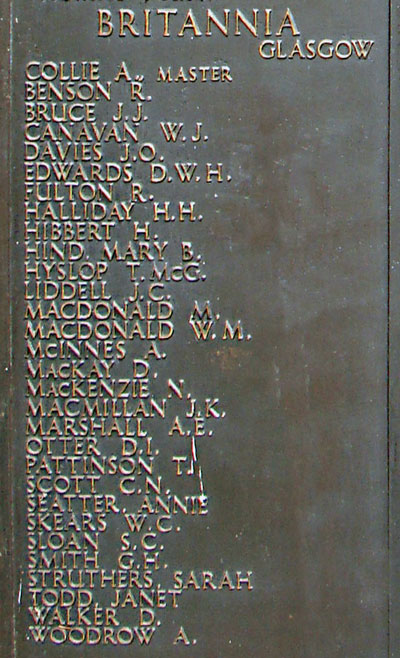 Names Index
The 30 names are listed on the panel in capital letters but listed by me as:
Britannia Glasgow
Collie A., Master
Benson R.
Bruce J.J.
Canavan W.J.
Davies J.O.
Edwards D.W.H.
Fulton R.
Halliday H.H.
Hibbert H.
Hind Mary B.
Hyslop T. McG.
Liddell J.C.
Macdonald M.
Macdonald W.M.
McInnnes A.
MacKay D.
MacKenzie N.
Macmillan J.K.
Marshall A.E.
Otter D.I.
Pattinson T.
Scott C.N.
Seatter, Annie
Skears W.C.
Sloan S.C.
Smith G.H.
Struthers, Sarah
Todd, Janet
Walker D.
Woodrow A.
All but Mary Hind are listed in another website:
Colin Bower
3 October 2020
Link to:
Britannia - Main Index