80 years on, memories still strong...
Goan Journalist, Melvyn Misquita, marked the 80th anniversary of the sinking of the SS Britannia on 25 March 1941 with the following poignant summary: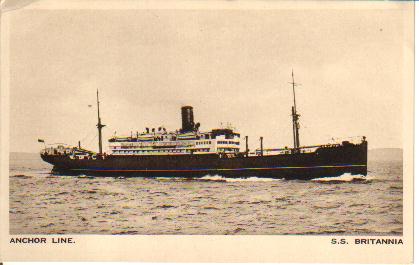 "The SS Britannia, with a crew of 203 -- which included about nine from Aldona and 64 from other parts of Goa -- and 281 passengers, sailed from Liverpool on March 11, 1941, bound for Bombay via Freetown and Durban.
However, tragedy struck the SS Britannia and the ship sank on March 25, 1941, after being attacked by the German cruise raider 'Thor' about 720 miles west of Freetown, Sierra Leone.
Of the 484 passengers and crew of various nationalities, 249 people died during or shortly after the sinking of the SS Britanna. The dead consisted of 127 passengers and 122 crew, which included 53 Goan seamen and 41 from other parts of India.
Around half of all those on board the SS Britannia, including 20 Goan seamen, survived the incident after remarkable accounts of survival at sea.
The sinking of the SS Britannia on March 25, 1941, destroyed the lives of hundreds of people, including my granduncle, Constantino Misquita, while also shattering their families and relatives.
Even those who remarkably survived the incident would never be the same again, as experiences and memories of the tragedy transformed their lives in some way or the other.
As we mark the 80th anniversary of this tragic event, we remember all those who lost their lives or those who survived that tragic day on March 25, 1941, while sailing on the SS Britannia.
The 53 Goan seamen who perished in the tragedy were:
Aleixo Pacheco,
Antonio Fernandes,
Antonio P Pereira,
Antonio Rodrigues,
Augustino Fernandes,
A S Vaz,
Bernard Fernandes,
B C Mendonca,
Caetano M Lobo,
Caetan L Pereira (Sanvordem),
Cloriano Vaz,
Constantino Misquita (Ranoi-Aldona),
Diago D'Sa,
Diago Fernandes,
Domingo Santan Telles,
Floriano Coutinho/Vaz,
Franklin Correia (Santarxette-Aldona),
Francis D'Costa,
Francis D'Souza (Verna),
Francis Z Mendonca,
Gasper Fernandes,
Ignacio D'Cunha,
Ignacio Pereira,
Joao F X Fernandes,
Joaquim D'Costa,
Joaquim V Ferrao,
Joaquim S Mendes,
John X Fernandes,
Jose D'Costa,
Jose D'Heredia,
Jose Fernandes,
Joseph A Rodrigues (Quitula-Aldona),
L M Mendonca,
Mariano D'Souza (Sao Mathias, Divar),
Mathias Picardo,
Minguel F A Fernandes,
Minguel Lobo,
Pascoal J Alfonso (Quitula-Aldona),
Pascoal Coutinho,
Pedro Cardozo,
Phillip Mascarenhas,
R Rocha,
Rozario A Gomes,
Salvadore Carneiro,
Salvadore Mascarenhas,
Santan D'Souza,
Sebastiao D'Costa,
Sebastiao Fernandes,
Sebastino M Pinheiro,
Thomas Fernandes,
Thomas Xavier D'Souza (Coimavaddo-Aldona),
Thome C D'Souza and
Vincent C Pereira (Quitula-Aldona).
As I continue to collect details from relatives of those who perished or survived the SS Britannia tragedy, I do hope to compile details of the sinking of the SS Britannia and the accounts of those on board the ship, so that this tragic incident is preserved for posterity.
Melvyn Misquita
March 25, 2021"
Colin Bower
25 March 2021