Introduction
My mother was Doris Ivy Brecht and we have been researching the Brecht Family Tree for many years.
As shown in the following notes, and the attached Indication of Population Distribution:
Indication of Population Distibution
Brecht is a comparatively rare name in Britain. Nearly all people named Brecht in England are descended from George Frederick Brecht:
Main sources of information
Early Records
Pallot Index
Marriage of Heinrich Brecht and Mary Somes at St Mary's, Islington in 1808 (Information checked at London Metropolitan Archives)
IGI
9 entries including:Christening of Heinrich and Mary Brecht's daughter Maria Catran Brecht at Christ Church, Spitalfields in 1812 and her burial in 1814.
London Metropolitan Archives
Burial of daughter Charlotte Brecht, Fashion Street at Christ Church, Spitalfields in 1819 (Age 9)
Burial of daughter Elisabeth Catharine Brecht, Fashion Street at Christ Church, Spitalfields in 1821 (age 5)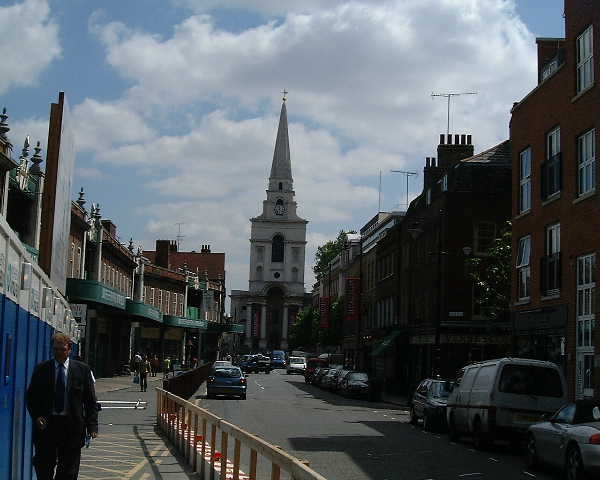 Photograph of the magnificent church, Christ Church, Spitalfields, which my wife took in 2001.
Web-sites of Family Search (New) and Find My Past
Burial of Mary Brecht (age 35) Henry's wife at Christ Church, Spitalfields 3.1.1819
London Directories
Kent's Original London Directory 1823
Brecht H manuf,of painting colours
12-Fashion-str. Sptalfi.
London Metropolitan Archives
Burial of Eleanor Brecht, Fashion Street at Christ Church, Spitalfields in 1824 (age 17 months)
Trade Directories
Henry Brecht, Colour Manufacturer (Pigot's 1824, Fashion Street, Spitalfields and Kelly's 1836, Bethnal Green)
London Metropolitan Archives
Marriage of Henry Frederick Ludewig Brecht, widower and Harriet Piper at St George in the East in 1837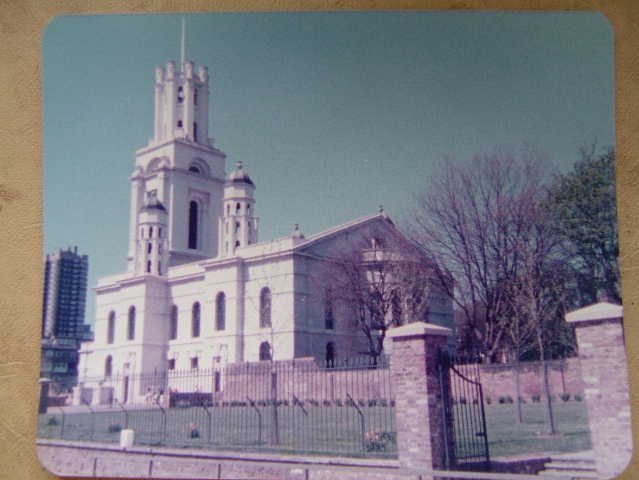 Photograph of the equally magnificent church, St George in the East, which I took in the 1980s
Death of Henry Brecht in Bethnal Green and Burial at Christ Church, Spitalfields in 1838
Grant of administration of the assets of Frederick Ludewig Brecht to Harriet Brecht in 1838
Civil Registration of Births, Marriages and Deaths
From 1837 (when registration began) to 1999 there have been:
142 Births
107 Marriages
52 Deaths

A list of these entries is attached:
List of Brecht Births, Marriages and Deaths
A number of certificates have been obtained including:
Henry Brecht's Death Certificate (1838)
Harriet Brecht Widow's marriage to Henry Colvin in 1838
Arthur Brecht's marriage to Ellen Saunders (my grandparents) in 1899
Walter Frederick Brecht's marriage to Ruth Saunders in 1901
A list of certificates held is attached:
Censuses
1841 1851 & 1861 - Henry and Harriet (Brecht) Colvin's family
1861, 1871 - George and Mary Ann Brecht's family
1881 - 13 entries
1891 - George and Mary Ann Brecht's family
1901 - 29 entries
1911 - 68 entries
Census Records Held
Correspondence with cousins
Invaluable information (including photos) has been obtained from two first cousains, two descendants of Walter Frederick Brecht and one descendant of his brother Albert Brecht. At that time, none of these descendants/cousins knew of each other's existence or my mother's.
Summary of Findings
The earliest finding is the marriage of Heinrich Brecht in 1808. He had 10 daughters (4 of whom tragically died young as did his wife).
I have proved that he is the colour manufacturer Henry Brecht of Fashion Street, Sptalfields in 1824 and the widower, who married Harriet Piper in 1837, and died in 1838.
Perhaps the hardest task will be tracing Heinrich Brecht's emigration to England from Germany.
The foundation of the Family Tree in England was the marriage of George Frederick Brecht and Mary Ann Walland and their 9 sons!
Two brothers (Arthur and Walter Frederick Brecht) married two sisters (Ellen and Ruth Saunders)
The family owned various businesses in London and regretfully there were family squabbles and splits over them.
The Family Tree has been brought to life by photos and beliefs/myths handed down to descendants.
Beliefs / Myths
Origination
It was thought that the family name was Van or Von Brecht and the family emigrated to England from Belgium where there IS a village named Brecht.
Years later and extraordinarily, we were given details of ancestors in Germany:
The House in Richmond
My grandmother Ellen Elizabeth Curran (Saunders) Brecht was promised a house if she changed her name to Ellen Elizabeth Creah Curran Saunders.
The house did not materialise.
Naval Interests/Connections
The family was said to have naval interests and links to an Admiral Iceton.
It is true that Ellen and Ruth Saunders' father and grandfather were seamen
George Frederick Brecht's daughter married John Iceton (father and son were seamen) in 1884
Some descendants were given the middle name Iceton.
Three of the cousins had heard of these beliefs/myths and more!
Name Variants
To avoid anti-German sentiments in the build up to World War I, some members of the Brecht family adopted the name Brett though some used the name Brecht for legal purposes.
In U.S.A. there is a Name Variant BRIGHT and there is an active message board for the Brecht and Bright names.
Roots of the Brechts and Brights in the USA
Pastor Ernst Brecht
One interesting and enjoyable diversion was the discovery of a marriage between Ernst Wilhelm Brecht and Charlotte Gruner (address given as Buckingham Palace!) in London in 1850.
Ernst Brecht became the first Pastor at the Ango-German Church in Hull and later the Pastor in Engelbostel near his home town of Hannover.
Charlotte Gruner from Coburg became one of the governesses to Queen Victoria's children.
The Royal Archives at Windsor sent letters on my behalf to descendants in Germany and USA, and there was a fascinating exchange of information.
Details of the Pastor's Family Tree is attached:
Pastor Ernst Brecht's Family Tree- with ancestors and descendants in Germany and USA.
Progress Made in 2004
I received a fantastic letter from, and met, a first cousin who was born in South Africa and unbeknown to my family had found work in England:
Progress Made in 2005
I proved for the first time that Heinrich Brecht and Henry Brecht were one and the same.
I obtained information about the Brechts and Brights in the USA:
Progress Made in 2006
My cousin produced a wonderful photo of my mother as a young girl,with her parents and sisters taken at Shoeburyness:
Progress Made in 2007
One of the best years so far including tracing the burial of Henry Brecht in 1838 (age 54).
Progress Made in 2008
A wonderful year for contact with cousins. Found Henry Brecht's death certificate indexed as Breacht!
Progress Made in 2009
Memorable year for meeting cousins and visiting Fashion Street, Christ Church, Spitalfields and St Mary's, Islington.
Progress Made in 2010
After some great years, this was a quieter one as I started to work on the Big One! project.
Progress Made in 2011
Tantalisingly, I became close to solving he mystery of which of Henry's children were Mary's and which Harriet's when I found Mary Brecht's burial in 1819:
Another big leap forward came from Germany. A solicitor in Germany had put an entry in the Sugar Bakers Database:
www.mawer.clara.net
for Jurgen Christoph Brecht who appeared to be the Uncle & Godfather of Heinrich/Henry Brecht born in Germany in 1784.
Progress Made in 2012
I summarised the few entries for the name Brceht in the Electoral Rolls 1901-1961 and did some research into the name Somes.
Progress Made in 2014
We were able to build on the information on the German Family Tree discovered in 2011. One of my cousins found research undertaken by Edgar Culp that took us back to Andeas Brecht born in 1597.
Progress Made in 2015
I was delighted to meet up with a first cousin from Australia and her husband, and take them on a tour of the City and East London. Unfortunately, I have mislaid the photos I took:
Progress Made in 2016
There was detailed research undertaken:
- into the Barnett Brechts (see Progress 2020)
- resulting in finding entries in the names Braesht and Bracht:
Progress Made in 2017
Quite a bust year and made progress in a detailed way including:
- finding a Census entry in the name of Bright
- searching Ancestry for ant entry under the name Brecht
Progress Made in 2018
The main event was the publication of the 1939 Register of England and Wales.
I received, and found out myself, a lot more information about the notorious George Henry Brett (born Brecht) who was jailed in Australia for attempted murder and was later murdered himself:
Progress Made in 2019
I had a closer look at the 1939 Register and Ancestry published entries in the Probate Registers 1858-1995:
Progress Made in 2020
A quiet year but I did learn more about the Barnett Brechts:
Things we wish we knew
There are still areas of research to develop and mysteries to solve, which are summarised in the attachment:
Colin Bower
8 March 2021
Links to:
Brecht One Name Study - Main Index: