Update toArticle in Cockney Ancestor Autumn 2007
I was delighted that not only was my article about the Brechts published in the Autumn 2007 edition of Cockney Ancestor but there was a picture of St Dunstan's Church, Stepney, where some Brecht christenings took place, on the front cover.
St Dunstan's Church, Stepney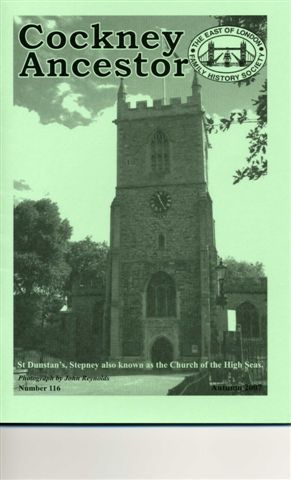 Since I wrote the article, I have made further progress and I have added a summary in the text of the article:
Article in Cockney Ancestor Autumn 2007
George Henry Brecht
The article in Cockney Ancestor produced a remarkable response providing a lot more information about George Henry Brecht. I had not found out that he married Lucy Ann Cornwall in 1902 and that their son Charles Albert Brett was born in 1900! George Henry Brecht appeared to have died before 1916 when his widow remarried. I have now heard that he emigrated to Australia in 1911 where he was murdered in 1851 in the name of George Brett! So obviously we are keeping it quiet.
It is very unlikely that I would have made this connection with another branch of the family without the article in Cockney Ancestor.
George Brett and son Terry
In the 1980s, I visited my mother's cousin Bill Brecht in Romford, when he told me that "George" had been murdered. At the time I could not find any entry in the Brechts' records to prove this.
It appeared that Bill may have been referring to (the recent discovery of) the murder of George Henry Brecht.
At first I thought that Bill may instead have been referring to the murder of George Brett and his son Terry (age 10).
Searching the internet (under Brett+Murder+Essex), I found that they were murdered in November 1974 by John Childs. The bodies were never found.
Colin Bower
30 November 2011