Chris and I enjoyed a wonderful holidy on a Rockies and Vancouver tour followed by 3 nights in Saskatoon to meet up with some of Chris' second cousins (descended from Charles Collier, Silk Weaver and his son Charles Collier, the Ropemaker).
Apart from Vancouver (2 nights) and Saskatoon, we spent 2/3 nights in:
Banff
Jasper
Kelowna
Victoria
Among the highlights of the tour were:
the beautiful lakes, Moraine (pictured) Louise near Banff

seeing black bears near Jasper

the magnificent Buchart Gardens in Victoria and

the lovely waterfronts at Victoria and Vancouver
In Banff, we met up with Paul & Johanna Collier (Paul being Ted Collier's son, who lives in Calgary). Paul gave me a much-appreciated enlargement of Ted Collier's handwritten Family Tree (Paul and Johanna are on Page 22 of the Tree!)
In Saskatoon, it was good to meet up again with Doug & Merle Bocking who we had got to know on their visits to England.
Doug explained how Edgar & Alice Cocker (daughter of Charles Collier, the Ropemaker) had lived in Beachville, Ontario then Yorkton before moving to Lintlaw where they had a homestead.</>
He showed me copies of land certificates for a plot of land (see Note 2. below) in Lintlaw obtained by Edgar Cocker and 3/4 plots owned by the Bocking family including Edwin who married Edgar & Alices's daughter Agnes Cocker.
In the prairies, it was hard to earn a living off the land and Edwin & Agnes Bocking moved to Saskatoon.
Chris and I were able to meet 5 of Agnes' children, all Chris' second cousins:
Edgar (Ted)
Esther
Les
Doug and
Connie

Chris with Doug, Esther, Les and Ted at Esther's apartment.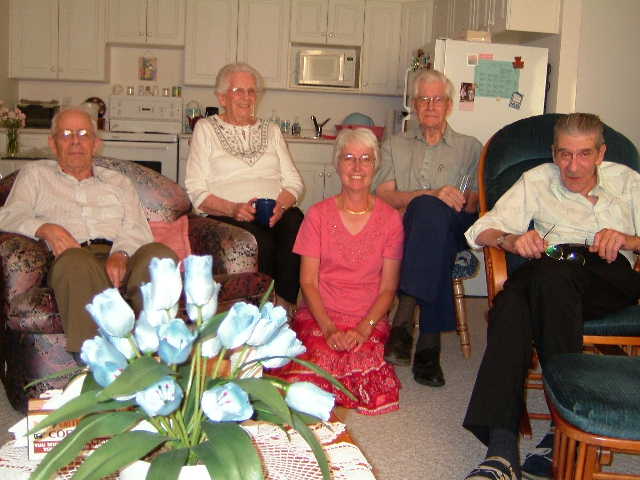 Chris took digital photo's of some of Doug's invaluable collection of family photo's including:
Alice (Collier) Cocker outside her "sod house" with her children:
Agnes, Charles and Francis
Dorothy and Mabel


Alice (Collier) Cocker outside her house with her daughters Dorothy and Mabel

Edgar & Agnes (Cocker) Bocking and Family:
Connie, Doug & Olive
Edgar, Les, Agnes, Joan


We were entertained generously by:


Doug & Merle
Esther
- her son David and wife Ann
- her daughter Kathy and husband Yves

and it was an enjoyable and memorable visit.

Now I have no excuse but to update Ted Collier's Family Tree. Some time I will try to find out what happened to Charles Collier (the Ropemaker's) siblings other than Emma (Collier) Cordell.

Colin Bower
31 October 2006

Visits to Places of Interest - Index

Foot Notes

1. We were able to see some excellent museums in Banff, Victoria and Saskatoon which depict the life of the "First Nation" inhabitants and the early settlers from Europe.

In the Western Development in Saskatoon was a replica of a Sod House that the early settlers built (whilst aspiring to have a "wooden" one).

2. Land ownership in Cananda is based on a series of mile-square sections consisting of 640 acres each. Each homesteader could farm a quarter secton of land or 160 acres. Most of the early farms consisted of a quarter section which initially was adequate for a family. Since then things have changed and now most farms consist of several sections.

3. I had not appreciated that Edwin and Agnes (Cocker) Bocking had lived in Lintlaw where 3 of their children:
Edgar (Ted)
Esther
Les
were born.

4. We thoroughly enjoyed meeting up with such a close-knit family. In Saskatoon the 3 siblings Edgar, Esther and Les Bocking each had a house in the same street and they now live in the same apartment block.

5. Just a small coincidence, but in Stanley Park in Vancouver the figurehead of the Empress of Japan overlooked the waterway. In 1941 my father was a passenger on the successor to that vessel, when he was taken back from Gibraltar to Scotland after the ship he was on (the SS Britannia) was sunk in World War II.