Alice Jane Collier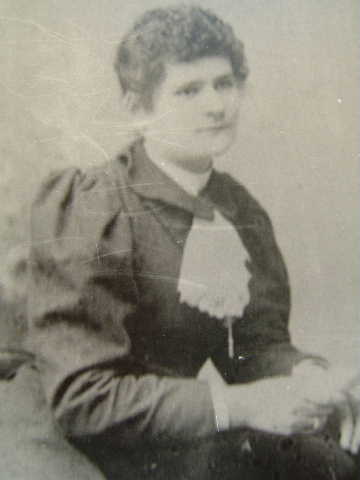 Born 25.2.1871 1 Webbs Yard, Homerton, Middlessex
Married 17.3.1894 St Luke's Church, Hackney, Middlesex
* * * *
In 1894, Charles Collier's daughter Alice married Edgar Charles Cocker and emigrated to Canada in 1905, where they travelled across Canada to the prairies on a covered wagon.
The following entry appeared in a local paper when Alice died in 1943/4:
"Alice Jane Cocker Pioneer Resident of Lintlaw Dies
After ten years of illness, most patiently and cheerfully borne, Alice Jane, wife of Edgar Charles Cocker died last Thursday.
As usual the deceased had been sitting in her room daily until about a week ago, but after suffering a cold she was confined to her bed and failed to rally to treatment.
Had the deceased lived till next March she and her husband would have been able to celebrate their 50th Wedding Anniversary.
Coming to Canada in 1905 and later moving to Lintlaw in 1910. They were amongst the communities earliest settlers. Alice Jane was a former member of the Anglican W.A. and even when inconvenienced by her illness, attended the Church which she and her family helped to build.
The deceased was a member of the Proestone (?) Valley (Lintlaw) L.O.B.A. since its organization in November 1926 and was keenly interested in its work and principals, being a fully paid up member at the last meeting. During her active days, the deceased was Recording Secretary.
She is survived by her husband, two sons and three daughters. Charles of Lintlaw, Francis in England. Agnes (Mrs Edwin Bocking) Saskatoon. Mable and Dorothy at home. A son Edgar was killed in Action during the last great war and a daughter May died in infancy.
Prayers and Scriptures at the home and in the service, conducted by Rev. R. K. Vickers of the United Church were taken by Rev. P. H. Jordan.
The pall bearers were Mr Wm. Smith, and Orangemen Messrs Robt. Smith, Sam Trobak, John Bumford, D. V. Grierson and Wm. Boyle.
Orange Lodge Rites of L.O.B.A. were conducted at the graveside by Worshipful Mistress Mrs R. Smith, and Chaplain Mrs I. or J. McVean.
Beaton's Undertaking Parlor had charge of the funeral.
The community of Lintlaw tenders its sympathy to a pioneer family
* * * *
Not dead - just gone above
To join in that victorious song.
Saved by the Lamb for sinners slain.
The only path whose end is - God.
Not dead - just gone before
To dwell in God's abounding love:
To know in heaven's joyous land
The bounties of our Father's love"
Colin Bower
31 October 2006
Links to:
Alice (Collier) Cocker & Descendants
Collier family in England and Canada