Unofficial Meeting of the Discussion Group at Fawcett Fields, New Milton
Thursday 30 July 2020
9 of us met up socially-distanced on a beautiful afternoon in Fawcett Fields: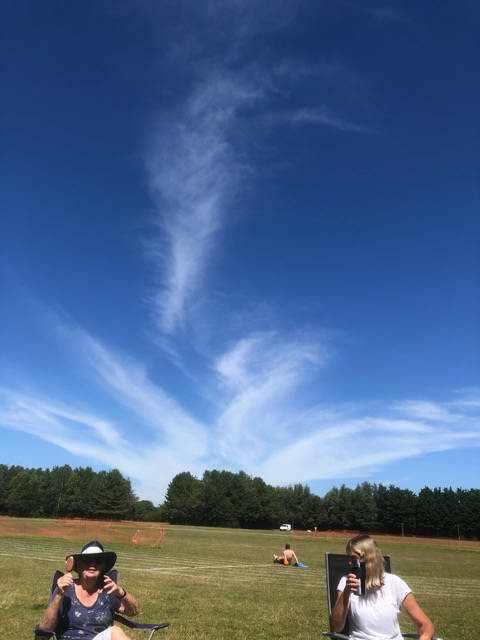 Questions Discussed
In his book, The Road to Little Dribbling (Oct 2015), Bill Bryson wrote:
I would like to see a government that said:
"We're going to stop the preposterous obsession with economic growth at the cost of all else.
Great economic success doesn't produce national happiness. It produces Republicans and Switzerland.
So we're going to stop trying to be a powerhouse and instead concentrate on just being lovely and pleasant and civilised.
We're going to have:
- The best schools and hospitals
- Most comfortable public transport
- The liveliest arts
- The most useful and well-stocked libraries
- The grandest parks
- The cleanest streets
- The most enlightened social policies
In short, we're going to be like Sweden, but with less herring and better jokes."
Questions
Should we aim for national happiness?
Are the above policies achievable?
Summary of Discussion
Colin had just finished the laugh-out-loud book by Bill Bryson. It has been suggested that discussions are summarised for the benefit of those who are unable to attend any discussions. I did jot down examples of what was said today.
It was thought that Bill Bryson's vision was a sort of utopia though it was pointed out that some countries had achieved much of Bill Bryson's list (and achieved national happiness) by raising higher taxes.
In the UK, it was felt that more money had to be raised (and/or saved) to achieve Bill's list but the NHS and our parks etc were big achievements already.
A large amount was being spent on consumption and our military where there could be savings and the money put to better use.
Whether people were content was different for each age group particularly whether people were working or retired.
Happiness criteria could include:
Financial Security
Health
Relationships
Life Purpose/Career
Contributions to Society
The age group 30-50 was thought to offer the most potential for looking after their future.
The younger generation had a different attitude to sustainable growth.
Though we were suffering greatly from the impact of Covid 19, we had to make a start on radical reform and indeed it was an opportunity to do so.
Colin Bower
17 September 2020
Link to Group Activites Index: